St. Bernard Parish Fishermen Join Fight to Keep Oil From Coast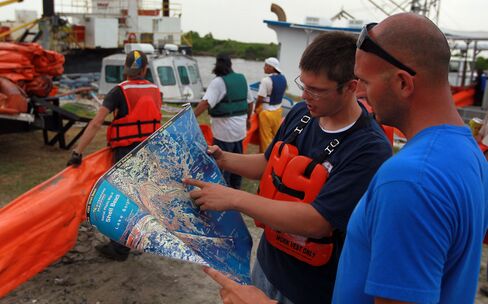 Chris McShan headed for the marshes off Hopedale in southeastern Louisiana yesterday, hoping to save his communities from economic calamity by preventing oil from reaching the coast of St. Bernard Parish.
McShan, a 31-year-old fishing guide, attended a training session then waited hours to help lay booms protecting waters east of New Orleans as 30-knot winds pushed oil from the damaged BP Plc well inshore.
"This place is going to be a ghost town if that oil gets in here," said McShan as he stood on the porch of Breton Sound Marina overlooking Bayou la Loutre. "I don't want people to feel sorry for me. I just want to do something."
McShan was one of about 300 commercial and recreational fishermen trained at the parish civic center to help prevent oil from reaching Louisiana marshes. With fishing halted in state and federal waters affected by the spill, he said he had few other options.
The National Oceanographic and Atmospheric Administration this weekend closed commercial and recreational fishing in federal waters from the mouth of the Mississippi River to the Florida panhandle for a minimum of 10 days. The move came after Louisiana barred fishing and oyster harvesting in most waters east of the Mississippi River.
The oil spill followed an April 20 explosion on a drilling rig leased by BP that killed 11 workers. The rig, owned by Transocean Ltd., sank two days later.
Aid for Fishermen
Governor Bobby Jindal said in a news release that he was still waiting to hear from the federal government about his request for financial help for commercial and recreational fishermen and a declaration of "commercial fisheries failure." The governor said the state remains "concerned about BP's ability to respond" and is preparing coastal parishes to act on their own.
Jindal said in a letter to U.S. Commerce Secretary Gary Locke that the commercial and recreational fishing businesses are crucial to Louisiana's coastal towns and the nation's food supply, providing almost one-third of the seafood in the lower 48 states, with values exceeding $2.85 billion a year.
"I want to be very clear on this point -- this is not just about our coast," Jindal said. "It is fundamentally about our way of life in Louisiana."
Worse Than Katrina
Glenn Sanchez, 55, who runs the Breton Sound Marina, said the spill was a greater threat to his livelihood than Hurricane Katrina, which destroyed almost all of St. Bernard's 27,000 homes and displaced communities such as this one that lie outside the protection of the coastal levees.
"I'm out of business," he said. "This is a nightmare."
His son Jonathan Sanchez, a fishing guide who works with McShan, said oyster luggers were heading toward the spill loaded with booms. Each lugger was followed by three or four smaller boats, such as his own 24-footer, that would place the barriers.
He estimated the oyster boats would take five hours to get into position and said he doubted the booms would hold against the high winds and rough seas.
"It's terrible," Sanchez said. "I want to help so bad and what I'm heading out to do won't help at all."
Frustrations have caused some friction between locals, worried about their jobs, and the outsiders arriving to fight the spill, said St. Bernard Sheriff Jack Stephens in an interview near the staging area. He expects about 6,000 new arrivals in coming weeks between St. Bernard and neighboring Plaquemines Parish.
Angry Locals
"We've already had some flare-ups, with locals angry about outsiders getting to work while the locals are shut down," he said.
Stephens said his office was preparing to deal with the influx, as well as the economic damage from the spill, both of which could have long-term consequences for the parish.
"At the end of the day, we know a part of this resource is going to be affected for a long, long time," he said. "There's a real feeling of doom."
McShan said BP's contractors need local knowledge to know where to place booms and how to get there. The marshes are cut with innumerable channels and lakes, making navigation difficult for outsiders.
"Local people know the area," he said. "And everyone here is willing to go risk their lives to protect their livelihoods."
Before it's here, it's on the Bloomberg Terminal.
LEARN MORE