FDIC's Bair Opposes Lincoln's Proposal to Segregate Swaps Units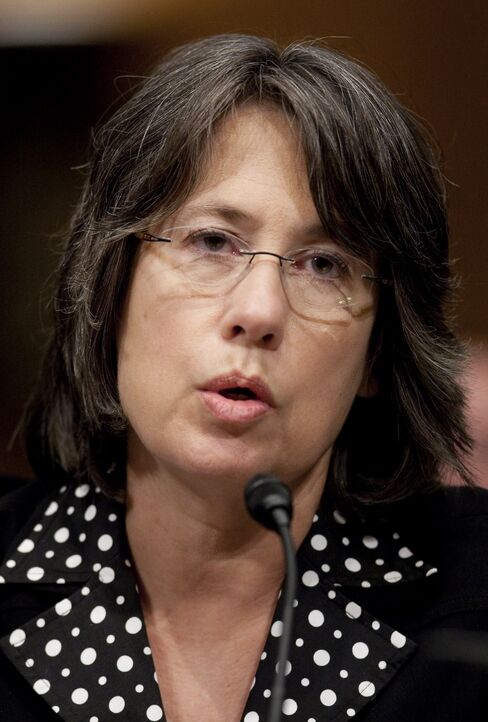 Federal Deposit Insurance Corp. Chairman Sheila Bair is opposing a Senate measure that could cut off privileges to banks like Goldman Sachs Group Inc. and JPMorgan Chase & Co. that don't segregate swaps trading units.
Bair, in an April 30 letter to Senate Banking Chairman Christopher Dodd and Agriculture Committee Chairman Blanche Lincoln, said the proposal championed by Lincoln would create "weakened, not strengthened, protection of the insured bank."
"If all derivatives market-making activities were moved outside of bank holding companies, most of the activity would no doubt continue, but in less-regulated and more highly leveraged venues," Bair wrote. "Even pushing the activity into a bank holding company affiliate would reduce the amount and quality of capital required to be held against this activity."
Lincoln has said she isn't sure her plan to make banks wall off their swaps-trading desks has enough support to become part of the Senate's overhaul of financial regulations. Bair is the third U.S. regulator to express concern about proposals to curb participation by banks in swaps, which some lawmakers said helped bring the financial system to the brink of collapse.
Comptroller of the Currency John Dugan has said he disagrees with Lincoln's provision. The Federal Reserve, in an April 24 staff analysis, said the proposal could prove costly to banks and customers.
Lincoln, the Arkansas Democrat who drafted the provision, has pushed to keep it in the regulatory overhaul legislation now on the Senate floor.
Discount Window
The proposal would bar companies that deal in swaps, a form of derivatives, from bank privileges such as access to the Federal Reserve's discount lending window and emergency liquidity functions, and the FDIC's deposit guarantee. The purpose, Lincoln has said, is to protect taxpayers and the banks who pay assessments to the Deposit Insurance Fund from financial institutions that deal in riskier forms of trading.
"This provision is to ensure that banks get back to the business of banking and that depositors are protected from the risky behavior of Wall Street," Lincoln said in a statement provided by her office. "I will review Chairman Bair's letter carefully and give it the consideration it deserves."
Senators including Republicans Judd Gregg of New Hampshire and Bob Corker of Tennessee have criticized the provision and sought its removal.