Buffett Touts Economy as Berkshire Seeks Buyouts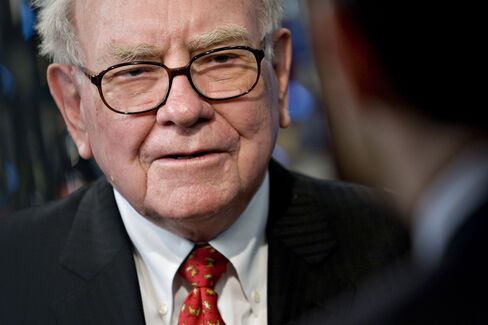 Billionaire Warren Buffett said the U.S. economy is recovering as his Berkshire Hathaway Inc. seeks an acquisition for as much as $10 billion and hires workers after swinging to a profit in the first quarter.
"Unemployment is going to come down," Buffett, 79, said yesterday at a press conference in Omaha, Nebraska, a day after Berkshire's annual shareholders meeting. "Business is picking up. We at Berkshire are hiring now. We let go a lot of people last year. American business is improving from everything I can see now."
Buffett hosted shareholders in the Qwest Center arena, site of concerts by performers like Miley Cyrus and Elton John. The Berkshire chairman and chief executive officer announced a $3.63 billion first-quarter profit, saying the U.S. economy "picked up steam in March and April."
Employers in the U.S. probably added jobs in April for the third time in four months, pointing to a recovery that is both broadening and gaining momentum, economists said before a government report this week. Payrolls rose by 200,000, the most in three years, after increasing by 162,000 in March, according to the median forecast of 60 economists surveyed by Bloomberg News before the Labor Department's May 7 report.
"The last six, seven months have been going up and up and up and up," Eitan Wertheimer, chairman of Iscar Metalworking Cos., said yesterday in an interview with Bloomberg Television. Iscar, the world's second-biggest maker of metal-cutting tools, is owned by Berkshire.
'The World Is Moving'
"I see it in 62 countries, out of the 82 that we serve," he said. "I see it in many segments of industry, if it's automotive, if it's home appliances, if it's aerospace, if it's other things. And the world is moving."
Berkshire's Class A shares advanced $2,105, or 1.8 percent, to $117,430 in New York Stock Exchange composite trading at 4:15 p.m. The stock has gained 18 percent this year. Rising corporate profits have helped fuel an 80 percent surge in the Standard & Poor's 500 Index from its recession low in March 2009.
The Labor Department report will probably show the unemployment rate was 9.7 percent for a fourth straight month, according to the Bloomberg survey median. Berkshire, which cut more than 20,000 jobs last year, is adding staff as the recovering economy boosts demand at its industrial units, Buffett said.
"We do hire people when we have something for them to do," Buffett told investors at the meeting. "We are a net hirer now." In businesses that serve broad industries, like railroads, "we are seeing an uptick," Buffett said.
Quarterly Profit
First-quarter net income of $3.63 billion compares with a net loss of $1.53 billion in the same period a year earlier, Berkshire said in a statement. Operating earnings rose 30 percent to $2.22 billion from $1.71 billion.
The profit from manufacturing, service and retailing jumped 85 percent to $477 million from $258 million a year earlier. That group includes Marmon Holdings Inc., a maker of construction materials; carpet manufacturer Shaw Industries; and Fruit of the Loom, which produces underwear and other clothing, according to the company's annual report. Berkshire didn't break down results by unit.
"Right now, what you see is a pretty good improvement in industrial sectors like Marmon and Iscar," said Buffett.
Profit from insurance underwriting, including car-coverage specialist Geico and reinsurer General Re, rose to $226 million from $202 million in the year-earlier period. Regulated businesses, including railroad Burlington Northern Santa Fe Corp. as well as utility and energy units, doubled to $555 million. Berkshire acquired Fort Worth, Texas-based Burlington Northern in February.
Investments, Acquisitions
Berkshire had a gain of $1.4 billion on derivatives and investments compared with a loss of $3.2 billion on the holdings in the year-earlier period.
Buffett, who built Berkshire into a $190 billion company through acquisitions and investments during his more than 40 years as CEO, said he's always looking for the next deal.
"We are ready to act," Buffett said at the shareholders meeting. "If I get a call on Monday on a $10 billion deal and I like it, I'll say yes."
Buffett said Berkshire has access to capital to finance an acquisition, just as it did when it bought Burlington. Berkshire had more than $30 billion in cash as of Dec. 31.
"We're as interested as ever," Buffett said. "We wrote a big check and issued shares in connection with Burlington Northern."
The railroad deal was an "all-in wager" on the U.S. economy, Buffett has said. The economy expanded at a 3.2 percent annual rate in the first quarter as households spent more money, the Commerce Department said April 30. Consumer spending rose the most in three years, and business activity in the U.S. expanded in April at the fastest pace in five years.