Glencore Said to Be Considering Merger With Xstrata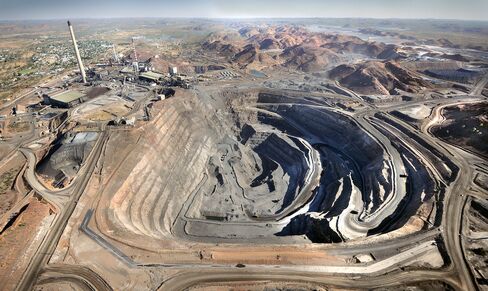 Glencore International AG, the world's largest commodity trader, is studying a merger with Xstrata Plc as a way of restructuring its ownership and improving access to capital, according to two people familiar with the matter.
Glencore, which already owns 34 percent of Xstrata, is also considering an initial public offering, said the people, who declined to be identified because the talks are confidential and no decision has been reached. No agreement is imminent, the people said. Marc Ocskay, a spokesman for Glencore, and Xstrata spokeswoman Claire Divver, both declined to comment.
A deal would help Baar, Switzerland-based Glencore to fund its activities and ease liquidity constraints, while providing some of the closely held group's partners with the ability to exit their stakes in the company. Glencore, led by Chief Executive Officer Ivan Glasenberg, had its credit rating cut by Standard & Poor's to the lowest investment grade in December 2008 after commodity prices tumbled.
"The merger would definitely make sense," said Felix Freund, a Frankfurt-based portfolio manager at Union Investment GmbH, in an e-mail today. Xstrata would broaden its asset base and become a more vertically integrated company, while Glencore would solve its "problem" of private ownership which limits its growth prospects, he wrote.
Xstrata shares gained 4.2 percent to 18.65 francs in Zurich trading.
'Qualifying Events'
Glencore, which trades metals and oil and controls mines and smelters, in December sold as much as $2.2 billion of bonds to investors including BlackRock Inc. and Government of Singapore Investment Corp. The bonds convert upon an IPO or "other pre-determined qualifying events," Glencore said.
The trader is facing pressure on how it will deliver equity to investors, one of the people familiar with the matter said. The terms of the bonds gave Glencore a pre-conversion equity value of $35 billion, the company said in December.
Advisers are working on a two-stage proposal in which Glencore would merge with Xstrata in a "reverse takeover" and then reduce its stake in the enlarged group to below 40 percent, the Sunday Telegraph reported yesterday, without saying where it got the information. Xstrata management would retain control of the combined company, the newspaper said.
Rival to BHP
"The complexities of the deal will arise around the valuation, the future compensation of Glencore's traders and the marketing rights of a combined company," Union Investment's Freund wrote. "From a bondholder perspective a potential merger would clearly be positive for Glencore's credit profile."
Xstrata, led by Chief Executive Officer Mick Davis, is the largest producer of coal burned by power stations and fourth-biggest producer of copper and nickel. For the Zug, Switzerland- based company, which has a market value of 31.9 billion pounds ($49 billion), a merger would create a mining group rivaling BHP Billiton Ltd., the world's largest, with operations from Peru to Kazakhstan.
Davis expanded Xstrata through more than $35 billion of acquisitions since it sold shares in a London IPO in 2002.
Glencore's senior staff agreed to defer their first termination payment in the event of their departure until at least 2012 in an attempt to strengthen the company's finances, the trader told bondholders in March 2009.
Commodity prices have recovered since then. Copper rebounded 64 percent on the London Metal Exchange in the past year, aluminum gained 46 percent and nickel more than doubled.
'Big Question'
"The big question is whether this transaction calls the top of the commodities market," said John Meyer, head of natural resources at investment bank Fairfax I.S. Plc in London. "It may be several years away, but the Glencore partners may be preparing their exit now in the event the top of the market comes."
BHP, which is based in Melbourne, had a market value of A$206.5 billion ($191 billion) at the close of trading today. It had sales in the year to June 30, 2009, of $50.2 billion, according to data compiled by Bloomberg. Glencore's sales in 2009 were $106.4 billion, the company said on March 10.
Morgan Stanley and Citigroup Inc. are working with Glencore, while Xstrata is advised by Deutsche Bank AG and JPMorgan Cazenove Ltd.
As well as trading commodities, Glencore owns 8.7 percent of Moscow-based United Co. Rusal Plc, the world's largest aluminum producer, controls zinc mines in Peru and Kazakhstan, coal mines in South Africa, and smelts copper in the Philippines.