Erdogan Laws Clearing Parliament May Spark Election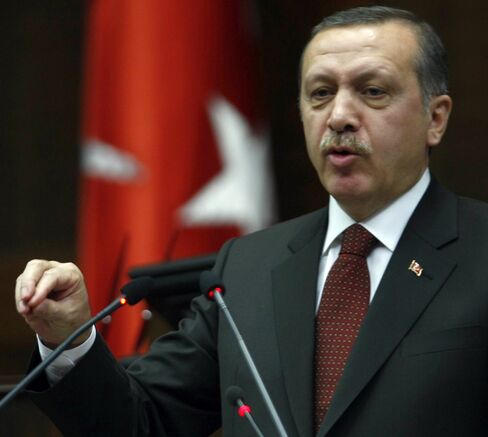 Turkey's parliament is due this week to approve constitutional changes proposed by Prime Minister Recep Tayyip Erdogan, setting the stage for a possible clash with the judiciary that could spark early elections.
Erdogan's package of 27 amendments would allow parliament to select judges on the Constitutional Court, the top legal body, and stop prosecutors from banning political parties. It has tested Erdogan's majority, forcing the premier to bar his lawmakers from leaving the capital, Ankara, in case support falls below the three-fifths majority the measures need.
If the measures pass, opposition leaders say they will go straight to the Constitutional Court to seek their cancellation before a national referendum on the changes. The court in 2008 narrowly rejected a lawsuit to shut down Erdogan's party on the grounds it was seeking to introduce Islamic Shariah law. A year earlier, Erdogan called snap elections after the court blocked his plan to allow a public vote for the presidency.
"A judicial intervention in the process would increase the chance of early elections," said Inan Demir, chief economist at Finansbank AS in Istanbul, Turkey's fifth-biggest non-state bank with about $20 billion of assets. That may "keep people guessing" over whether Erdogan would achieve a third term and deter investors if his party looks like losing power, he said.
Market Rally
So far, Turkey's market rally hasn't been halted by political tensions over the amendments. The lira has gained 2.2 percent against the dollar since March 30, when the plan was submitted to parliament, and the benchmark ISE-100 stock index rose 3.5 percent, extending its gain over the past 12 months to 86 percent.
Elections are due in July 2011 and Erdogan says he wants to serve a full term. Opinion polls show his support eroding as the global economic crisis has added about 1 million jobless people. The unemployment rate is likely to remain high for some time, central bank Governor Durmus Yilmaz said April 29. Unemployment was 14.5 percent in the three months through February.
Backing for Erdogan's party fell to 28.5 percent, the lowest level since it won power in 2002, Vatan newspaper said on April 27, citing a survey by research company Sonar Arastirma. Sonar interviewed 3,000 people in 15 of Turkey's 81 provinces, Vatan said. No margin of error was given.
'First Class Democracy'
Erdogan says the changes are needed to meet European Union membership standards, rein in the judiciary, and provide a "first-class democracy." The EU is Turkey's biggest export market and the prospect of EU membership has helped attract record levels of investment from companies such as New York- based Citigroup Inc. and Newbury, U.K.-based Vodafone Group Plc to the $660 billion economy.
"The most important result of the constitutional changes is to remove the closure of parties from the control of one single person," Deputy Prime Minister Ali Babacan said in an interview with HaberTurk television today. "That will clearly be positive for the economy."
Electronic Jammer
The constitutional amendments each need to be approved twice by a three-fifths majority, or 330 votes, for President Abdullah Gul to be able to submit them to a referendum. Erdogan's Justice and Development Party has 335, excluding the parliament speaker, and in last week's first round of voting, support for the clause changing the make-up of the Constitutional Court slipped to 331. Voting on constitutional amendments takes place by secret ballot.
The assembly approved six sections in second-round voting yesterday in which the government's support fell to 332 at one stage.
Babacan dropped plans to attend the International Monetary Fund's meeting in Washington on April 24-25 so he could attend the voting as parliament worked through the weekend on the amendments.
Parliament disabled the electronic jammer that usually blocks mobile phone use in the assembly, allowing Erdogan's party to marshal lawmakers by phone and ensure they vote, Haberturk newspaper said on April 29.
Once Gul has made his decision, a referendum would take place 60 days later, under an accelerated timetable parliament approved on March 3.
Opposition Plans
The opposition Republican People's Party says the amendments are unconstitutional because they blur the separation of powers between the judiciary and parliament.
The republicans plan to appeal to the court as soon as the legislation is approved, party lawmaker Hakki Suha Okay said in a telephone interview. "That way the court can rule before the referendum takes place."
"The market is operating on the assumption that the amendments go to a referendum and pass handily," said Demir. "The trouble is, that doesn't allow for something going wrong with the process such as the opposition application to the court."
Events May 3-7:
Event                                             Date
April Inflation data                              May 3
April Manufacturing PMI                           May 3