Buffett Says Goldman Is Counterparty on Equity Derivatives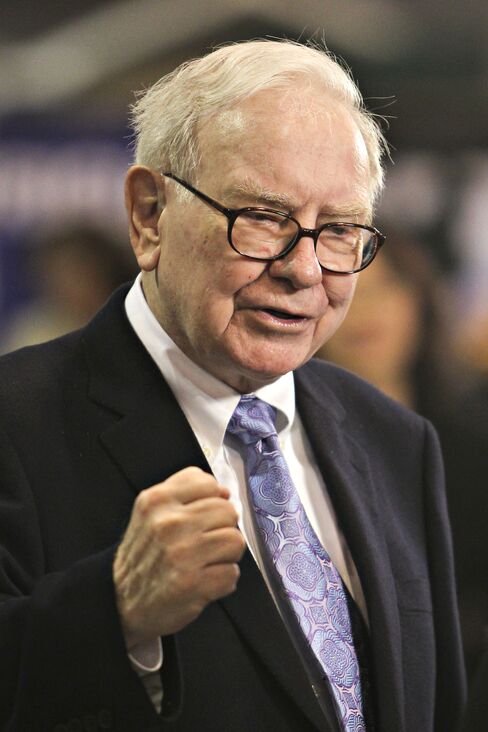 Warren Buffett said Goldman Sachs Group Inc. is among the counterparties on derivative trades that contributed last year to a first-quarter loss at his Berkshire Hathaway Inc.
"Goldman Sachs is on the other side of some of our equity-put transactions," Buffett, 79, said yesterday at a press conference in Omaha, Nebraska.
Buffett sold derivatives tied to four stock indexes for about $4.9 billion, according to his letter to shareholders last year, which didn't name the buyers. When equity markets dropped in 2008 and early 2009, the contracts weighed on Berkshire's results while bolstering firms that took positions opposite Buffett.
"When people need protection against the downside, Berkshire is the place to get it," said Tom Russo, a partner at Gardner Russo & Gardner in Lancaster, Pennsylvania, which holds Berkshire stock. "Very few organizations have the capacity."
Buffett identified Goldman Sachs as his counterparty yesterday as he said the bank shouldn't be blamed for losses suffered by clients in mortgage-related trades at the center of a fraud suit filed by regulators. The Securities and Exchange Commission said last month that clients of Goldman Sachs weren't told that the hedge fund led by John Paulson helped pick the underlying securities and bet against them.
Buffett purchased $5 billion of Goldman Sachs preferred shares in 2008, and said he supports the company and Chief Executive Officer Lloyd Blankfein at both yesterday's press conference and the May 1 Berkshire shareholders meeting. Andrea Rachman, a spokeswoman for Goldman Sachs, declined to comment.
'This is Business'
"By saying, 'We're a counterparty and we're not griping about it,' Buffett is saying the old line from 'The Godfather': 'This is business,'" said Jeff Matthews, author of "Pilgrimage to Warren Buffett's Omaha" and founder of hedge fund Ram Partners LP. "Buffett is saying this is sour grapes on the part of the losers."
Berkshire posted a net loss of $1.53 billion in the three months ended March 31, 2009. A rebound in equity values helped Berkshire swing to net earnings of $3.63 billion in this year's first quarter.
Buffett can invest the cash from the contracts and keep any profit even if he loses the bet. If the four indexes covered by the contracts are at zero when the agreements expire, the losses would be about $38 billion, according to Berkshire's most recent annual report.
'No Difference'
"It makes no difference to us who is on the other side of the transaction," Buffett said yesterday when he discussed his trades with New York-based Goldman Sachs. He said he also made trades with Lehman Brothers Holdings Inc.
The contracts will be settled from 2018 to 2028 and Berkshire will make payments only if indexes are below the values they stood at the time when deals were struck. Buffett sold some of the derivatives as equity markets were approaching peaks in 2006 and 2007.
"We believe that these contracts will prove profitable over the 15-20 year periods they cover, even if we exclude the investment income we can expect to earn on the $4.9 billion that we hold," Berkshire said in a statement in May of 2008 when the Standard and Poor's 500 Index was more than 1,400, compared with 1,186.69 at the end of last week.
Berkshire said in its most recent annual report that the contracts usually don't require the company to post collateral if the value of the derivatives fall or the company's credit ratings are downgraded.
Before it's here, it's on the Bloomberg Terminal.
LEARN MORE