WPP First-Half to Be 'Much Better' as Sales Improve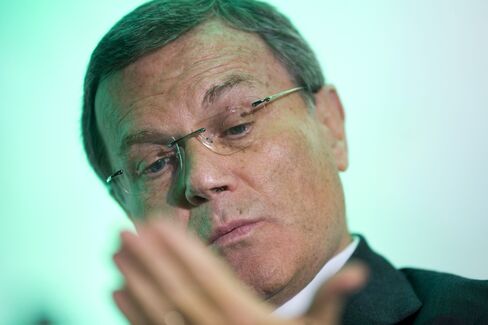 WPP Plc, the world's largest advertising company, said first-half profitability will improve, as the U.S. leads a recovery for demand and sporting events such as the soccer World Cup spur spending.
A number of markets have rebounded earlier than expected, the London-based company said in a statement today. The U.S. recovered first, followed by the U.K., it said. First-quarter sales in North America climbed 3.2 percent in constant currency from a year earlier. The region accounts for more than a third of revenue.
"Growth in the world is coming geographically from the U.S. with a remarkable turnaround," Chief Executive Officer Martin Sorrell said in an interview today. "2010 budgets in the U.S. were prepared in a more relaxed environment though still very watchful on costs."
WPP, which owns Ogilvy & Mather Worldwide and the Hill & Knowlton public relations firm, said marketers boosted budgets, after falls last year. The first half "should be much better than" the first half of 2009 for profit and margins as sales stabilize and effects of cost cuts take hold, it said. Sporting events including the FIFA soccer World Cup will add at least 1 percent to global like-for-like revenue growth, it said.
WPP shares rose 2.2 percent to 706.5 pence as of 9:02 a.m. in London trading, giving the company a market value of 8.88 billion pounds ($13.7 billion).
"The improvement in revenues, compared with budget, seen in the first quarter, will continue for the balance of the year, with full-year like-for-like revenue growth of around 2 percent," Sorrell said, adding he wasn't "proud that flat is the new up."
Stronger Pound
First-quarter revenue at WPP fell 1.8 percent to 2.08 billion pounds ($3.19 billion), as the pound strengthened against the dollar and the euro, the company said. Sales had been predicted at 2.05 billion pounds, according to the average estimate of analysts surveyed by Bloomberg. If reported in dollars, revenue climbed 6.6 percent, WPP said.
Events including the FIFA soccer World Cup, Commonwealth Games and Winter Olympics in Vancouver will boost sales this year, WPP said.
WPP gets 27 percent of its revenue from digital activities and another 27 percent from fast-growing markets, Sorrell said.
New billings for the quarter totaled 1.07 billion pounds and the company ended a hiring freeze at some of its agencies. The average number of workers, excluding associates, fell 10.2 percent to 99,556 from a year earlier.
Small Acquisitions
During the first quarter, the company made several small acquisitions or increased stakes in Poland, Israel, Brazil and Colombia. WPP will announce today an "expansion deal" between Ogilvy & Mather and Scangroup Ltd., an east African marketing business in which it has a stake, Sorrell said.
Average first-quarter net debt dropped to 2.85 billion pounds from 3.24 billion pounds in 2009 at this year's exchange rates.
French rival Publicis SA last week said first-quarter revenue rose 8 percent, led by revenue from digital and emerging market operations. Interpublic Group of Cos., the third-largest ad company, yesterday said first-quarter revenue rose 1.1 percent to $1.34 billion.
Before it's here, it's on the Bloomberg Terminal.
LEARN MORE