Consumers in U.S. May Keep Spending as Government Support Wanes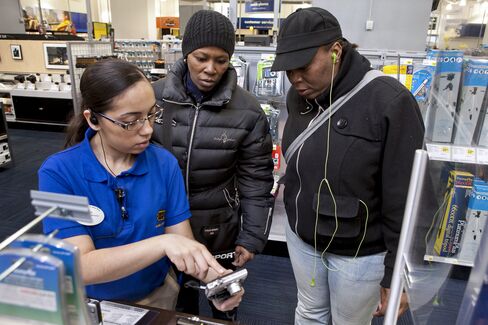 Americans spent at the fastest pace in three years during the first quarter, indicating they are becoming less dependent on government stimulus that's waning as the world's largest economy recovers.
Purchases by households rose at a 3.6 percent pace from January through March, exceeding the median forecast of economists surveyed by Bloomberg News, Commerce Department figures showed today. The increase helped the economy expand at a 3.2 percent annual rate, capping the best six-month performance since the second half of 2003.
Consumers are stepping into a bigger role in the recovery that's so far been driven by a surge in manufacturing. While wealth has been bolstered in part by higher stock prices, sustained job creation is needed for bigger gains in the spending that accounts for 70 percent of the economy.
"We're not looking for a boom, but consumer spending will be quite robust," said Steven Wieting, managing director of economic and market analysis at Citigroup Global Markets Inc. in New York. "The consumer is somewhat more stable than people think. As demand picks up, it's important that we get follow-through in improvement in income."
The transition from government assistance through tax breaks, housing credits and emergency jobless benefits to more self-sufficient means of spending, such as sustained job growth, will help determine when government officials and Federal Reserve policy makers begin to remove stimulus measures.
Employment has increased in three of the last five months and will rise in April, according to the median forecast of economists by Bloomberg News before the May 7 report from the Labor Department.
Federal Reserve
Central bankers on April 28, after deciding to keep their benchmark interest rate close to zero, said in a statement that "the labor market is improving." They also said that unemployment at 9.7 percent was a restraint on consumer spending.
"The consumer is still obviously jittery and, confidence-wise, nervous, a little bit bruised and battered," said John Herrmann, senior fixed-income strategist at State Street Global Markets in Boston. "However, in terms of actual behavior, we're seeing consumer spending very resilient."
Consumer spending added 2.55 percentage points to growth last quarter. The 3.6 percent pace of spending compared with the 3.3 percent rate forecast by economists and was more than twice the 1.6 percent gain in the prior three months.
Sales at Macy's
Macy's Inc., the second-largest U.S. department-store chain, boosted its annual profit and sales forecasts this week. Sales at stores open at least a year will rise as much as 3.5 percent, the Cincinnati-based retailer said. It had earlier predicted a gain of 2 percent at most.
"This year has started off stronger than anticipated," Chief Financial Officer Karen Hoguet said at an analyst meeting April 27 in New York. It "appears that we're getting more help than we had expected from the economy."
Employers may have added 200,000 workers to payrolls this month, and the unemployment rate held at 9.7 percent, according to the median forecasts in surveys of economists by Bloomberg News. In a separate survey, the economists projected the jobless rate will fall to 9.4 percent by year-end.
"As job losses have turned into job gains, consumer spending is responding as one would expect," said Richard DeKaser, president of Woodley Park Research in Washington. "I've rejected the view that consumers are going to be less inclined to spend and more inclined to save. The combination of job growth and wealth recovery will keep consumer spending on a sustained track."
Not everyone is as optimistic. Kurt Karl, chief U.S. economist at Swiss Reinsurance Co. in New York, is among those who caution consumers' drive to save more may limit spending in coming quarters. The savings rate slowed the first three months of the year to a 3.1 percent pace.
"We have to keep the savings rate steady," said Karl. Spending "is sustainable at 3.6 percent but it's not going to get much better than that."
Before it's here, it's on the Bloomberg Terminal.
LEARN MORE