Cameron Bolsters Bid to Oust Brown in Debate Poll Win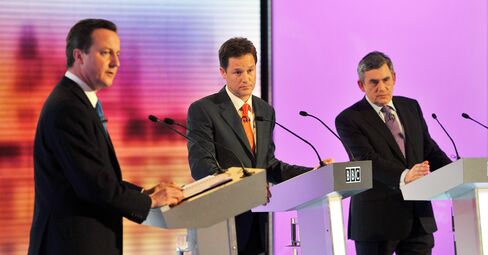 Conservative leader David Cameron won the final debate of the U.K. election campaign, three instant-reaction polls showed, gaining momentum in his bid to oust Prime Minister Gordon Brown in the May 6 vote.
Cameron did best among the undecided last night in the candidates' last chance to rally their bases and persuade wavering voters, according to a ComRes Ltd. survey. Before the debate, Brown was running third in a three-way race behind Cameron and Liberal Democrat Nick Clegg, polls showed.
"Labour would like this campaign to be over now," said Steven Fielding, director of the Centre for British Politics at Nottingham University. "Their fight really is just to avoid humiliation. After last night, Brown has no platform left to campaign on."
Forecasts point to a so-called hung Parliament, with the Conservatives having the most seats, though short of a majority. That prospect may unsettle investors concerned that a divided government would be too weak to fix Britain's record budget deficit.
The pound weakened 0.2 percent to $1.5292 as of 4:25 p.m. in London. Sterling has fallen about 5 percent against the dollar so far this year as the opinion polls pointed increasingly to a hung Parliament as the most likely outcome.
Cameron's central message in the 90-minute event in Birmingham, central England, was that 13 years of Labour rule had left Britain struggling to recover from its longest recession and the highest unemployment in 16 years.
'Clean Break'
"If you vote Labour, you're going to get more of the same," Cameron said. "If you vote Conservative on Thursday, you can have a new fresh government, making a clean break."
Brown countered by describing himself as the most able steward of a recovering economy.
"They are not ready for government because they have not thought through their policies," Brown said of his rivals. "We are desperate to get this country through the recession and into the recovery."
A YouGov Plc poll for The Sun newspaper released before the debate showed Conservative support unchanged from the previous day at 34 percent, while the Liberal Democrats fell 3 points to 28 percent and Labour was unchanged at 27 percent. YouGov questioned 1,623 voters April 28 and yesterday.
That would give the Conservatives 268 lawmakers, 58 short of a majority in the 650-seat House of Commons, Labour 261 and Clegg's party 90, according to the seat calculator on the U.K. Polling Report website.
'Two-Horse Race'
Clegg, campaigning today in Leicester, central England, said the election was boiling down to a "two-horse race" between his party and the Conservatives.
Business Secretary Peter Mandelson told reporters the race was "still wide open" as he joined the prime minister for a poster launch in Birmingham. "I would say that a third or quarter of the electorate have yet to finally make up their minds," he said.
Brown's predecessor, Tony Blair, a three-time election winner, lent Labour his support today, visiting the Harrow West electoral district in northwest London. He said he didn't think the party will come in third. "Labour's got every chance of succeeding," he told reporters.
In the 2005 election, Labour had an 18-point lead over the Conservatives in the district. If they were to lose it, it would suggest they were on course to lose close to half their 345 seats.
Instant Polls
In the final encounter last night, 41 percent of 1,151 viewers questioned immediately after the debate said Cameron performed best, according to a YouGov poll. Clegg was called the winner by 32 percent and 25 percent favored Brown.
Of the 2,372 voters questioned for the ComRes instant poll, 35 percent thought Cameron won and 33 percent saw Clegg as the winner, with 26 percent for Brown. Cameron took 43 percent of undecided voters compared to 34 percent for Brown and 23 percent for Clegg.
Another poll by ICM Ltd. for the Guardian had Cameron at 35 percent, Brown at 29 percent and Clegg at 27 percent.
"Cameron was very strong at looking assured and looking like he knew what he was doing," said Justin Fisher, professor of politics at London's Brunel University.
During the debate, Brown and Cameron clashed over the timing of cuts in government spending.
'In Jeopardy'
"I do fear an emergency Tory budget in a few weeks time putting the very work that we've done to secure the recovery in jeopardy," Brown said, referring to the Conservatives' pledge to announce revised spending plans within 50 days of winning power.
Labour "confuse the economy with the government," Cameron said. "What we're saying is save government waste to put money back in people's pockets. Gordon's argument in a way is 'Let me go on wasting your money so I can put your taxes up next year.'"
"Cameron knew Brown would go on his record as an experienced leader in the economic crisis so he sought to lay the blame for the economic malaise at Labour's door," said Andrew Russell, who teaches politics at the University of Manchester.
The deficit, which at more than 11 percent of gross domestic product is the largest in the Group of Seven, has been a dominant theme of the campaign.
The British economy grew in the first quarter at 0.2 percent, half the pace of the previous three months, and unemployment is at a 16-year high. Gross domestic product contracted for six straight quarters through September 2009.
Before it's here, it's on the Bloomberg Terminal.
LEARN MORE