Macquarie Signals Growth as Profit Jumps on Recovery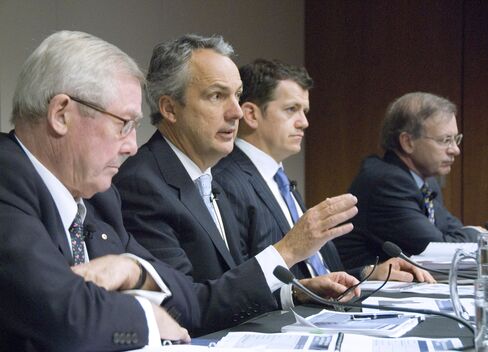 April 30 (Bloomberg) -- Macquarie Group Ltd., Australia's largest investment bank, said second-half profit more than doubled and forecast higher earnings next fiscal year as the global economic recovery drives a surge in trading.
Net income in the six months ended March 31 rose to A$571 million ($531 million) from A$267 million a year earlier, the Sydney-based bank said in a statement today. The stock climbed as Chief Executive Officer Nicholas Moore, whose total pay surged almost 33 times from a year earlier, said he expects better operating results at all businesses next financial year.
Macquarie joined the world's biggest investment banks, from Goldman Sachs Group Inc. to Deutsche Bank AG, in boosting profit as stock and bond trading recovered from the credit crisis. Moore has accrued A$4 billion in excess cash after keeping Macquarie profitable throughout the financial tumult, and many investors expect him to use the funds for further acquisitions.
"The earnings driver is going to be very dependent on how much surplus capital the group has and how quickly they can deploy that," said Chris Hall, who helps manage about $3.6 billion of assets including Macquarie stock at Argo Investments in Adelaide, Australia. "Into 2011, there's a lot of anticipation for a pretty good rebound in earnings."
Full-year profit of A$1.05 billion matched the average estimate of A$1.03 billion by six analysts surveyed by Bloomberg.
Shares Climb
Deutsche Bank, Germany's biggest lender, on April 27 reported record earnings at its investment bank. JPMorgan Chase & Co., Bank of America Corp. and Goldman Sachs beat analysts' estimates for first-quarter profit, while UBS AG of Switzerland posted the highest earnings in almost three years.
Shares of Macquarie rose 3.7 percent to A$50.16 at 10:25 a.m. in Sydney. The stock has jumped 50 percent in the past 12 months. That beat the 27 percent gain in Australia's benchmark S&P/ASX 200 index, and a similar climb by Goldman Sachs in New York.
Net trading income at Macquarie's securities business in the year ended March 31 climbed 17 percent as earnings at the unit more than doubled. Fee and commission income jumped 69 percent. Profit at Macquarie Capital, which advises on takeovers, debt sales and stock issues, more than doubled to A$657 million.
With markets and global mergers and acquisitions returning to normal levels, results from those Macquarie businesses are set to improve, said Angus Gluskie, who oversees $300 million at White Funds Management Pty in Sydney including Macquarie shares.
'Cyclical Upswing'
"The cyclical upswing will continue to benefit the company for some time to come," he said. Gluskie expects earnings from Macquarie's acquisitions in 2009, when it made at least five North American takeovers, to start adding to financial results next fiscal year.
The bank, founded in 1969 with three employees, is seeking a bigger slice of the investment-banking market dominated by U.S. rivals. Moore's acquisitions in 2009 included the September takeover of Fox-Pitt Kelton Cochran Caronia Waller LLC, an investment bank focusing on financial institutions.
"Market conditions continue to improve," said Moore. "Subject to economic activity continuing to increase across all major markets, we expect continued growth in revenue and earnings across most businesses over time." The 51 year-old banker's total remuneration surged to A$9.56 million for the year to March 31, according to the company's annual report, from A$290,756 a year earlier.
Dragging Returns
As of March 31, the bank had A$4 billion of capital above the regulatory minimum. That's dragging on the group's return on equity, which was 10 percent in the 12-month period, little changed from a year earlier. In the four previous years, returns were between 23.7 percent and 29.8 percent.
"Macquarie's balance sheet remains strong and the firm has capitalized on the market downturn to make strategic acquisitions overseas," John Heagerty, a Sydney-based analyst at Royal Bank of Scotland Plc, said in an April 27 report. "Crucially, client-driven activity is picking up."
As global mergers and acquisitions pick up, Macquarie needs to keep winning mandates to advise on takeovers, initial public offerings and debt sales to keep staff costs from eroding profitability, said Hall from Argo.
"They've got a lot of mouths to feed," he said. "The corollary of higher profits is a higher compensation ratio, which obviously affects your bottom line. They are getting on the tickets, but they've got to retain that."
Including acquisitions, the bank expanded its workforce by about 15 percent to more than 14,600 in the past six months. The compensation ratio climbed two percentage points to 43 percent in the fiscal year, returning to "historical levels," Macquarie said.
The proportion of Macquarie's full-year income generated from the Americas was 21 percent and Australia made up 48 percent. Asia contributed 18 percent, while Europe, the Middle East and Africa accounted for 13 percent.
To contact the reporter on this story: Angus Whitley in Sydney at awhitley1@bloomberg.net
To contact the editor responsible for this story: Philip Lagerkranser at lagerkranser@bloomberg.net