Lavin Bellows at Paulson's Writer in 'Stories': Jeremy Gerard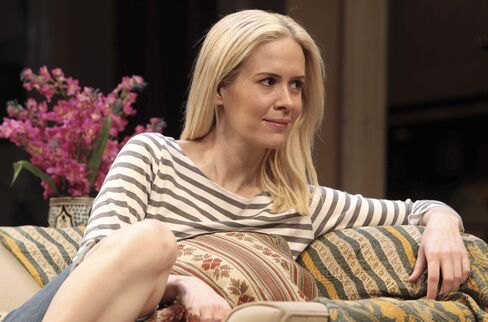 As an aging New York writer who may have been a one-hit wonder, Linda Lavin runs roughshod over co-star Sarah Paulson, playing the talented protege who quickly surpasses her mentor in Donald Margulies's "Collected Stories."
The middling 1996 drama is being revived on Broadway by the Manhattan Theatre Club in a production that won't change anyone's opinion of it. Margulies, whose first-rate inspirations only occasionally produce first-rate plays, has a home at the nonprofit which, earlier this season, presented his "Time Stands Still."
Lavin's taciturn Ruth Steiner found early fame as a fiction writer but long ago settled into a life of teaching. The opening scene finds her visited at home by her latest star-struck grad student, Lisa Morrison (Paulson), who eventually stays on as Ruth's amanuensis. Things get dicey when Lisa's short story is accepted by a literary magazine without Ruth's help or even knowledge.
They get much dicier when Lisa then publishes her first novel, based on a story Ruth confided about her early years in New York and her April-December affair with the dissolute poet Delmore Schwartz. Lavin hollers a lot as Ruth accuses Lisa of intellectual theft, not to mention grave-robbing.
Margulies offers no reason to believe that either Ruth or Lisa has ever written a word worth publishing. The gifted director, Lynne Meadow, indulges Lavin, who mutters, mugs, winces and sneers along with the yelling, as Paulson recedes into the attractive clutter of Santo Loquasto's lovely faded facsimile of a Greenwich Village floor-through.
At the Samuel J. Friedman Theatre, 261 W. 47th St. Information: +1-212-239-6200; http://www.telecharge.com. Rating: *1/2
What the Stars Mean:
****       Do Not Miss
***        Excellent
**         Good
*          Poor
(No stars) Worthless
(Jeremy Gerard is an editor and critic for Bloomberg News. The opinions expressed are his own.)
Before it's here, it's on the Bloomberg Terminal.
LEARN MORE