Conan Says He Wouldn't Have Taken 'Tonight Show' Back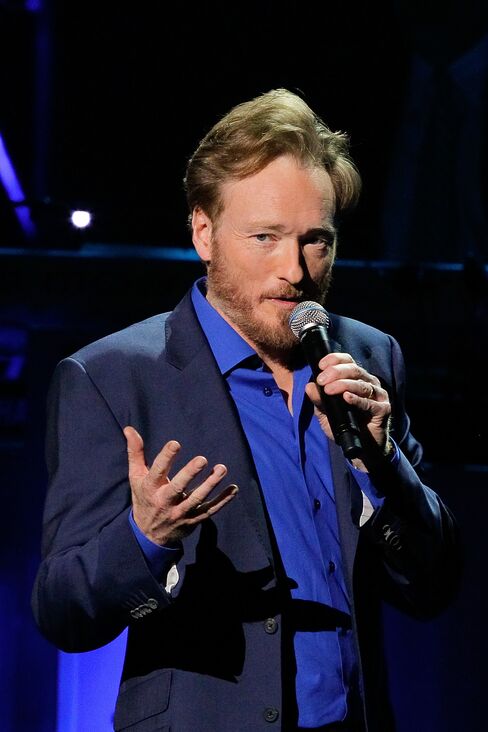 Conan O'Brien told CBS's "60 Minutes" he wouldn't have taken back the "Tonight Show" as Jay Leno did six months after giving it up.
O'Brien, in his first interview since stepping down as "Tonight Show" host, said he would have left NBC rather than return to the late-night program, according to a partial transcript released today by New York-based CBS Corp. The program is scheduled to air on May 2.
"He went and took that show back," O'Brien said in the interview with Steve Kroft, taped in the entertainer's Los Angeles home. "If roles had been reversed, I know -- I know me, I wouldn't have done that."
The late-night host said he decided to leave NBC when it became clear there was no future in the relationship and he could no longer tell if executives wanted him to stay. O'Brien agreed last month to start a new late-night show on Time Warner Inc.'s TBS cable channel in November.
NBC said it was forced by affiliate stations to cancel Leno's 10 p.m. talk show after low ratings led to fewer viewers for local newscasts. The network, part of General Electric Co.'s NBC Universal, asked O'Brien to host the "Tonight Show" at midnight to make room for a 30-minute program with Leno. O'Brien decided to leave instead.
"This relationship is going to be toxic and maybe we just need to go our separate ways," O'Brien said in the transcript. "That's really how it felt to me. I started to feel that I'm not sure these people even really want me here."
CBS, owner of the most-watched television network, gained 38 cents to $16.46 today in New York Stock Exchange composite trading. Fairfield, Connecticut-based GE, which agreed to sell a majority stake in NBC Universal to Comcast Corp., gained 54 cents to $19.49.
Before it's here, it's on the Bloomberg Terminal.
LEARN MORE