BP, Transocean Slump on Higher Spill Costs Concern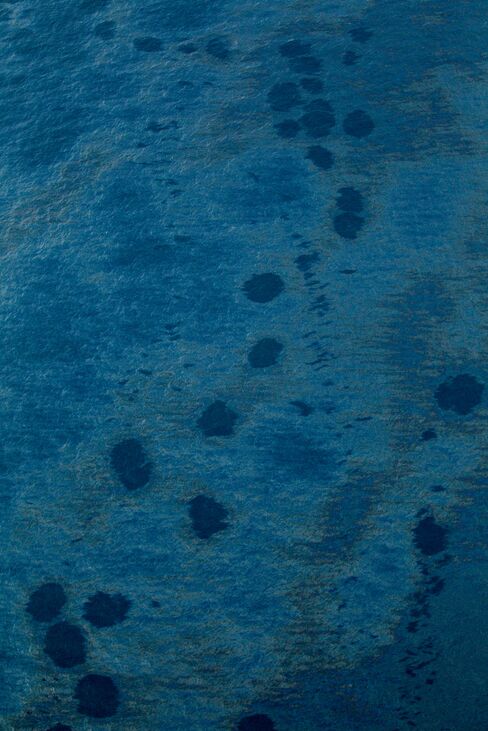 BP Plc, Halliburton Co. and Transocean Ltd. slumped on investor concern about the costs of containing a worsening oil spill in the Gulf of Mexico.
U.S. shares of BP, which vies with Royal Dutch Shell Plc for the title of Europe's biggest oil company, plunged 8.3 percent to $52.56 at 4 p.m. in New York. Halliburton, the world's second-largest oilfield contractor, sank 5.3 percent to $31.60. Transocean, the world's largest offshore oil driller, declined 7.5 percent to $78.51.
"The shares are taking a big hit because there's no clarity about what's going to happen," said Frank Ingarra, a Stamford, Connecticut-based money manager at Hennessy Advisors Inc., which oversees about $1 billion. "We have no idea about how big the impact on earnings is going to be. In addition to that, the big picture issue is -- how will all that affect President Obama's wanting to go forward with offshore drilling? Does that affect our energy policy? We don't know."
The U.S. Coast Guard said today a damaged BP oil well in the Gulf of Mexico is leaking about 5,000 barrels a day, five times more than previously estimated. At that rate the spill will exceed the Alaska's Exxon Valdez disaster in 1989 by the third week of June. The growing slick is drifting toward the U.S. coastline.
Obama's Plan
The worsening oil spill in the Gulf of Mexico may alter President Barack Obama's five-year plan to open new areas to offshore oil and natural gas drilling, administration officials said today.
BP said today it is spending $6 million a day to contain the spill and secure the well. It told analysts April 27 on a conference call the relief well it's drilling will cost about $100 million.
The spill may cost the insurance industry as much as $1.5 billion in claims, according to Transatlantic Holdings Inc. Transatlantic, the reinsurer divested by American International Group Inc., said its own costs from the spill may be less than $15 million, according to the company's earnings conference call held earlier today.
Montpellier, Hannover
Montpelier Re Holdings Ltd., a Bermuda-based reinsurer, may have costs tied to the explosion of as much as $20 million, Chief Underwriting Officer David Sinnott said in a conference call. Hannover Re, Germany's second-biggest reinsurer, estimated a net loss of about 40 million euros ($53 million) from the accident, according to an e-mailed statement.
Transatlantic retreated 2.5 percent to $50.38. U.S. shares of Montpelier dropped 0.1 percent to $16.97, while Hannover rose
3.2 percent to $23.42.
BP, responsible under U.S. law for the costs of stopping and cleaning up the spill, hasn't been able to shut the well, which started spewing crude last week after the Deepwater Horizon drilling rig exploded and sank off Louisiana. The Deepwater was drilling in about 5,000 feet of water to a total depth of about 18,000 feet.
BP will bear the costs associated with an oil spill in the Gulf of Mexico that the government has declared an event of "national significance," the Obama administration said today.
Halliburton, the world's largest oilfield-services provider behind Schlumberger Ltd., said it provided a variety of oilfield services to the rig that sank. The company is assisting in the investigation, Cathy Mann, a Halliburton spokeswoman, said today in an e-mail.
Cameron, Anadarko
Cameron International Corp., the second-largest U.S. maker of oilfield equipment, tumbled 13 percent to $38.70, and Anadarko Petroleum Corp. dropped 4.1 percent to $67.33.
Cameron's gear has been used on the Deepwater Horizon rig, which was built in 2001 to operate in seas as deep as 8,000 feet, since the vessel was commissioned, Scott Amann, a company spokesman, said yesterday in a telephone interview.
Anadarko is a 25 percent non-operating partner in the well. The company has insurance policies with $15 million in deductibles for protection on "unforeseen events", Anadarko's spokesman John Christiansen wrote in an e-mail. "We're not in a position to speculate on the ultimate outcome," he wrote.
Before it's here, it's on the Bloomberg Terminal.
LEARN MORE