Aquino Widens Lead to 19 Points in Philippine Survey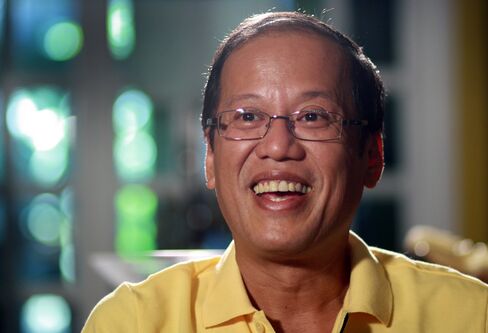 Philippine presidential candidate Benigno Aquino widened to 19 points his lead in a survey for the May 10 election as his main rival's numbers fell for a third month amid corruption and other allegations.
Senator Aquino, son of former President Corazon Aquino, had the support of 39 percent of 1,800 adults surveyed from April 23 to 25, compared with 37 percent in March, Pulse Asia Inc. said in a statement. Senator Manuel Villar's support fell to 20 percent from 25 percent, leaving him in a tie with former President Joseph Estrada.
Aquino, 50, this week said only fraud can stop him from winning the May 10 election and any such attempt would trigger unrest comparable with protests that swept his mother to power in 1986. The Aquino camp has stepped up allegations that Villar exaggerated his rags-to-riches story, used political influence to benefit his business and is secretly backed by the unpopular President Gloria Arroyo, who can't run for re-election.
Estrada last week joined the attack on Villar, saying he used his position to get regulatory concessions related to the initial public offering of his Vista Land & Lifescapes Inc. in 2007. Villar and the regulators denied wrongdoing.
"Villar has been suffering from the negative attacks," Ateneo de Manila University political science professor Benito Lim said in a phone interview today. "Now, he has Estrada against him." Attacks will intensify, he said.
"The closer we get to the elections, the more mudslinging," Lim said.
Spokesmen for Villar didn't reply to mobile phone messages seeking their comment. The survey had a margin of error of 2 percentage points.