Visa Profit Climbs as Economy Boosts Credit-Card Spending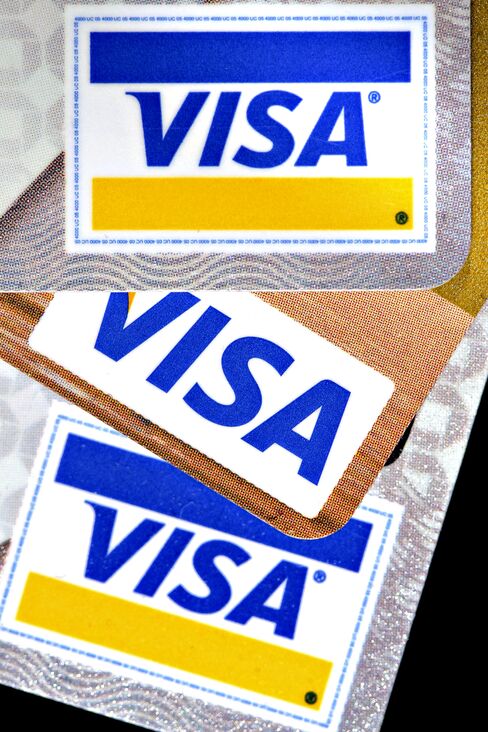 Visa Inc., the world's biggest payments network, said fiscal second-quarter profit increased 33 percent as U.S. credit-card spending climbed for the first time since 2008.
Net income for the three months ended March 31 was $713 million, or 96 cents a share, compared with $536 million, or 71 cents, in the same period a year earlier, the San Francisco- based company said yesterday in a statement. The average estimate of 33 analysts surveyed by Bloomberg was 91 cents. Net operating revenue rose 19 percent, beating estimates, and Visa said revenue growth will be at the high end of its previous forecast.
Chief Executive Officer Joseph W. Saunders, 64, is riding a shift by consumers from cash and checks to electronic payments as he widens Visa's lead over No. 2 MasterCard Inc. Visa's share of global purchase transactions rose to 64.79 percent last year from 64.09 percent in 2008, according to the Nilson Report, an industry newsletter. MasterCard's fell to 26.5 percent.
"Strong year-over-year payments volume and revenue gains were delivered in every area of our business," Saunders said in a conference call with analysts. "We are increasingly optimistic that our net revenue growth will now come in at the high end of our 11 to 15 percent range."
Visa advanced 66 cents to $93.61 at 4 p.m. in New York Stock Exchange composite trading. The shares have gained 7 percent this year, and slipped 1.6 percent in extended hours.
Share Outlook
"The shares should be reacting positively to what was a solid second-quarter beat," Jason Kupferberg, an analyst with UBS Securities LLC, said in a research note he titled, "A quarter that deserves more respect." He rates Visa "buy" and expects the shares will reach $115 within a year.
Quarterly operating revenue increased to $1.96 billion, exceeding the $1.92 billion average forecast of analysts in the Bloomberg survey. Visa derives more than half its revenue from the U.S. and has almost three-quarters of the U.S. debit-card market by purchase volume. That dominance helped the company weather the recession-driven drop in credit-card spending.
Visa, which collects fees to shuttle payments between financial institutions, said processed transactions rose 14 percent from a year earlier to 10.6 billion.
Payments with Visa credit cards in the U.S. climbed 3.4 percent to $182 billion, the first increase since the three months ended September 2008. U.S. debit-card spending rose 21 percent to $245 billion and has advanced every quarter since Visa's March 2008 initial public offering. Worldwide, credit spending rose 8.5 percent in the quarter, adjusted for currency changes, and debit climbed 22 percent.
Card Spending
U.S. card spending grew 15 percent in the first three weeks of the current quarter, compared with the same period a year ago, Chief Financial Officer Byron Pollitt said during the conference call. Through April 21, debit grew 22 percent and credit advanced 7 percent, he said.
Growth in global cross-border payment volumes "was an unexpectedly strong" 16 percent in March, compared with 2 percent in December, Pollitt said. "The world is traveling again."
Total operating expenses climbed 9.3 percent to $837 million as Visa's sponsorship of the winter Olympics drove a 21 percent surge in spending on advertising, marketing and promotion.
Saunders is looking to protect and expand Visa's lead in processing Internet-based payments. Last week, the company agreed to buy CyberSource Corp., based in Mountainview, California, for about $2 billion in cash to defend its market share from electronic-commerce firms such as EBay Inc.'s PayPal.
MasterCard plans to report first-quarter results on May 4.