Spain's Rating Cut to AA by S&P as Contagion Spreads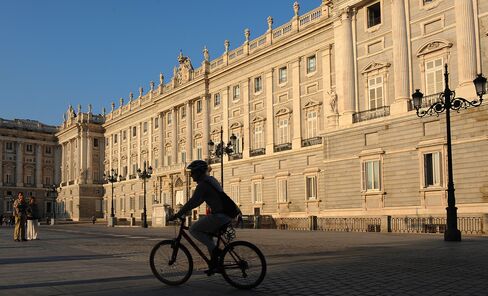 Spain had its credit rating cut one step by Standard & Poor's to AA, putting it on a par with Slovenia, as contagion from Greece's debt crisis spreads through the euro region.
S&P said in a statement today that its outlook on Spain is negative, indicating possible further downgrade if the "budgetary position underperforms to a greater extent than we currently anticipate." Spain, which has the euro-region's third- largest deficit after Ireland and Greece, was last cut by S&P in January 2009.
The risk premium investors demand to hold Spanish bonds surged to the highest in more than a year today and the price of insuring Spanish bonds against default reached a record as concerns about Greece's ability to pay its debt spilled over into Spanish and Portuguese markets.
S&P's move on Spain follows yesterday's downgrades of Portugal and Greece, which the rating company cut to junk status, the first euro-region country rated less than investment grade since the start of the euro. The cut was announced as EU policy makers pushed to speed distribution of 45 billion euros ($59 billion) in emergency aid already pledged to Greece by the euro region and the International Monetary Fund on April 11.
'Lot of Consequences'
IMF Managing Director Dominique Strauss-Kahn said in Berlin today he's "really confident" the terms of the loans will be agreed on quickly and said further delays would cause "a lot of consequences on the rest of the European Union."
The extra yield investors demand to hold Spanish debt rather than German equivalents rose to 112.5 basis points today, the highest in more than a year. Spain's benchmark Ibex-35 stock index fell 3 percent and the euro slipped to a one-year low, trading at 1.3136 at 4:43 p.m. in London.
S&P said that the rise in Spain's borrowing costs and a recession that would likely be prolonged would make it difficult to reduce a deficit that reached 11.2 percent of gross domestic product last year, more than three times the EU limit.
"We now project that real GDP growth will average 0.7 percent annually in 2010-2016," S&P said. "Increases in Spain's borrowing costs, beyond what we factor into our base case, could in our opinion also reduce the government's ability to meet its fiscal targets this year and next," it said.
'800 Pound Gorilla'
Spain is rated Aaa by Moody's Investors Service and AAA by Fitch Ratings, and Win Thin, a senior currency strategist at Brown Brothers Harriman & Co in New York said more downgrades would follow.
"Spain is the 800 pound gorilla in the room," he wrote in a note. "Greece and Portugal are small countries, but Spain is about five times their size with regards to GDP."
Spain's 1.1 trillion-euro economy is more than four times the size of Greece's and more than six times that of Portugal.
S&P said Spain was underestimating its fiscal problems and overestimating its growth prospects. It expects Spain's budget deficit to exceed 5 percent in 2013, the year Finance Minister Elena Salgado has pledged to cut the shortfall to within the EU's 3 percent limit. The public debt burden may rise to 85 percent of GDP in 2013, from 40 percent in 2008, S&P said.
S&P's growth forecast contrasts with the government's estimate that the economy will expand 1.8 percent in 2011, 2.9 percent in 2012 and 3.1 percent in 2013.
S&P downgraded Portugal two notches yesterday and cut Greece's rating three places to junk, saying bondholders may recover as little as 30 percent of their investments if the euro-region's second-most indebted nation defaults. That downgrade puts Greek debt on a par with bonds from Azerbaijan and Egypt.