Shelby Says He, Dodd Near Overcoming Hurdle in Finance Talks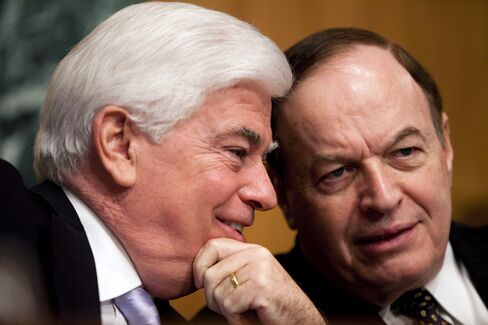 April 28 (Bloomberg) -- The main Republican negotiator on U.S. financial-overhaul legislation said he was close to an agreement on language governing bank bailouts, a move that may break the Senate impasse over whether to begin debate.
Richard Shelby of Alabama, the top Republican on the Senate Banking Committee, said he and committee Chairman Christopher Dodd "have made great strides" in talks regarding the most contentious section of the bill dealing with government power to unwind large failing companies.
Shelby, who plans to meet with Dodd of Connecticut later today, said he would be willing to move forward with the bill without agreeing on other key provisions, including a consumer agency and derivatives oversight.
"We're going to try to see if there is any way to bridge any gap between us and the Democrats on the consumer agency," Shelby told reporters. "If there's not, we'll have to go the next step. All roads ultimately lead to the floor one way or the other."
Senate Republicans blocked Democrats from starting debate on the Wall Street rules overhaul for a third time today, saying they want the legislation changed to prevent future bank bailouts. Republicans remained united against Democrats in the 56-42 vote, with 60 needed to begin consideration.
Republican leader Mitch McConnell cited yesterday's testimony by Goldman Sachs Group Inc. Chief Executive Officer Lloyd Blankfein that he was "generally supportive" of the bill.
Dodd's bill would create a mechanism to unwind failing firms whose collapse would disrupt the economy, with a $50 billion industry-supported fund to cover the cost. Republicans say the fund could perpetuate bailouts of Wall Street banks. Shelby said he expects the fund to be removed from any agreement he reaches with Dodd.
To contact the reporter on this story: Alison Vekshin in Washington at avekshin@bloomberg.net.
To contact the editor responsible for this story: Lawrence Roberts at lroberts13@bloomberg.net.