Fog Disorientates, Mirrors Enchant in Eliasson's Berlin Show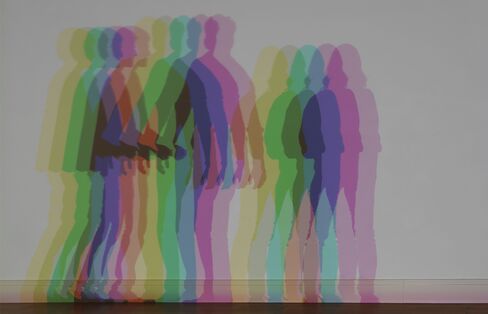 Enveloped in a neon blue cloud, I tread hesitantly as the swirling fog turns a violent green, electric pink and then a lifejacket orange.
The floorboards appear and disappear; figures loom out of the psychedelic haze, only to fade again. Disembodied voices float out of the pinkness. All my bearings are lost and I don't know how to get out of here.
No, no one slipped anything into my coffee. This is Olafur Eliasson's show, which just opened at Berlin's Martin-Gropius-Bau, and it demands more than passive observation. It disorients, enchants and even splashes you with water. Above all, it invites participation, and it's fun to join in.
The fog room is accessed via a door on the right of the museum lobby. Through an entrance on the left, there is a suspended compass and a pavement of Berlin granite flagstones. Orientation seems easy here, yet as you progress, not all is at it seems -- there are mirrors reflecting a distorted reality, and projections across a wall that cast multiple shadows, sometimes in color. Art critics who crossed the room at the press opening couldn't resist raising a leg or an arm.
This is the Danish-Icelandic artist's first solo exhibition in a museum in Berlin, the city where he has lived and worked since 1994, and it's long overdue. His waterfalls crashed into New York's rivers in 2008 and his "Weather Project" drew crowds to London's Tate Modern in 2003.
'Personal' Show
"Innen Stadt Aussen" (Inner City Out) focuses on Berlin, with most of the works created specifically for this show. Wearing a buttercup-yellow shirt and glasses with mirrored frames, Eliasson, 43, told journalists he finds the city inspiring, partly because it is "detached from the market." The show, he said, is very personal.
A 10-minute video clip shows a van with a large mirror on the back driving round central Berlin. The camera juxtaposes the background with the reflection, creating a fascinating, split-screen urban landscape, confusing yet full of familiar motifs from Berlin's unglamorous streets.
Sometimes, the van's mirror curves in the wind and the reflected solid-brick houses appear to be billowing gently in the breeze. I wondered whether, at the time of filming, the optical tricks were a distracting traffic hazard. Reassuringly, the video shows cyclists overtaking the van without even appearing to notice the mirror.
Crystal Palace
The exhibition's centerpiece, "Microscope," is a mirror delight. The large glass skylight in the Martin-Gropius-Bau's main hall is reflected countless times, becoming a crystal palace as light or dark -- as blue, gray or pink as the Berlin day or night outside. The reflections stretch out into an endless glass tunnel in two directions; the mirrored panels sway a little, giving the whole room a shimmering effect.
In another, black room, a strobe-lit, flashing water hose thrashes wildly from the ceiling like an electrical accident. The flailing hose squirts water around the room -- and yes, you do get wet if you get too close.
Eliasson, who works from an old brewery and employs about 35 people in his studio, somehow recalls the mad scientists of children's literature. As a real-life professor at the Berlin University of Arts, he founded the Institute for Spatial Experiments, which sounds wacky enough to fit the profile.
And his work does inspire a childlike wonder at the miracles of science, nature and the beauty of life. It has an immediate visual impact that first makes you say "wow," and then "how does that work?" Children will love this show, though if you take yours, hold on to them in the fog room.
Some of the exhibition takes place outside the museum, in keeping with the title. Logs washed up on the northern coast of Iceland, originally from Siberia, have taken up unobtrusive residence in outdoor sites scattered around Berlin.
White chalk lines snake through one of the city's parks. Bicycles with mirrored wheels are parked to reflect odd architectural perspectives.
An ice pavilion already melted with the last of the winter snow.
"Innen Stadt Aussen" runs through Aug. 9 at the Martin-Gropius-Bau. Sponsors include EnBW Energie Baden-Wuerttemberg AG. The show is open until midnight on the first three days, and after that every day until 8 p.m. Go to http://www.gropiusbau.de for more information.
(Catherine Hickley is a writer for Bloomberg News. The opinions expressed are her own.)