Inquirer Lenders, Investors Vie in Bankruptcy Auction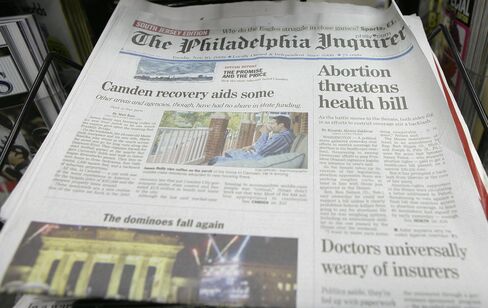 Lenders to Philadelphia Newspapers LLC, bankrupt owner of the Philadelphia Inquirer, are fighting a group led by billionaire Ronald Perelman for control of the publisher in an auction that has lasted more than 24 hours.
The lenders most recently offered the highest bid for the newspaper, saying they won't make wholesale job-cuts, Robert Hall, a consultant to the lenders' group and a former publisher of the Inquirer, said this morning. Hall said that the group would retain about 2,500 full and part-time jobs at the papers.
"We would keep all of them," he said. The auction is taking place in the New York offices of law firm Proskauer Rose.
The successful bidder will own the Philadelphia Daily News and the Inquirer, the 10th-largest U.S. daily by circulation. Philadelphia Newspapers filed for bankruptcy in February 2009, more than two years after Chief Executive Officer Brian Tierney led a buyout of the publisher. The company listed assets and debt of as much as $500 million each.
Perelman's MacAndrews & Forbes Holdings Inc. is bidding with a group of Pennsylvania investors that includes Bruce Toll, vice chairman of homebuilder Toll Brothers Inc.
Perelman and his father, Raymond, replaced billionaire Ron Burkle and his Yucaipa Cos as Toll group investors. The Perelmans are contributing $27 million, including a $10 million loan, to the newspaper deal, according to court papers.
$10 Million More
H.F. "Gerry" Lenfest, a Pennsylvania philanthropist, has offered as much as $10 million to the Perelman group's bid, he told the Inquirer. Lenfest didn't return a call seeking comment.
The Canadian firm Stern Partners Inc. has sat out bidding since the first round. The firm, which owns the Winnipeg Free Press, can re-enter bidding at any time, sale monitor J. Scott Victor said. As of this morning, there had been four rounds.
The auction formally began at about 4 a.m., according to Philadelphia Newspapers spokesman Jay Devine.
Secured lenders, who lost the right to bid the debt owed them at the auction, are making a cash bid with backing from Alden Global Capital, a New-York based hedge fund founded by Randall Smith, an early investor in distressed companies.
Smith, who began investing in distressed debt in the early 1980s, founded Alden in 2008, the industry newsletter Hedge Fund Alert reported in June.
Three Bids
"We had 3 bids," said attorney Lawrence McMichael, of the law firm Dilworth Paxson, regarding today's early bidding. "Those bids were an apple, a watermelon and a monkey wrench. We need to try to get them on to a common base so there could be some intelligent bidding."
He declined to elaborate, adding that "it's been a very successful auction in that there have been many bids."
The lenders have eliminated a proposal that would have required the firing of all employees with the obligation to rehire a minimum of 51 percent.
Fred Hodara, an attorney for the senior lenders, said the group replaced the provision with one that would make their bid contingent on reaching contracts with the company's unions, the Philadelphia Inquirer reported.
Inquirer CEO Tierney said today in an interview that "If these hedge funds own it, it's really bad for my people."
The case is In re Philadelphia Newspapers LLC, 09-11204, U.S. Bankruptcy Court, Eastern District of Pennsylvania (Philadelphia).
Before it's here, it's on the Bloomberg Terminal.
LEARN MORE