Republicans Say They're Ready to Debate Finance Bill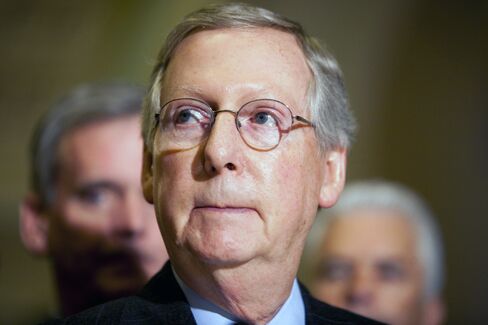 April 28 (Bloomberg) -- Senate Republicans said they are ready to let debate begin on a financial-overhaul bill after talks reached an impasse and Democrats threatened to keep the chamber in session indefinitely.
Republican Senators Susan Collins and Olympia Snowe, both of Maine, said they will vote to bring the measure to the floor.
Senate Republican leader Mitch McConnell said in a statement that "bipartisan negotiations have ended" and he hoped "the majority's avowed interest in improving this legislation on the Senate floor is genuine and the partisan gamesmanship is over."
Democrats declared victory after days of delay.
"Senate Republicans have finally agreed to let us begin this debate, which we appreciate, and we hope this foreshadows more cooperation to come," Senate Majority Leader Harry Reid said in a statement. "Now that we'll be able to begin that process, the American people will finally have the opportunity to watch and weigh those ideas.
Kristin Brost, a spokeswoman for Banking Committee Chairman Christopher Dodd, said the Senate would vote on beginning the debate between 5:30 p.m. and 6:30 p.m., Washington time.
Stronger Oversight
The legislation, based on a proposal by President Barack Obama, is aimed at strengthening oversight of Wall Street in response to the worst financial crisis since the Great Depression. Republicans blocked Democrats from starting debate on the measure in three procedural votes this week, including earlier today.
Republican Senator Richard Shelby said his talks with Dodd, a Connecticut Democrat, had reached an "impasse."
"It is now my belief that further negotiations will not produce additional results," Shelby of Alabama said in a news release. Senate Republicans held a party caucus to be briefed by Shelby on the talks and how to proceed.
Signs of a Republican capitulation came after Democratic leaders said they would keep the Senate in session all night to pressure the minority to give up its objections to starting the debate.
Senator Dick Durbin of Illinois, the second-ranking Democrat, said the Senate was prepared to "go all night long." He said, "The Wall Street lobbyists are really controlling this vote."
No Fingerprints
Maryland Senator Ben Cardin later said the Senate would remain in session indefinitely. Cardin said Republicans wanted to weaken the legislation in backroom negotiations "and are trying to do it without their fingerprints on the amendments" that they would have to offer publicly in a floor debate.
"If the Republicans are going to filibuster it, the American people are going to see what they are filibustering," Cardin said.
"It is time for this debate to begin," Dodd said in a statement after McConnell's announcement. Dodd suggested talks broke off with Shelby because of disagreement over a proposed consumer financial protection bureau at the Federal Reserve.
"They have been productive talks, but I cannot agree to his desire to weaken consumer protections, given the enormous abuses we have seen," Dodd said.
Collins had opposed starting debate as long as there were bipartisan discussions.
More Ideas
Earlier in the day, Dodd suggested he wasn't prepared to complete an agreement with Shelby while Republicans were preventing the legislation from coming to the floor. Dodd said he and Shelby "are not going to write a bill for 98 other senators who have ideas and thoughts."
"There is general agreement" between both parties about the legislation's objectives, Dodd said. Republicans should "let our members be heard. Let the debate go forward," he said.
Dodd and Shelby had broken off talks in November and again in February. They resumed negotiations last month after the banking panel approved Dodd's measure on a party-line vote.
In his statement, Shelby said Dodd "assured me that he will address a number of concerns I have expressed with respect to ending bailouts." Shelby said he and Dodd had been unable to "make any meaningful progress on other important components of the legislation," including oversight of derivatives and the powers of the consumer protection bureau.
Earlier today, Shelby had told reporters he and Dodd were close to an agreement on a provision in the bill that would prevent future taxpayer-funded bailouts of Wall Street firms.
The bill language would set up a mechanism for unwinding failing companies whose collapse would threaten the economy, with a $50 billion industry-supported fund to cover the cost. The provision has been the target of criticism from Republicans, who said it would set up a perpetual bailout.
The bill would limit the Fed's regulatory authority to banks with assets of at least $50 billion, transferring to other regulators its power to monitor smaller lenders. It would also set up a council of regulators to monitor the economy for systemic risk and ban proprietary trading at U.S. banks.
To contact the reporters on this story: Alison Vekshin in Washington at avekshin@bloomberg.net; James Rowley in Washington at jarowley@bloomberg.net
To contact the editors responsible for this story: Lawrence Roberts at lroberts13@bloomberg.net; Jim Kirk at jkirk12@bloomberg.net.