JPMorgan May Quit Tax-Refund Loans, Helping H&R Block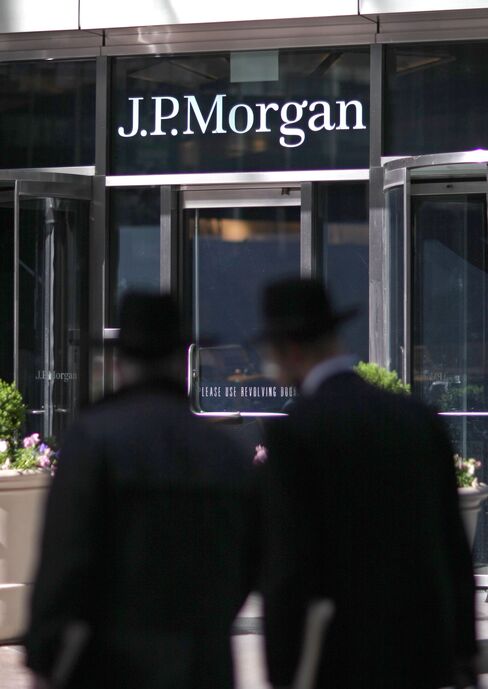 April 28 (Bloomberg) -- JPMorgan Chase & Co. will stop financing tax-refund loans for about 13,000 independent U.S. preparers, according to a person at the bank briefed on the matter, a move that may drive customers toward H&R Block Inc.
The bank decided tax-refund loans don't fit the New York-based company's strategic plans, said the person, who declined to be identified because the decision hasn't been announced. American Banker, the industry trade journal, reported the halt earlier today.
"Block is the biggest winner in this," said John Hewitt, chief executive officer of Liberty Tax Service, a privately held company in Virginia Beach, Virginia, that also may benefit.
Refund-anticipation loans, or RALs, are used to attract clients who need cash immediately by offering short-term loans based on the expected amount of their tax refunds. Consumer groups fault RALs for putting people deeper in debt, with interest rates on some versions that exceed 100 percent on an annualized basis.
JPMorgan, the second-biggest U.S. lender after Bank of America Corp., joins banks that have stopped offering refund-anticipation loans or plan to do so, including London-based HSBC Holdings Plc and Santa Barbara Bank & Trust. The decision may give Kansas City, Missouri-based H&R Block an advantage through 2013, when its contract with HSBC expires.
"The reason HSBC is exiting this industry, even though they're making $100 million a year in profit from it, is because of reputation risk," Hewitt said in an interview. "Bankers don't like the consumer advocacy groups picketing outside their offices."
Faster Refunds
Tax refunds are also coming faster. Internal Revenue Service spokesman Bruce Friedland said turnaround time has dropped to "as little as 10 days" for tax returns filed electronically this year, rather than several weeks. He declined to comment on JPMorgan's withdrawal from the market.
Jackson Hewitt, the second-biggest U.S. tax preparer after H&R Block, has plunged more than 70 percent since it said on Dec. 24 that SBBT, a unit of Pacific Capital Bancorp, was told by the Office of the Comptroller of the Currency that the lender wouldn't receive approval to originate RALs in 2010.
The National Consumer Law Center estimated that 8.7 million taxpayers took out such loans in 2008, paying $738 million in fees.
Gene King, a spokesman for H&R Block, said the company will continue offering refund anticipation loans next tax season for customers who "want or need loan proceeds faster than the IRS can provide the tax refund."
Market Share
JPMorgan, which earned $3.3 billion during the first quarter, decided to leave the business after finishing the tax season April 15 and began notifying tax preparers Monday, the person said.
H&R Block and Jackson Hewitt controlled 45 percent and 20 percent of the market last year, according to Northcoast Research in Cleveland.
While JPMorgan probably makes money from tax-refund loans, "it's probably an insignificant contribution," said David Burtzlaff, a Dallas-based analyst with Stephens Inc., one of the largest investment banks in the South. "It gets a lot of bad press. The consumer groups hate it. It falls under the same stigma as payday loans, and I don't think banks want the attention it brings."
The change is likely to drive business to H&R Block, analysts said.
"If Chase goes away and we don't get another entrant to the market with similar capacities, I think it's going to be very difficult for independents to obtain RAL funding for next year," Northcoast analyst Kartik Mehta said. "The independents will obviously lose some customers."
To contact the reporter on this story: Peter Eichenbaum in New York at peichenbaum@bloomberg.net
To contact the editor responsible for this story: Alec McCabe in New York at amccabe@bloomberg.net