How 2006 Mine-Safety Law Led to 'Broken' U.S. System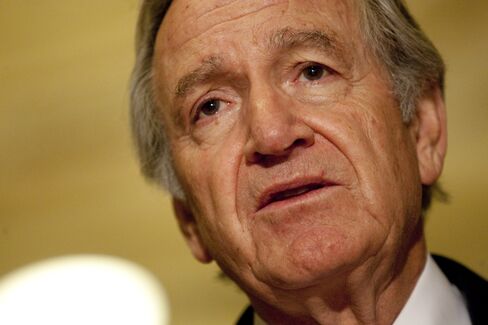 A West Virginia mining disaster claims lives. Congress pledges to pass legislation to crack down on mine operators.
That was four years ago. Following an explosion this month that killed 29 West Virginia coal miners, history may be repeating itself. Safety advocates say they hope the reaction this time doesn't follow the pattern.
"The fact of the matter is the law is there to protect miners, and the law isn't doing that," said Representative George Miller, a California Democrat, of legislation passed in 2006 after 12 miners were killed in Sago, West Virginia. "That's what we have to change," Miller said in an interview.
Miller says the House Education and Labor Committee, which he heads, will look into ways to toughen safety laws following the April 5 blast at Massey Energy Co.'s Upper Big Branch Mine in Montcoal, West Virginia, the worst U.S. mining explosion in 40 years. The Senate Health, Education, Labor and Pensions Committee held a hearing on mine safety yesterday, the first since the accident.
It's "long past time to strengthen the critical laws," Senator Tom Harkin, an Iowa Democrat who heads the committee, said as he opened the hearing.
'Sweeping Overhaul'
The same resolve in 2006 resulted in the Mine Improvement and New Emergency Response Act, signed into law by President George W. Bush in June that year. It followed the Sago accident and two others in 2006 that killed 7 more miners. At the signing ceremony, Bush called the measure "the most sweeping overhaul of federal mine safety law in nearly three decades."
The act raised the maximum penalty for safety violations, forced mine operators to build emergency underground shelters with oxygen, water and food, and required installation of more modern communication devices.
While the new law did result in more citations and higher fines, the Labor Department's Mine Safety and Health Administration in 2007 added 10 criteria that inspectors had to meet before a mine could be shut down for a "pattern of violations," said Tony Oppegard, a former MSHA official who is now an attorney working on mine safety cases in Lexington, Kentucky.
Only one mine has ever been ordered closed for a pattern of violations, according to a Labor Department report given to President Barack Obama on April 15. That order, issued in November 2008 to a Patriot Mining LLC mine in Virginia, was revoked when one of the violation findings was withdrawn, the report said.
'Broken' System
"There should have been hundreds" of mines closed, Oppegard said. "For substantial periods of time, MSHA has been anti-regulation, anti-miner and pro-industry."
The "pattern of violations" system is "broken and must be fixed," Joe Main, assistant secretary of labor for Mine Safety and Health, said at yesterday's Senate hearing. "It is too easy for mine operators to evade responsibility and too hard for the government to hold bad actors accountable."
Massey, the country's sixth-largest coal producer, has defended its safety record. "If there was improper conduct regarding operations and safety, there will be accountability," the Richmond, Virginia-based company said in a statement on April 26. "What we do know is this: Accusations that Massey Energy is indifferent to safety could not be more wrong."
The Mine Safety and Health Administration said it ordered workers out of parts of three Massey mines yesterday after investigating complaints of hazardous conditions. The agency said it issued multiple citations for serious violations. Massey fired eight employees and another quit following the agency's moves, the company said.
Contested Citations
The mining industry sometimes views citations as a cost of doing business, Miller said. Some companies think coal mining is inherently dangerous and not much can be done about it, he said.
"That attitude has got to change," Miller said. "Each and every violation has to be considered indicative of a problem that could grow to be a tragedy."
As the safety agency stepped up citations and fines following the 2006 law, the industry responded by appealing the findings to ward off penalties, said Patrick McGinley, a law professor at West Virginia University who served on a panel that investigated the Sago disaster.
"I have no doubt that was quickly determined, and that it became their strategy," McGinley said of the company challenges. "I don't know if MSHA expected this to happen, but that's what happened."
Backlog of Appeals
The backlog of challenged cases at the Federal Mine Safety and Health Review Commission has grown to more than 16,000 today from fewer than 1,500 in 2005, that panel's chairwoman, Mary Lu Jordan, said at a hearing of the House Education and Labor Committee earlier this year.
Recognizing the regulatory weaknesses, the House in January 2008 passed a bill supplementing the 2006 law and sent it to the Senate. The House approved the measure five months after six miners and three rescuers were killed at a mine in Crandall Canyon, Utah.
The new bill would have increased penalties for safety violations and given the mining agency the power to close mines more quickly when patterns of violations were found, said Peter Galvin, a former senior adviser to Representative Miller who helped write the legislation.
The National Mining Association, the industry's trade group, opposed the legislation, saying it would "divert industry and regulatory resources" from implementing the 2006 act, "and interfere with safety progress."
Industry Lobbying
The association spent $4.6 million on lobbying in 2008, up 12 percent from 2007 and almost double the 2006 amount of $2.4 million, according to the Center for Responsive Politics, a Washington research group.
Peabody Energy Corp., the biggest U.S. coal producer, stepped up its 2008 spending by 50 percent, to $8.4 million, while No. 4 Consol Energy Inc. boosted its outlay for lobbying 15-fold to $3.7 million from $240,000 in 2007.
Beth Sutton, a spokeswoman for St. Louis-based Peabody, declined to comment. Joseph Cerenzia, a spokesman for Consol Energy, based in Canonsburg, Pennsylvania, didn't respond to phone calls and two e-mails seeking comment.
Following the Crandall Canyon accident in August 2007, Consol Energy Chief Executive Officer J. Brett Harvey warned the industry that more safety legislation was on the way.
Media Attention
Media attention to multiple-fatality incidents was obscuring the industry's improving safety record, Harvey said at the Utah Mining Association's annual meeting that month. "Congress should resist the temptation to bully MSHA into writing more violations," he said.
Harvey's concerns proved unjustified. President Bush threatened to veto the 2008 bill, saying it "would cause confusion in the industry." Most Republican senators who supported the 2006 act, and some Democrats including West Virginia Senator Jay Rockefeller, said they saw no need for a new law so soon. The measure died without a Senate vote.
The 2006 law didn't go far enough, Rockefeller said at yesterday's hearing. "We need to put an end to the loopholes," he said.
Before it's here, it's on the Bloomberg Terminal.
LEARN MORE