Euro May Drop to $1.30 on Greece Crisis, Credit Agricole Says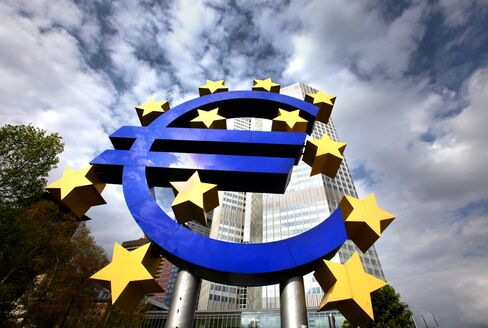 The euro may slide to $1.30, the lowest in a year amid concerns the sovereign-debt crisis will spread from Greece, according to a unit of Credit Agricole SA.
The euro will decline as the region's economy may "face the risk of slipping into a negative spiral, stemming from austerity measures in Greece and its adverse impact on economic growth," said Yuji Saito, director of the foreign-exchange department at Credit Agricole Corporate and Investment Bank in Tokyo, in a phone interview.
Options traders see a 60.2 percent chance the euro will reach $1.30 on May 19, when Greece must redeem 8.5 billion euros ($11.2 billion) of bonds, according to data compiled by Bloomberg News. One-month risk-reversals, measuring prices for rights to sell the euro versus options to buy it, slid to minus 1.735 percentage points, the biggest negative level since Feb. 12. A declining figure indicates more demand to sell the euro.
The euro dropped to $1.3145 yesterday, the least since April 29, 2009, after Standard & Poor's lowered Greece's credit rating to junk and cut Portugal's ranking by two steps. The currency was at $1.3201 as of 7:39 a.m. in London.
'Swift' Implementation
"It also remains to be seen if financial aid for Greece will be implemented swiftly," Saito said. "Even if such rescue measures are taken, that would then increase the financial burdens of peripheral nations in the region."
Credit-default swaps on Greece's government bonds climbed 114 basis points to 824.5 yesterday, according to CMA DataVision. Those on Portugal's debt rose 67 basis points to 383. Yields on Greece's two-year notes surged above 18 percent, the highest level since at least 1998.
Futures traders increased bets the euro will fall against the dollar, according to figures from the Washington-based Commodity Futures Trading Commission. The difference in the number of wagers by hedge funds and other large speculators on a decline in the euro compared with those on a gain -- so-called net shorts -- was 71,424 on April 20, compared with net shorts of 55,464 a week earlier.
*T *T
Before it's here, it's on the Bloomberg Terminal.
LEARN MORE