Greece Turning Viral Sparks Search for EU Solutions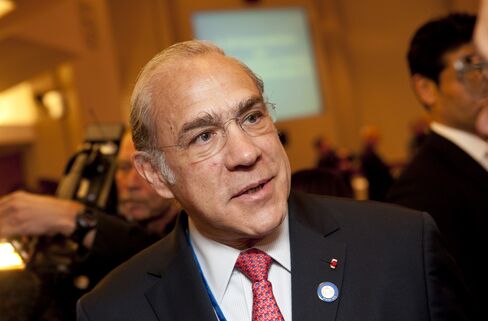 European policy makers may need to stump up as much as 600 billion euros ($794 billion) in aid or buy government bonds if they are to stamp out the region's spreading fiscal crisis, said economists at JPMorgan Chase & Co. and Royal Bank of Scotland Group Plc.
With Greece's budget turmoil infecting markets from Rome to Madrid, economists are urging German Chancellor Angela Merkel, European Central Bank President Jean-Claude Trichet and other officials to come up with unprecedented measures. Other steps could see governments guaranteeing bonds and the ECB abandoning collateral rules or reviving unlimited lending to banks, the economists said.
Bonds and stocks plunged across Europe in the past week as Merkel's government delayed approving a rescue plan for Greece and Standard & Poor's downgraded Greece, Portugal and Spain. As OECD head Angel Gurria likens the crisis to the Ebola virus, Europe may need to come up with a plan equivalent to the $700 billion Troubled Asset Relief Program deployed by the U.S. after the collapse of Lehman Brothers Holdings Inc.
"It is perhaps time to think of policy options of the last resort in the current sovereign crisis," said David Mackie, chief European economist at JPMorgan in London. "It may now be time for the euro area to do something much more dramatic in order to prevent the stress from creating another broad-based financial crisis which pushes the region back into recession."
'Resolute Action'
U.S. President Barack Obama and Chancellor Merkel yesterday discussed "the importance of resolute action by Greece and timely support" from the International Monetary Fund and Europe, the White House said in a statement.
The extra yield that investors demand to hold Portuguese 10-year bonds this week reached the most since 1997 and the spread on Spanish debt increased to the most in a year. The gap on the bonds of Italy, the euro region's third-largest economy, reached the highest since July. The premium on Greek bonds surpassed 8 percentage points yesterday.
The euro traded near a one-year low against the dollar today. It was at $1.3211 as of 1:10 p.m. in Tokyo.
"This is like Ebola," Organization for Economic Cooperation and Development Secretary General Gurria told Bloomberg Television yesterday. "It's threatening the stability of the financial system." The World Health Organization calls Ebola "one of the most virulent viral diseases known to humankind."
Warning Sign
Nouriel Roubini, the New York University professor who anticipated the economic collapse of 2008, said yesterday that the national debt crisis that's spreading out from Greece is a warning sign for countries ranging from the U.S. to Japan and the U.K.
"Greece is just the tip of the iceberg," Roubini said. "There's been a massive releveraging of the public sector."
The first stage of an enhanced rescue would be for the euro area and the IMF to boost the size of the Greek lifeline package from the 45 billion euros initially discussed for the first year, said Erik Nielsen, chief European economist at Goldman Sachs Group Inc.
Talks between the European Union, the IMF and the Greek government are likely focused on assistance in the first year of between 55 billion euros and 75 billion euros with an announcement by early next week, Nielsen said April 27. That would ensure Greece doesn't have to access the market for the next year or so, he said.
Rapid Response
IMF Managing Director Dominique Strauss-Kahn told German lawmakers yesterday that Greece may need a total of as much 120 billion euros, Green Party lawmaker Juergen Trittin said. Trichet emphasized the importance of quickly handing out funds if talks in Athens by Greek, EU and IMF official conclude this weekend.
"The rapidity of the decision is absolutely essential," he told reporters. Merkel said aid talks "need to be speeded up now."
Within three hours of the officials speaking in Berlin, S&P announced it had cut Spain's credit rating to AA, putting it on par with Slovenia. The previous day, S&P reduced Greece's rating to junk and pared Portugal's by two steps to A- from A+.
Worst-Case Scenario
A Greek agreement may not be enough to end a crisis that's ricocheting through all euro-region markets and governments may have to come up with a blanket plan for the bloc as a whole, said Mackie. He calculates that in a worst-case contagion scenario, supporting Spain, Portugal and Ireland and Greece may require aid worth 8 percent of the gross domestic product of the rest of the region. That's equivalent to about 600 billion euros.
"This is a big number, but the region has the fiscal capacity to backstop both banks and these countries," said Mackie. Governments also could guarantee each other's debt for a limited period such as three years, an "attractive form of support because no money is needed up front," he said.
The ECB may also have a role to play even if the crisis has its roots in fiscal policy. With Greek debt now rated as junk by S&P, the Frankfurt-based central bank may need to dilute its collateral rules again so as it can keep accepting the country's bonds when making loans, said economists led by Juergen Michels at Citigroup Inc.
Under current rules, Greek bonds will be ineligible at money-market operations if Fitch Ratings and Moody's Investors Service cut them to junk as well.
'Nuclear Option'
"The collateral rules may have to be changed soon again in order to maintain the eligibility of Greek bonds," Michels' team said in a note to clients yesterday.
The central bank could eventually start accepting all government debt regardless of its rating and revive last year's policy of lending unlimited amounts for periods up to a year so as to support the region's banks, said Jacques Cailloux, chief European economist at Royal Bank of Scotland Group Plc.
What Cailloux calls the "nuclear option" of the ECB purchasing government bonds is also attracting attention among economists. While the ECB is prohibited from buying assets directly from authorities, it can do so on the secondary market.
"We need 300 billion euros of purchases and then the problem goes away overnight," said James Nixon, co-chief European economist at Societe Generale SA.
Obstacles to a sweeping bailout package abound. The EU's structure means no one elected politician is responsible for ensuring Greece's survival and Trichet, the only major official solely responsible for the euro, has no authority to disburse taxpayers' funds.
Voter Opposition
In Germany, Merkel has delayed approving the release of funds for Greece in the face of voter opposition and an election in North Rhine-Westphalia in May 9.
German politicians and central bankers may also oppose government bond purchases by the ECB as that would run counter to the country's tradition of fiscal conservatism since World War II.
That option is "extremely unrealistic," said Marco Annunziata, chief economist at UniCredit Group in London. It "would be seen, correctly, as direct monetary financing of excessive fiscal deficits. German opposition to such a move would be even stronger than to fiscal bailout operations."
There is even a "growing risk that the euro-zone breaks up" as indebted nations are forced to retrench and political tensions mount, said Jennifer McKeown, an economist at Capital Economics Ltd. in London.
Greek Default
A default by "rich" Greece on its debt would be the best way to ease the European fiscal crisis and help allay fears of a contagion, said Mark Mobius, who oversees about $34 billion in emerging-market assets as executive chairman of Templeton Asset Management Ltd. Greece should consider restructuring its debt to pay 25 cents to 50 cents for every dollar, helping to cut its debt level to a more sustainable level, he said in an interview with Bloomberg Television in Singapore today.
European policy makers continue to play down speculation of contagion, with ECB Executive Board member Juergen Stark saying yesterday that Greece should be seen as a "unique case." Leaders will wait until around May 10 before meeting again to discuss Greece, EU President Herman Van Rompuy said yesterday in Tokyo. He also said there was "no question" of Greece restructuring its debt.
Some economists are optimistic that market turmoil will ultimately force politicians and central bankers to do what's necessary to rescue the euro region.
Eric Kraus, a strategist at Otkritie Financial Co. in Moscow, said he's buying Greek bonds on the bet policy makers will eventually strike back.
"Sooner or later those morons in Brussels and Berlin will realize that they are playing with fire, have already been burned, and will have to stop feeding the flames," said Kraus, who works at a brokerage part-owned by Russia's second-biggest bank. "Then we should see a very nice bounce."
Before it's here, it's on the Bloomberg Terminal.
LEARN MORE