Citigroup's Return to Saudi Arabia May Need More Than Alwaleed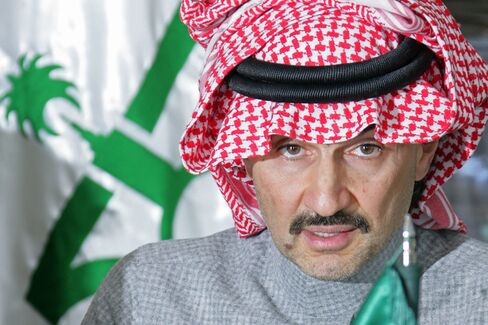 Citigroup Inc. is aiming to open for business in Saudi Arabia six years after selling its stake in a bank there. Returning might not be as easy as departing.
Since leaving the country in 2004, the company has said it would like to regain a foothold. Saudi officials, though, are protecting banks from new competition, according to Jean-Francois Seznec, visiting associate professor at Georgetown University's Center for Contemporary Arab Studies.
"They're not as in love with U.S. banks as they used to be," Seznec said by telephone from Riyadh, the Saudi capital. "The competitive environment is really key to this. Citibank was very successful here in the past."
Billionaire shareholder Prince Alwaleed Bin Talal, Saudi Arabia's richest businessman, said on April 27 in an interview with Bloomberg Television that the country "welcomes the presence of a Citibank office." He said in an interview last month he's helping New York-based Citigroup and its chief executive officer, Vikram Pandit, set up in Saudi Arabia.
The U.S. company, in which filings show Alwaleed held 218 million shares as of November 2008, first started a business in Saudi Arabia in 1955.
Citigroup sold its 20 percent holding in Saudi American Bank, now known as Samba Financial Group, to a state investment group in 2004, netting $760 million. The previous year, it had ended its management contract with the bank after first selling a 2.83 percent stake. A fifth of Samba's market value today equates to about $2.9 billion, according to Bloomberg data.
Under Control
The company, then the largest financial services company in the world, said its strategy was to invest in countries where it could have majority control of the banks it ran. Citigroup currently is the fourth-largest bank in the U.S.
"The franchise that Citibank led in Saudi Arabia was very robust and prosperous for many years and they decided at that point to exit," said John Sfakianakis, chief economist at Riyadh-based Banque Saudi Fransi. The Saudi Arabian Monetary Agency, the central bank, "has temporarily halted the issuance of new bank licenses in order to evaluate the many licenses issued so far," he said.
The central bank, known as SAMA, did not respond to questions sent by Bloomberg News, and neither did the Capital Markets Authority, the country's regulator. Citigroup's Dubai- based spokesman, Karim Seifeddine, declined to comment.
William Rhodes, the Citigroup senior vice-chairman stepping down this month, said in 2006 that the bank was interested in returning to Saudi Arabia. Charles Prince, then chief executive officer, met in April that year with government officials in Riyadh at an event hosted by Alwaleed, the Saudi investor's Kingdom Holding Company said in a statement at the time.
'Mistake'
A year later, Mohammed al-Shroogi, the Middle East managing director, called the exit a "mistake" and said the bank was reapplying for a license to operate.
Competitors such as Tokyo-based Nomura Holdings Inc., New York's Goldman Sachs Group Inc. and Deutsche Bank AG meanwhile have expanded in the Arab world's largest economy.
Frankfurt-based Deutsche Bank announced April 12 the formation of Deutsche Gulf Finance, a joint Shariah-compliant home financing company owned 40 percent by the bank's Riyadh branch and 60 percent by Saudi investors.
The government forecast the Saudi Arabian economy to grow more than 4 percent this year, after 0.2 percent last year. The world's largest oil exporter is spending $400 billion on infrastructure to stimulate the economy.
Lending Slowdown
Bank lending to private companies rose 1.6 percent in February. That growth averaged 27 percent between 2004 and 2008, according to Riyadh-based Jadwa Investment Co.
Twenty banks have full banking licenses and branches operating in the kingdom, according to the central bank's February monthly statistics bulletin. More than 100 investment companies have licenses to conduct securities business, according to the Capital Markets Authority Web site.
Previously, in the 1970s, the Saudi government forced foreign banks such as Citigroup, HSBC Holdings Plc and ABN Amro Holdings NV to sell majority stakes in their local operations to Saudi nationals. A law in 2003 opened the door for foreign banks to apply for licenses.