Reid Ready to Move on Climate Bill Before Immigration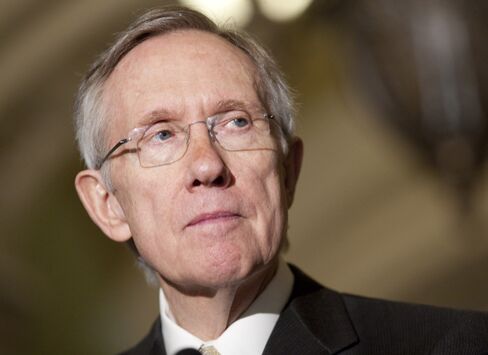 Senate Democratic Leader Harry Reid said he's ready to move forward with a climate-change legislation before taking up the issue of overhauling U.S. immigration laws.
"The energy bill is ready, we will move that more quickly than a bill we don't have," Reid told reporters today in Washington. "I don't have an immigration bill."
Reid said he told Republican Senator Lindsey Graham of South Carolina last week that he wanted to proceed with climate-change legislation before taking up immigration. Graham, working on both issues, pulled out of talks to proceed with a global-warming bill on April 24 to protest that President Barack Obama and Senate leaders may act first on immigration.
"I don't know why Senator Graham has decided that he wants out of what he's doing," Reid, a Nevada Democrat, said.
Immigration and energy are "equally vital" to economic and national security, Reid said. "We've ignored both of them for far too long. I'm committed to doing both this session."
Graham, who joined Senators John Kerry, a Massachusetts Democrat, and Joseph Lieberman, a Connecticut independent, to work on the climate bill, said Reid should go further and drop plans to tackle immigration this year.
"It's impossible for me to do energy and climate with immigration on the table," Graham said today.
Kerry today said the bill crafted with Graham and Lieberman is still "moving" through the process.
"Whenever Harry decides to do it, we'll be ready," Kerry told reporters. Kerry said he will know in a couple of days whether Graham will rejoin the effort.
Before it's here, it's on the Bloomberg Terminal.
LEARN MORE