3M First-Quarter Profit, 2010 Forecast Beat Estimates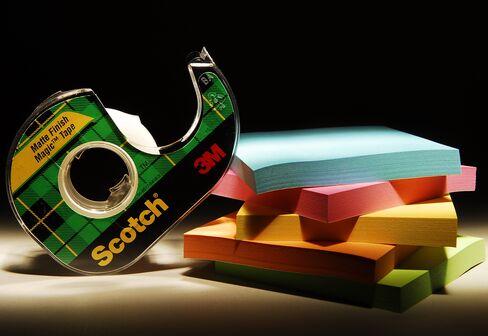 3M Co., the maker of 55,000 products from dental implants to Post-It Notes, reported first-quarter profit that topped analysts' estimates and raised its full-year forecast as sales rose in all divisions.
Net income increased 80 percent to $930 million, or $1.29 a share, from $518 million, or 74 cents, a year earlier, the St. Paul, Minnesota-based company said today in a statement. Profit excluding one-time items was $1.40 a share, beating the $1.21 average estimate of 12 analysts surveyed by Bloomberg.
Sales climbed 25 percent to $6.35 billion, also topping projections, with gains of at least 12 percent in the six main units and a 47 percent surge from emerging economies. 3M is an economic bellwether because of its product range, which spans the automotive, consumer, energy and health-care markets.
"Call it an amazing performance," Nicholas Heymann and other Sterne Agee & Leach Inc. analysts wrote in a note to clients. "3M has been on a tear over the past four reporting periods, consistently shattering expectations about pace and magnitude by which its operating earnings have been able to sharply recover from extraordinarily weak year earlier comparisons."
Full-year profit now may be $5.40 to $5.60 a share, excluding costs for a change in health-care benefit tax law, the company said. That's higher than 3M's January outlook of $4.90 to $5.10 a share and the average estimate of $5.16 a share. Organic sales volumes may rise 10 percent to 12 percent instead of the prior estimate of 5 percent to 7 percent.
Market Reaction
3M was the only company in the Dow Jones Industrial Average to rise today as the benchmark fell 1.9 percent on concern about credit-rating downgrades of Greece and Portugal. The shares gained 53 cents to $87.97 at 4:01 p.m. in New York Stock Exchange composite trading and climbed 6.4 percent this year.
Chief Executive Officer George Buckley in January predicted continued strong demand in 3M's health-care and display and graphics units. He has cut costs by trimming about 6,400 jobs since the start of 2008.
The company's operating income margin was 22.8 percent, a gain of 7 percentage points from a year earlier. "I can think of no better way to refute some of the 'collapsing-margin' Doubting Thomases out there," Buckley said on a conference call with analysts.
Total sales climbed the most on a year-over-year percentage basis in company history, Buckley said. The level was still short of the quarterly highs reached in 2008.
Unit Results
Revenue rose 42 percent to $869 million in 3M's Displays and Graphics unit that makes optical films used to brighten LCD TV screens. The gain was 29 percent to $2.07 billion in Industrial and Transportation, the largest division, which makes products including car-part labels and auto weatherstrip tapes. The health-care unit had a 12 percent increase to $1.12 billion on demand for Ace-brand bandages and dressings.
"The company's focus on innovation really showed itself this quarter with strong top line performance," Joel Levington, a managing director of corporate credit for Brookfield Investment Management Inc. in New York, said in an e-mail. "The key for investors will be 3M's ability to continue to develop unique products that can keep revenue growth healthy."
Chief Financial Officer Patrick Campbell said 3M is exploring a "fair amount" of possible purchases, with the focus more geared toward international acquisitions than in the past. Any larger deals would take place in the second half of 2010, he said.
Any acquisitions would be "close to the core," CEO Buckley said. "I don't think Pat or I see any hugely disruptive or blockbuster acquisitions."