Euro Weakens on Concern Greek Aid Package Still Faces Hurdles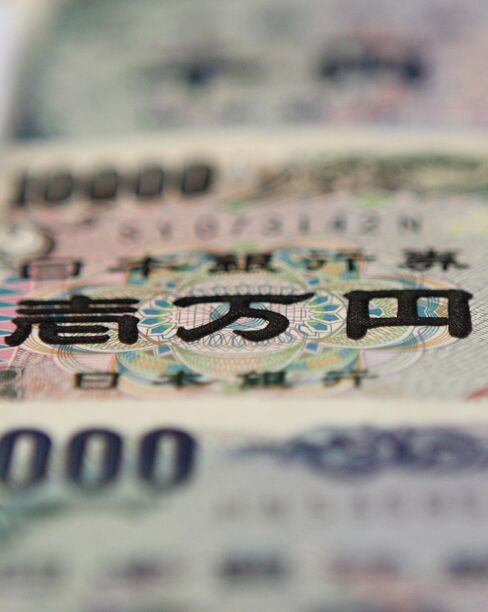 The euro declined, sliding for the seventh time in eight days against the dollar, on concern the European Union-led Greek bailout plan will face hurdles as donor countries begin ratifying the aid package.
The euro fell against all 16 of its most-traded peers, dropping most against the pound and the rand, after German Finance Minister Wolfgang Schaeuble told the Bild-am-Sonntag newspaper yesterday that his nation's aid for Greece can still be rejected. The yen weakened against higher-yielding currencies as signs the worldwide economic recovery is gaining momentum dented demand for the Japanese currency as a refuge.
"The euro is still weighed down by uncertainty about the implementation of the Greek aid plan," said Antje Praefcke, a currency strategist at Commerzbank AG in Frankfurt. "There are still a lot of open questions. Don't expect a recovery."
The euro weakened to $1.3333 as of 6:33 a.m. in New York, from $1.3384 last week. The 16-nation currency depreciated to 125.58 yen, from 125.73 yen. The euro declined to 86.36 British pence, from 87.03 pence. The yen traded at 94.19 per dollar, from 93.97.
"Neither the EU nor the government has made a decision yet," the Bild-am-Sonntag cited Schaeuble as saying. "Under these circumstances, a decision can still turn out positive or negative."
Greek Bonds Tumble
Greek bonds tumbled today, with the premium investors demand to hold the nation's 10-year notes rather than German bunds rising to a record 6 percentage points. Greece is unlikely to be the last euro member to need an International Monetary Fund bailout, with Ireland, Spain and Portugal "conspicuously vulnerable," Harvard Professor Kenneth Rogoff said in an interview in Washington.
Traders boosted bets on a decline in the euro versus the dollar, foreign-exchange options show. One-month risk-reversals, measuring the price of the right to sell the euro versus the right to buy it, fell for a fourth day, sliding to minus 1.545 percentage point. A declining figure indicates more demand to sell the euro.
"They have requested the help, that's a first step, but when and how the aid will be available still remains uncertain because the money is coming from many different sources," said David Deddouche, a currency strategist at Societe Generale SA in Paris.
Japan's currency weakened against 10 of its most-active counterparts after a U.K. report showed home prices rose for a ninth month and on speculation U.S. data this week will show the housing market is stabilizing. The MSCI World Index of shares advanced 0.5 percent.
Buoyant 'Sentiment'
"Data across the globe underscore the economy is recovering, which then boosts risk sentiment," said Koichi Kurose, chief strategist in Tokyo at Resona Bank Ltd., a unit of Japan's fourth-largest banking group. "Buoyant risk sentiment will encourage investors to sell the yen and re-invest in higher-yielding assets."
The pound strengthened versus the dollar and the yen after London-based Hometrack Ltd. said the average cost of a home in England and Wales increased 0.2 percent from March. The S&P/Case-Shiller home-price index in the U.S. climbed 1.3 percent, the first increase since December 2006, according to a Bloomberg News survey before tomorrow's report. The U.K. currency advanced 0.6 percent to $1.5465 and rose 0.7 percent to 145.53 yen.
Won Gains
The won gained for the first time in three days versus the dollar before reports this week that economists said will show gross domestic product rose at a faster pace and exports climbed for a sixth month. The Kospi index gained 0.9 percent as overseas funds bought more Korean shares than they sold for a fourth day.
The won rose 0.5 percent to 1,103.80 per dollar, after advancing to 1,102.85, the strongest since September 2008.
"Data this week is expected to be very strong," said Peter Redward, head of rates research at Barclays Plc in Singapore. "Combine that with strong risk appetite and very good demand for Korean assets, which is reinforcing the won."
The dollar advanced to its strongest level in almost three weeks versus the yen on speculation the Federal Reserve is moving closer to withdrawing stimulus measures amid signs the U.S. economic recovery is intact.
Policy makers meeting on April 27 and April 28 will try to decide how and when to sell mortgage-backed securities and reduce the Fed's balance sheet, the Wall Street Journal said on April 23, without saying where it got the information.
'Reworking of Guidance'
"Our economists note there is some potential for a very modest reworking of the key policy guidance language," Gareth Berry, a currency strategist in Singapore at UBS AG, wrote in a research note today. "We continue to look for further dollar strength as the Fed shows every intention of gradually continuing down the path to policy normalization."
Futures on the Chicago Board of Trade show a 72 percent chance the Fed will raise its benchmark rate at least a quarter-percentage point by its December meeting.
Foreign-exchange profits from carry trades are disappearing as differences in central bank interest rates fail to increase fast enough to compensate for swings in currency rates.
Royal Bank of Scotland Group Plc's index tracking the strategy of tapping cash where borrowing costs are low and investing where rates are higher, rose 0.57 percent in the first quarter, the smallest amount in a year, and down from 9.8 percent in all of 2009. Morgan Stanley strategists said in an April 15 research report that the only "functionally attractive" currency to target in carry trades is Australia's dollar.
Helping Dollar
Falling demand for carry trades may help the dollar -- a favorite for funding the trades because of record low U.S. rates -- extend a rally that drove it 11 percent higher versus the euro the past six months. Gains of almost 30 percent in Brazil's real, New Zealand's dollar and South Africa's rand the past 12 months suggest they already reflect the prospect of higher rates as central bankers begin to shift monetary policy.
"There is no easy money left in the carry trade," said Henrik Pedersen, the London-based chief investment officer at Pareto Investment Management Ltd., which oversees $45 billion in currency assets.
*T *T