Ford May Post $1.2 Billion Profit on Sales, Pricing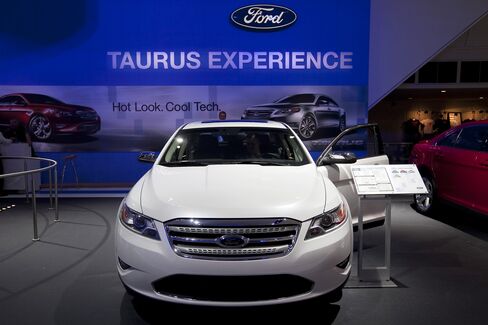 Ford Motor Co. probably will post earnings exceeding $1 billion tomorrow, capping its first run of four straight quarterly profits since 2005, after Chief Executive Officer Alan Mulally cut back on discounting.
First-quarter net income may have been $1.2 billion, the average of 3 analysts' estimates compiled by Bloomberg. U.S. deliveries surged 37 percent through March, more than twice the industrywide increase, and buyers may have chosen costlier options, helping generate more revenue per car.
"There's a lot of momentum at Ford right now in terms of customers' perception of their products," said Efraim Levy, a Standard & Poor's equity analyst in New York who advises holding the shares. "We're hitting the point where it's time to give them the benefit of the doubt, rather than view them with skepticism."
Mulally, 64, put rebuilding Dearborn, Michigan-based Ford's namesake brand at the center of his strategy for overhauling the second-biggest U.S. automaker after he arrived from Boeing Co. in 2006. First-quarter revenue probably rose 13 percent to $28 billion, the average estimate of 7 analysts.
Excluding costs and gains Ford considers one time, profit probably was 31 cents a share, the average of 12 estimates. The loss on that basis a year earlier was 75 cents a share. The net loss for the period was $1.43 billion.
Market Share
Redesigned models such as the Taurus sedan helped boost first-quarter U.S. market share to 17.4 percent through March from 14.7 percent a year earlier, the biggest jump since 1977, Ford has said. This year, dealers will get the new Fiesta and Focus small cars after Ford's reliance on trucks led to $30 billion in losses from 2006 through 2008 as fuel prices surged.
Ford also benefited from discounts that were the smallest among domestic automakers, according to researcher Autodata Corp.
"Ford has done a very good job of responding to changes in the market with the products they've come up with," said Brian Johnson, a Barclays Capital analyst in Chicago who has an "equal weight" rating on the shares. "We're expecting a strong first quarter from Ford."
The automaker has been profitable each quarter since last year's April-to-June period, which included the bankruptcies of its two domestic rivals. That quarter's $2.26 billion in net income was the product of gains related to debt reduction that exceeded operating losses.
Profit Streak
Ford's last previous stretch of four straight quarterly profits spanned the third quarter of 2004 through the second quarter of 2005, based on data compiled by Bloomberg. John Stoll, a spokesman, said Ford had no comment before tomorrow's announcement.
Ford rose 25 cents, or 1.8 percent, to $14.46 at 4 p.m. in New York Stock Exchange composite trading for the highest closing price since January 2005. The shares have almost tripled in the past year.
Executive Chairman Bill Ford, 52, said shoppers are considering Ford models in part because the automaker avoided the government-backed bankruptcies that befell the predecessors of General Motors Co. and Chrysler Group LLC.
"But if they don't like what they see, they'll go elsewhere," he said after a speech in Detroit April 15.
Benefit From Toyota
Also buoying Ford's share is a shift in some consumers' impressions after Toyota Motor Corp.'s recalls of more than 8 million vehicles worldwide, said Bernie McGinn, president of McGinn Investment Management of Alexandria, Virginia, which owns 320,000 Ford shares. Toyota's first quarter U.S. vehicle sales rose 7.2 percent, half the industry's 16 percent.
"Toyota has taken a hit to their image for automotive excellence, and the chief beneficiary is Ford," McGinn said. "This is the first time in a generation that people are looking at Ford in a really positive way."
Pricing gains may have helped, too. Revenue from each vehicle sold rose $2,041 in 2009 on new models such as the Fusion hybrid and purchases of more-expensive features, according to Mulally. Ford expects to see "positive net pricing" again this year, though the gains may not be as large, Chief Financial Officer Lewis Booth said in a Jan. 28 interview.
Mulally's brand-repair strategy was financed by $23 billion in borrowing after he joined the company. While those loans enabled Ford to avert a Chapter 11 filing, they also added to automotive debt that reached $34.3 billion at the end of 2009, up from $24.2 billion a year earlier.
Paying Off Debt
"Ford has got to pay down its debt," said Jim Hall, principal of consultant 2953 Analytics in Birmingham, Michigan. "And they have to weigh paying down the debt against investing in new products."
GM and Chrysler were cleansed of obligations in bankruptcy. GM reported paying off the last $4.7 billion in U.S. loans April 21, the same day Chrysler posted a first-quarter operating profit of $143 million.
Ford can't risk complacency and arrogance as it tries to complete a turnaround, according to Bill Ford. Ten years ago today, Ford shares closed at $52.84. First-quarter U.S. sales totaled 1.08 million in 2000. This year's tally was 441,708.
"I've seen this movie before," Bill Ford said in Detroit on April 22. "I know how quickly self-satisfaction can turn into self-destruction."
For now, Ford reaps rewards for going it alone and not taking a government rescue, McGinn said. Of 16 analysts covering the shares, 8 say buy, 6 advise holding and 2 recommend selling, according to data compiled by Bloomberg. In January 2009, 1 analyst had a buy rating while 8 said hold and 3 said sell.
"Ford just seems like it can do no wrong," said John Wolkonowicz, an analyst at consultant IHS Global Insight in Lexington, Massachusetts. "The company is doing very well, and the stock is doing very well."
Before it's here, it's on the Bloomberg Terminal.
LEARN MORE