Apollo Leads Junk Bond Sales; Greece Rating Cut: Credit Markets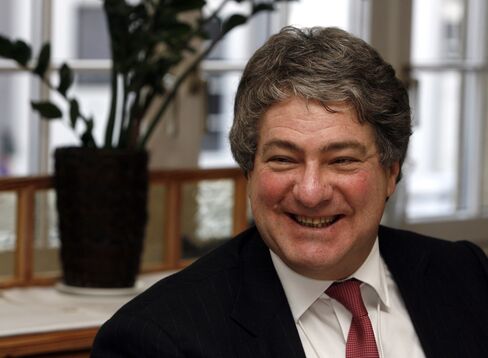 Leon Black's Apollo Global Management LLC is dominating the junk bond market this month with more than $4 billion of sales, taking advantage of a record rally to refinance maturing debt and pay for new takeovers.
Four companies backed by Apollo accounted for more than 16 percent of the $24 billion raised, according to data compiled by Bloomberg. Harrah's Entertainment Inc. issued $750 million of 12.75 percent, eight-year bonds. An Apollo affiliate is using $700 million of financing to buy CKE Restaurants Inc., the owner of the Hardee's fast-food chain said in a statement.
"They realize the market is hot and there's a lot of cash out there," said Sabur Moini, a money manager who helps oversee $50 billion at Payden & Rygel in Los Angeles. "These guys are being opportunistic."
Black, the former head of mergers and acquisitions at Drexel Burnham Lambert Inc., is selling after a record 96 percent rally in the past year for bonds with ratings below investment grade cut yields to the lowest since July 2007, according to Bank of America Merrill Lynch index data. The gap between the cost of protecting U.S. high-yield debt and investment-grade bonds from losses yesterday fell to the narrowest in 17 months.
Greece had its credit rating cut below investment grade by Standard and Poor's, sending the cost of protecting its debt from default to a record. Credit-default swaps on Greek government debt rose 104 basis points to a record 814, according to CMA DataVision prices.
"Medium-term financing risks related to the government's high debt burden are growing, despite the government's already sizable fiscal consolidation plans," S&P said today in an e-mailed statement. "Our updated assumptions about Greece's economic and fiscal prospects lead us to conclude that the sovereign's creditworthiness is no longer compatible with an investment-grade rating."
Credit Seizure
Elsewhere in credit markets, the extra yield investors demand to own company debt instead of Treasuries rose 1 basis point to 144 basis points, or 1.44 percentage points, down from 176 at the end of 2009, Bank of America Merrill Lynch's Global Broad Market Corporate Index shows. Yields were little changed at 3.949 percent.
A benchmark indicator of U.S. corporate credit risk rose to a more than nine-week high and credit protection on Goldman Sachs Group Inc. climbed for a fifth day as a U.S. Senate panel questioned bank executives and employees about Goldman's role in the financial crisis.
Credit-default swaps on the Markit CDX North America Investment Grade Index Series 14, which investors use to hedge against losses on corporate debt or to speculate on creditworthiness, rose 4.4 basis points to a mid-price of 95.3 basis points as of 12:16 p.m. in New York, according to Markit Group Ltd. The index typically rises as investor confidence deteriorates and falls as it improves.
Goldman Sachs
Swaps on New York-based Goldman Sachs climbed 10.5 basis points to 177.5 basis points, CMA prices show.
Credit swaps pay the buyer face value if a borrower fails to meet its obligations, less the value of the defaulted debt. A basis point equals $1,000 annually on a contract protecting $10 million of debt.
Greek Prime Minister George Papandreou was last week forced to activate a 45 billion-euro ($60 billion) package of emergency loans from the euro region and the International Monetary Fund, after the country's soaring borrowing costs made it difficult to finance its debt in the markets. Concern about Papandreou's ability to trim the euro region's biggest deficit has fueled concern of a possible default.
Apollo Fund Purchases
Apollo's sales this month contrast with its funds' purchases of $33.5 billion of debt at a discount to face value as the seizure in credit markets spread from 2007 to 2009 and prices tumbled to record lows, according to a regulatory filing.
"We acted aggressively and decisively when other market participants were not as active to capitalize on what we believed to be unprecedented opportunities in the credit markets," Apollo said in a letter to investors last month. Black, 58, formed the firm in 1990 to buy companies and invest in distressed debt.
High-yield bonds, rated Ba1 and lower by Moody's Investors Service or BB+ and below by S&P, returned 7.1 percent this year through April 26, according to Bank of America Merrill Lynch index data. The lowest-ranked debt in the CCC tier and below on S&P's scale gained 10.6 percent.
Yields have tightened 1.61 percentage points relative to government debt from this year's peak on Feb. 12 to 5.42 percentage points, the lowest since Nov. 16, 2007, the data show.
Leveraged Loans
Apollo's funds purchased $25 billion of leveraged loans and $8.5 billion of distressed debt from the third quarter of 2007 through Dec. 31, 2009, according to a regulatory filing. The firm, which had $53.6 billion of assets as of Dec. 31, plans to sell shares on the New York Stock Exchange. Charles Zehren, a spokesman for New York-based Apollo, declined to comment.
Six firms in which Apollo has stakes sold high-yield bonds this year as the economy recovered. The U.S. may have expanded at an annualized 3 percent pace in the first quarter, according to a Bloomberg survey of 66 economists. Gross domestic product rose at an annualized 5.6 percent in the final three months of 2009, the most in six years, according to the U.S. Commerce Department.
The 12-month global default rate for high-yield, high-risk debt fell to 9.9 percent in the first quarter from 13 percent at the end of 2009, according to Moody's. The rate will drop to 2.8 percent by year-end, the New York-based ratings company said in a report this month.
Hexion, Ceva
In January, Columbus, Ohio-based Hexion Specialty Chemicals Inc. sold $1 billion of notes in its first issue since April 2007. Last month, Ceva Group Plc, based in Hoofddorp, Netherlands, sold $625 million of bonds due in 2014.
Charter Communications Inc. the St. Louis-based cable operator that Apollo bought into last year, issued $1.6 billion of senior notes on April 14. That week, Harrah's sold notes at a yield of 13 percent that were graded Ca by Moody's, the second-lowest junk rating.
All six companies said they would use proceeds from the offerings to repay debt, according to company statements and people familiar with the offerings, who weren't authorized to discuss the transactions publicly.
An Apollo affiliate is also obtaining financing for fresh buyouts. The firm beat Thomas H. Lee Partners LP to acquire CKE for $1 billion including debt. Morgan Stanley, Citigroup Inc. and RBC Capital Markets affiliates are providing $700 million of financing, the Carpinteria, California-based firm said yesterday.
"To the extent these companies can refinance, they'd be stupid not to," said Kingman Penniman, president of KDP Investment Advisors, a high-yield research firm in Montpelier, Vermont. "All of the private equity sponsors, because their companies have issued the most debt in the first place, have this great wall of refinancing to address."