Korean Economy Probably Accelerated in First Quarter on Exports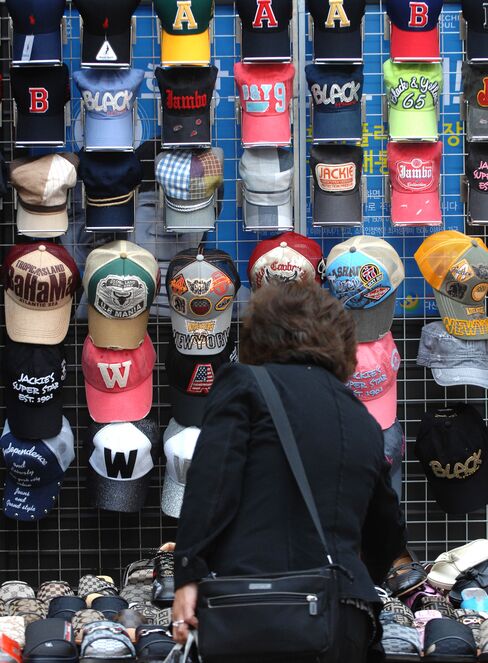 South Korea's economy probably accelerated in the first quarter as rising global demand boosted sales at the nation's carmakers and electronics manufacturers.
Gross domestic product rose 1.5 percent in the three months through March from the previous quarter, when it advanced 0.2 percent, according to the median of 12 estimates in a Bloomberg News survey. The released is due at 8 a.m. tomorrow in Seoul.
Exports surged this year, driving stocks and the won higher as Hyundai Motor Co. boosted sales and Samsung Electronics Co. posted a seven-fold increase in profit. The central bank forecast this month that the economy will expand at the fastest pace since 2006 and Moody's Investors Service raised the nation's credit ratings one level to A1 on April 14.
"Growth is mainly driven by exports, with Toyota's woes giving a boost for Hyundai Motor and electronics enjoying a pick-up in global demand." said Park Sang Hyun, an economist at HI Investment & Securities in Seoul. "But domestic demand is still weak, keeping policy makers wary of exit strategies."
The government has pressed the Bank of Korea to keep the benchmark interest rate unchanged at a record-low 2 percent to stoke growth and employment. President Lee Myung Bak, who faces local elections in June, has put jobs at the top of the political agenda and his administration is boosting spending this year by 3 percent to 292.8 trillion won ($264 billion).
Shares, Currency
The benchmark Kospi stock index has risen 3.2 percent this year and the won gained 4.4 percent against the dollar over the same period as investors bet Asia's fourth-largest economy will recover faster than most other nations.
The seasonally adjusted unemployment rate fell by the most in 10 years in March as government programs to create public-sector jobs gathered pace. The central bank on April 12 raised its 2010 growth forecast to 5.2 percent from a December estimate of 4.6 percent.
Rising consumer prices and concerns about asset bubbles forming prompted Asian policy makers from Singapore to China to India to start withdrawing monetary stimulus as the region leads a global recovery from the deepest recession since World War II.
From a year earlier, South Korean GDP jumped 7.5 percent in the first-quarter period, according to the Bloomberg News survey. The central bank said this month that the economy probably grew 1.6 percent last quarter from the previous three months.
Even after the revised economic outlook and ratings upgrade, Governor Kim Choong Soo has been reluctant to push for a tightening of monetary policy in the face of a government that has publicly opposed increasing borrowing costs.
'Don't Know'
"I don't know whether I should ask them not to talk about interest rates," Kim said April 19 at a press dinner.
Nine of 13 economists surveyed by Bloomberg News this month expect borrowing costs to remain unchanged in the first half of 2010. Park at HI Investment & Securities said that "unless the economy jumps well ahead of expectations, the central bank will likely stay put on rates until late this year."
Exports surged more than 30 percent from a year ago in the first three months of this year as Hyundai Motor, the nation's largest automaker, benefited from the recalls by rival Toyota Motor Corp. and Chinese consumers bought more expensive televisions. The government forecasts exports will rise 13 percent this year to $410 billion.
Hyundai Motor said quarterly profit jumped fivefold to a record in the three months to March 31. Net income was 1.13 trillion won from 225 billion won a year earlier, the Seoul-based carmaker said last week.
'Fiscal Woes'
"Uncertainties on business environments and economies persist, such as fiscal woes in advanced countries," Hyundai Motor Chief Financial Officer Lee Won Hee told investors on April 22 after announcing the results. "Still, we believe Hyundai Motor can weather those pressures with our new models, which will spur factory utilization."
Hynix Semiconductor Inc., the world's second-largest computer-memory chipmaker, reported its latest quarterly sales more than doubled and LG Display Co., the world's second-largest maker of liquid-crystal displays, reported a 66 percent increase in revenue for the January-March period.
Even so, consumer confidence declined for a second month in March and Finance Minister Yoon Jeung Hyun said last month that the nation faces a period of "severe" unemployment as the private sector still hasn't recovered from effects of last year's global recession.
Before it's here, it's on the Bloomberg Terminal.
LEARN MORE