Austria Hedges Gas Pipe Bets by Joining Gazprom's South Stream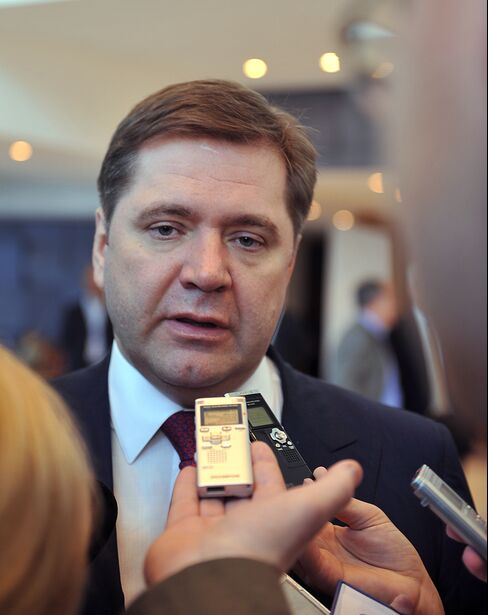 Austria hedged its bets on two competing projects to transport natural gas to Europe, joining OAO Gazprom and Eni SpA's planned South Stream pipeline from Russia while still backing the OMV AG-led Nabucco pipeline network.
Russian Energy Minister Sergei Shmatko and Austrian Economy Minister Reinhold Mitterlehner signed an accord on April 24 for Austria to join the South Stream project to transport Russian gas under the Black Sea to the Balkans and on to central and southern Europe.
Austria's participation in South Stream would enlarge the Alpine nation's role as a transit country for Russian gas and help European gas importers bypass Ukraine, helping them to avoid possible disputes similar to those that curbed supplies to Europe during the past four years. Austria signed an agreement in July on the European Union-backed Nabucco project, which aims to reduce the region's reliance on Gazprom.
"Austria clearly wants to play a role in any new gas pipeline that materializes from the Russian-Caspian region," said Julia Nanay, an oil analyst at consulting firm PFC Energy. It's "in an awkward position with respect to the competing projects of Nabucco and South Stream."
Austria joined countries including Slovenia, Bulgaria, Serbia, Hungary and Greece as a partner in the onshore section of South Stream, which is due to deliver gas by the end of 2015. One section of the pipeline would terminate at OMV's Baumgarten hub, currently the destination for about a third of Russia's gas exports to western Europe. Russia supplies about a quarter of Europe's gas, a share that may increase as reserves in the North Sea dwindle.
Baumgarten Grows
With Austria joining South Stream, the project can move on to its design stage, Gazprom Chief Executive Officer Alexei Miller said on April 24 in Vienna. Participants plan to complete a feasibility study for South Stream in February.
OMV and Gazprom signed an agreement to carry out a feasibility study on the Austrian section of the project, OMV said in a statement on April 24. The two companies plan to set up a venture to design, finance, build and operate the Austrian section, Gazprom said. The Austrian span will transport at least 5 billion to 10 billion cubic meters of gas annually, the Russian company said.
"The more pipelines go through Baumgarten, the better for OMV, as this will increase storage and transmission fees," said Philipp Chladek, an energy analyst at Raiffeisen Centrobank AG in Vienna.
OMV said in September that it would expand transport capacity at Baumgarten to accommodate natural gas from both Nabucco and South Stream. Baumgarten has an annual capacity of about 50 billion cubic meters, and this might be expanded to reach "70, 80, 90 billion cubic meters," said Werner Auli, head of the company's gas unit.
Austria also is one of five countries that signed an agreement in July on the European Union-backed Nabucco project, which aims to bring gas from the Caspian Sea region and the Middle East to Austria by way of Turkey, and thereby reduce Europe's reliance on Russian supplies.
Transit Income
"Austria is safe. It may get transit revenue from both pipelines," said Mikhail Korchemkin of East European Gas Analysis. "South Stream may facilitate the development of Nabucco" by allowing it to fill spare capacity in existing transit routes to supply eastern Europe, he said.
The 7.9 billion-euro ($11 billion) Nabucco pipeline is designed to span more than 3,000 kilometers (1,900 miles). The project has been delayed due to differences over financing, pricing and politics. Nabucco Gas Pipeline International GmbH, the venture building the pipeline, said last week that construction of the link would start at the end of 2011, with the first gas expected to flow in 2014.