Countrywide Investors Said to Settle Lawsuit for $600 Million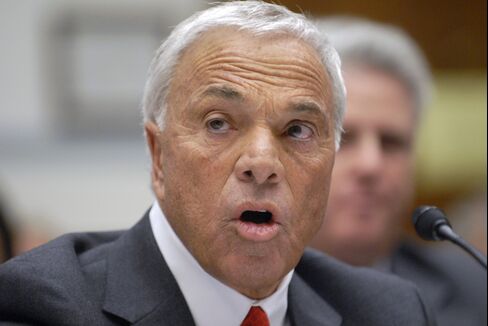 Countrywide Financial Corp. investors, led by a group of New York retirement funds, have agreed to settle a class-action lawsuit for more than $600 million, a person familiar with the case said.
U.S. District Judge Mariana Pfaelzer in Los Angeles in December certified a class of investors who bought Countrywide shares or certain debt securities from March 12, 2004, to March 7, 2008. The U.S. appeals court in San Francisco on April 19 denied the defendants permission to appeal that ruling. No settlement papers have been filed.
Shirley Norton, a spokeswoman for Bank of America Corp., which acquired Countrywide in 2008, declined to comment yesterday. Jennifer Bankston, a spokeswoman for Labaton Sucharow LLP, the firm representing the pension funds, said mediation between the parties took place this month and declined to comment on the settlement.
The New York State Common Retirement Fund and five New York City pension funds claimed former Countrywide Chief Executive Officer Angelo Mozilo and other executives hid from them that the company was fueling its growth by letting underwriting standards deteriorate. Bank of America acquired Calabasas, California-based Countrywide, which was the biggest U.S. home lender, in July of 2008.
The Daily Journal, a Los Angeles legal newspaper, first reported the settlement.
SEC Lawsuit
Mozilo, 71, is also a defendant, together with two other former Countrywide executives, in a U.S. Securities and Exchange Commission lawsuit alleging he publicly reassured investors about the quality of the company's home loans while he issued "dire" internal warnings and sold about $140 million of his own Countrywide shares.
He wrote in an e-mail in September 2006 that Countrywide was "flying blind" and had "no way" to determine the risks of some adjustable-rate mortgages, according to the SEC complaint filed in June.
David Siegel, a lawyer for Mozilo, didn't immediately return a call seeking comment.
The class-action lawsuit names 50 defendants, including Goldman Sachs Group Inc., Citigroup Inc., JPMorgan Chase & Co. and 23 other Countrywide underwriters. It also named the auditing firm KPMG LLP. The underwriters and KPMG are accused of securities-law violations and not fraud.
Dean Kitchens, a lawyer representing the underwriters, and Todd Gordinier, a lawyer representing KPMG, didn't immediately return calls seeking comment yesterday.
The case is In re Countrywide Financial Corp. Securities Litigation, 07-05295, U.S. District Court, Central District of California (Los Angeles).