Stuyvesant, Peter Cooper Complex May Be Split in Sale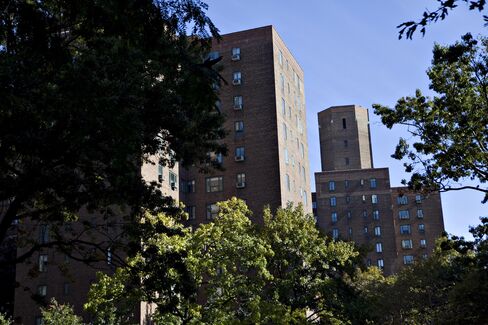 Manhattan's Stuyvesant Town and Peter Cooper Village apartments, the city's largest residential enclave, could be sold as two properties under a foreclosure proposal by lenders.
Bank of America Corp. and special loan servicer CWCapital Asset Management LLC, acting on behalf of senior creditors, asked for court approval to offer the 80-acre property in either one or two pieces in a foreclosure auction, according to a filing yesterday in U.S. District Court in Manhattan.
Tishman Speyer Properties LP and BlackRock Inc. bought the developments for $5.4 billion in 2006 near the top of the U.S. real estate boom. The mortgage in default is secured by two distinct parcels, a division that requires offering them for sale separately, said Greg Cross, a Baltimore-based partner at the Venable LLP law firm representing CWCapital.
"Tishman has consented to the foreclosure and the other defendants have answered, so we thought it was appropriate to file a motion," Cross said.
The owners missed a payment on the $3 billion senior mortgage in January after failing to raise rents as fast as anticipated. The companies have been seeking to turn the complex over to creditors ever since.
Debt from the senior mortgage, which was securitized and sold to investors from New York to Singapore, has ballooned to $3.66 billion, according to the filing, which asks a judge for permission to begin foreclosure.
Appaloosa's Position
The request could be delayed by Appaloosa Investment LP, the hedge fund run by David Tepper, which is seeking to join the lawsuit. Appaloosa opposes the foreclosure because it may lose as much as $200 million if the case proceeds.
Judge Alvin Hellerstein, who is presiding over the case, has yet to address Appaloosa's request, said Kathy Patrick, a lawyer for Appaloosa at Gibbs & Bruns LLP in Houston.
"Our motion was on file first," Patrick said. "We're confident the judge is going to consider it appropriately."
Proceeds from the foreclosure would go toward covering the mortgage, late charges and expenses including legal costs.
Stuyvesant Town and Peter Cooper Village run from 14th Street to 23rd Street on Manhattan's east side. Some residents welcome the march toward foreclosure because they're piecing together a plan to purchase their apartments, said City Councilman Daniel Garodnick, a Peter Cooper Village resident.
Tenants oppose dividing the developments, he said.
"We have always said that this is one single, united community and we hope that it will remain that way," Garodnick said.
The case is Bank of America N.A. v. PCV ST Owner LP, 10-01178, U.S. District Court, Southern District of New York (Manhattan).
Before it's here, it's on the Bloomberg Terminal.
LEARN MORE