J.Lo's Dog Chews Pregnancy-Test Stick; 'Paper Man': Rick Warner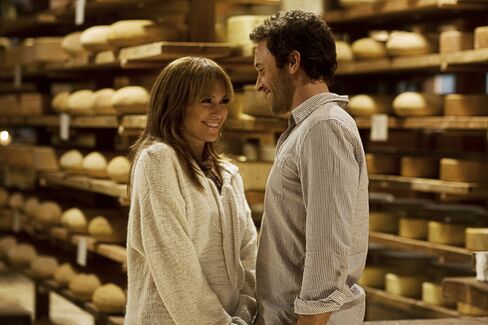 April 24 (Bloomberg) -- Katherine Heigl and Ellen Page have done it. Now it's Jennifer Lopez's turn to play an unmarried pregnant woman in a movie that tries to milk laughs from her big belly, food cravings and mood swings.
"The Back-up Plan" is a tepid romantic comedy about Zoe (Lopez), a 30-something New York pet-store owner who, lacking a man in her life and hearing her biological clock ticking, decides to have a test-tube baby. Then, wouldn't you know, on her way home from the doctor's office she meets a great guy and quickly falls in love.
Stan (Alex O'Loughlin), a handsome cheesemaker, is shocked when Zoe finally breaks the news that she's pregnant by an unknown father. Of course, being the sensitive caring type, he stands by his woman as she grows fatter and crankier by the day.
Watch Zoe pig out on sloppy sandwiches. See her rip her too-tight dress while bending over. Catch her at a friend's home birthing, where the about-to-be mother sits in a rubber tub screaming and contorting her face like the girl in "The Exorcist."
The humor rarely rises above this level, and the Lopez-O'Laughlin pairing produces fewer sparks than a wet matchstick. The funniest character is Nuts, Zoe's handicapped Boston Terrier, who pulls around a little cart and turns a used pregnancy-test stick into a chew toy.
Granny's Engagement
Zoe's trust issues with men leads to increasing tensions with Stan, who must deal with her skepticism as well as another pregnancy-related surprise. Meanwhile, Zoe seeks advice from her blunt grandmother (Linda Lavin), who raised her after her mother died. Granny has her own problems with commitment, having avoided marriage during a 22-year "engagement" to her current beau.
"The Back-up Plan" was written by Kate Angelo and directed by Alan Poul, TV veterans making their feature-film debuts. Based on this effort, they may be better suited to a smaller screen.
"The Back-up Plan," from CBS Films, is playing across the U.S. Rating: *1/2
'Paper Man'
Richard (Jeff Daniels) is "Paper Man," a struggling writer who hires a troubled teenager to babysit for him at his Long Island beach house while he works on his second novel. When Abby (Emma Stone) arrives, she discovers that Richard doesn't have a baby. But she agrees to stay anyway while he goes out for the night, and even makes soup for him from scratch.
Isn't she the least bit scared of this odd middle-aged guy she just met who lied to get her into his remote house? Hasn't she ever seen a slasher movie?
It makes as little sense as the rest of this misguided indie drama, written and directed by the husband-and-wife team of Kieran and Michele Mulroney. The premise is OK -- two lonely souls, both with imaginary friends, make an unlikely platonic connection -- but the script meanders in search of a direction it never finds.
Richard, whose surgeon wife (Lisa Kudrow) commutes back and forth to her job in Manhattan, seeks advice from Captain Excellent (Ryan Reynolds), a spandex-clad superhero who exists only in his mind. Abby has her own make-believe friend, Christopher, (Kieran Culkin), a fellow teen who tries to steer her away from her abusive boyfriend (Hunter Parrish).
The quirky touches, such as Richard using unsold copies of his first novel to build a sofa and his fascination with an extinct chicken species, can't cover up the fact that the story is as stunted as its main characters.
Stone, who made her feature debut in "Superbad," is the best thing in the movie. When we learn about Emma's tragic past, we understand her desperate need for a kindred spirit. She's highly believable, unlike most of the film.
"Paper Man," from MPI Media Group, is playing in New York and Los Angeles. Rating: *1/2


What the Stars Mean:

****          Excellent
***           Good
**            Average
*             Poor
(No stars)    Worthless

(Rick Warner is the movie critic for Bloomberg News. The opinions expressed are his own.)
To contact the writer on the story: Rick Warner in New York at rwarner1@bloomberg.net.
To contact the editor responsible for this story: Manuela Hoelterhoff at mhoelterhoff@bloomberg.net.