U.K. GDP Rises Half as Much as Economists Forecast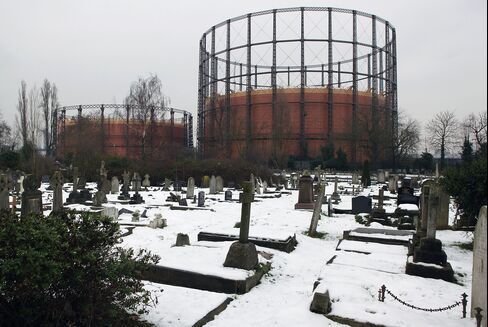 The U.K. economy grew half as much as forecast in the first quarter, underscoring the fragility of the recovery as Prime Minister Gordon Brown struggles to convince voters that his party deserves a fourth term.
Gross domestic product rose 0.2 percent from the final three months of 2009, when a 0.4 percent expansion ended the recession, the Office for National Statistics said today in London. The median forecast in a Bloomberg News survey of 32 economists was for a 0.4 percent increase.
Brown told reporters today that the economy still needs stimulus to avoid a "double-dip recession" and that Conservative leader David Cameron's plans to cut spending this year are a "risk" to growth. The winner of the May 6 election will need to tackle a budget shortfall that swelled to the worst since World War II in the fiscal year through March.
"This is disappointing," Stewart Robertson, an economist at Aviva Investors in London, which manages about $383 billion in assets, said in a telephone interview. "On the face of it, it's a weak economy that got weaker in the first quarter. This number will without doubt be revised up but it won't happen in time to help Brown."
The pound fell 0.4 percent to $1.5318 as of 3:11 p.m. in London. It was at $1.5397 shortly before the data were published. The benchmark two-year gilt fell for a fifth day, pushing the yield up 6 basis points to 1.259 percent.
'Three Cuts'
From a year earlier, the economy contracted 0.3 percent in the quarter. Economists forecast a 0.1 percent decline, based on the median of 28 estimates in a Bloomberg News survey.
Today's report is the first of three estimates for the quarter. It uses data for the first two months of the period from about 40 percent of companies assessed, or about 40,000 businesses, and three-month figures for a further 20,000 firms.
The U.K. is the first of the Group of Seven nations to report GDP for the quarter. The economy faced headwinds from coldest winter since 1979 that snarled traffic, slowed construction and kept shoppers home, and a sales-tax increase.
The cold snap restrained manufacturing and retail sales, the statistics office said. Industrial production, which accounts for 17 percent of the economy, rose 0.7 percent on the quarter, while services, which make up 76 percent of GDP, increased 0.2 percent. Construction slumped 0.7 percent.
SIG Plc, a U.K. maker of insulation, said last month that first-half pretax profit will be "well below" year-earlier levels as the weather resulted in a "slow start" to 2010.
'Limping Along'
"To the extent the economy is in recovery, it's really limping along," Danny Gabay, director of Fathom Financial Consulting in London and a former Bank of England official, said in a Bloomberg Television interview.
Brown, Cameron and Liberal Democrat leader Nick Clegg clashed in their second televised debate last night, where they grappled with questions on foreign affairs and plans to support the economy as it recovers from the worst recession on record.
The GDP report is a "blow for Gordon Brown's re-election campaign," Azad Zangana, an economist at Schroders Investment Management Ltd. in London, said in an e-mailed note. It "reminds us of the impact the poor U.S. GDP number had on" the 1992 presidential campaign, when Bill Clinton defeated incumbent George Bush in a campaign known for the phrase "It's the economy, stupid."
Brown said today at a press conference in London that the economy "will be decisive" in the election.
'Not Working'
Some opinion polls suggest the May 6 election may result in a hung parliament, where voters fail to deliver a parliamentary majority.
A YouGov Plc daily poll before last night's debate put the Conservatives at 34 percent and Labour at 29 percent, with the Liberal Democrats at 28 percent. That would leave Labour with 278 seats to 251 for the Conservatives and 88 for the Liberal Democrats, according to the standard calculations used by academics and pollsters.
Cameron has said the deficit will be his top priority if elected. The shortfall was 152.8 billion pounds ($234 billion) in the fiscal year through March, the highest in the Group of Seven nations. Based on a European Union measure, Britain's deficit amounted to 11.5 percent of GDP in 2009, almost three times the bloc's upper limit.
"Whoever is in power faces a major economic problem, which is the challenge of getting the government overdraft, budget deficit and debt under control," Neil Mackinnon, an economist at VTB Capital Plc and a former U.K. Treasury economist, told Bloomberg Television today.
'Fragile'
Chancellor of the Exchequer Alistair Darling said that the recovery is "fragile" and that his forecast for growth of between 1 percent and 1.5 percent this year is "entirely dependent" on maintaining stimulus.
"To cut away support just now as the Conservatives are saying would be to take a risk with the economy -- a risk I'm not prepared to take," he said on BBC radio.
Vince Cable, who speaks for the Liberal Democrats on financial matters, said an increase in unemployment to a 16-year high in the three months through February "exposes the folly of Tory plans to pull the rug from under the recovery."
The International Monetary Fund this week cut its 2011 U.K. GDP forecast to 2.5 percent from 2.7 percent and held its prediction for expansion this year at 1.3 percent as domestic demand "remains subdued."
The economy may benefit from the pound's decline, which is boosting export competitiveness. The Confederation of British Industry, the nation's biggest business lobby, said yesterday a measure of export optimism rose to a 15-year high. Sterling has fallen about 25 percent against a trade-weighted basket of currencies since the start of 2007.
"It's a disappointing number but it's still got a plus sign in front of it," Bill Dinning, head of strategy at Aegon Asset Management in Edinburgh, said in a telephone interview after today's report. "The general tone is that the economy is a little stronger than it was."
Before it's here, it's on the Bloomberg Terminal.
LEARN MORE