Dealers Defend Swaps as Obama Predicts 'Big Battle'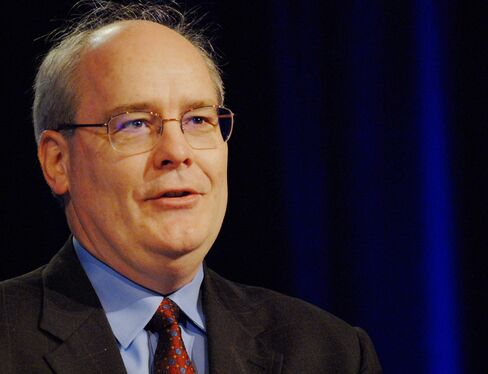 Legislation to regulate the $605 trillion derivatives market is reaching beyond issues that threatened the financial system two years ago and may impede the market, according to industry leaders.
U.S. Senate legislation that would require traders to instantly report prices and execute contracts on exchanges or facilities resembling exchanges won't lessen risk to the financial system, said Robert Pickel, executive vice chairman of the International Swaps & Derivatives Association. The Federal Reserve demanded dealers curb such risks since the bankruptcy of Lehman Brothers Holdings Inc. and near-failure of Bear Stearns Cos. in 2008.
"Our focus has always been on reform that dealt with the issues at hand -- systemic risk and interconnectedness," Pickel said in an interview before the start today of the group's annual conference in San Francisco. "Exchange trading or real time price reporting doesn't further any of those goals."
The industry and lobbying organization will defend the market this week as President Barack Obama and Congress push to complete legislation that would bring trading under government oversight for the first time in 30 years. Under Senate legislation, the most actively traded swaps would be moved through clearinghouses designed as a safety net for the financial system.
'Flaw' in Infrastructure
"These markets have proved to be a major source of uncertainty and risk during periods of financial disruption," Treasury Secretary Timothy Geithner told the House Financial Services Committee April 20. They are "a flaw in our financial infrastructure," he said.
The gathering in San Francisco of traders from JPMorgan Chase & Co. and Morgan Stanley to money managers Pacific Investment Management Co. and D.E. Shaw Group may mark the end of an era for the industry, said Craig Pirrong, a finance professor at the University of Houston.
"I have this sort of fin de siecle feeling about this whole thing," said Pirrong, who takes part today in an ISDA panel titled "Lessons From the Financial Crisis." "The world is going to change in very unpredictable ways."
Any requirements to mandate corporations or other so-called end-users to process their swaps with clearinghouses would do nothing to lower risk in the financial system, said Conrad Voldstad, chief executive officer of ISDA.
Dominant Dealers
"Corporate end-users did not create significant derivative risk nor did they suffer large derivative losses," Voldstad said in a speech to conference attendees. "A case for mandatory clearing of their derivatives activity cannot be made based on systemic risk."
A group of dealers including JPMorgan, Goldman Sachs Group Inc. and Morgan Stanley have dominated swaps trading, which generated an estimated $28 billion of revenue for the five biggest U.S. banks last year, according to company filings with the Fed and people familiar with their income sources.
ISDA, based in New York, has set industry standards and trading conventions since it formed in 1985. Derivatives are contracts used to hedge against losses from stocks, bonds, currencies, commodities, interest rates and weather. They are also used to speculate on changes in those underlying assets.
Congress probably will approve the overhaul of financial regulation by June, White House economic adviser Lawrence Summers said in an interview on Bloomberg Television's "Political Capital With Al Hunt." Obama, at a fundraiser in Los Angeles April 20, predicted a "big battle" over the legislation. He scheduled a speech today in New York on financial reform.
Bill Progresses
The Senate Agriculture Committee approved yesterday derivatives legislation that would require U.S. lenders such as JPMorgan Chase and Bank of America Corp. to spin off their swap trading desks or lose access to the Fed's discount lending window and other government support.
The bill also would require banks to instantly report prices to the public on swaps trades. Prices now are only provided publicly on some credit-default swap contracts at the end of the day through Markit Group Ltd., a London-based data firm and index administrator majority owned by the dealers.
The Senate panel voted 13-8 to back a bill drafted by Committee Chairman Blanche Lincoln, an Arkansas Democrat. Senator Charles Grassley, an Iowa Republican, joined Democrats in approving the measure.
The provision to make lenders separate swaps trading from commercial bank operations is a contentious issue as lawmakers weigh new rules for Wall Street.
'Fight Hard'
Deputy Treasury Secretary Neal Wolin, who is to give the keynote address at ISDA's conference today, said last month that the administration will "fight hard against any efforts to weaken" legislation in the Senate.
ISDA leaders say they have accomplished much of what proposals in Congress seek without mandates.
Dealers have moved more than $7 trillion of credit-default swaps during the past year into clearinghouses that are designed to absorb losses should one of their members fail. Credit swaps pay the buyer face value if a borrower fails to meet its obligations, less the value of the defaulted debt.
Last year, dealers finished recording the vast majority of credit derivatives contracts in a central repository managed by the Depository Trust & Clearing Corp. New York-based DTCC said last month that it will seek to give regulators "unfettered access" to information.
Where banks are pushing back is on how the trades are done -- on regulated exchanges or similar electronic trading systems -- and how much information is given to the public and not just regulators.
Dodd's Bill
A Senate bill introduced by Banking Committee Chairman Christopher Dodd and approved by the panel last month would require the most-active swaps to be traded on systems that show prices beforehand and can sell or transfer open positions if a party to the transaction defaults. The bill would in effect create exchange trading for standardized swaps, said Kevin McPartland, a senior analyst at research firm Tabb Group in New York.
"If prices and sizes of derivative trades are made instantly available to the markets, people are going to trade against the dealers holding positions," Voldstad, ISDA's chief, said April 20 in an interview.
That may hamper liquidity in the market or make it more expensive for companies and money managers to trade, Pickel said.
"You'll pull back, and that will reduce liquidity," he said. "Or because of that risk, you might charge more."
Legislation in the Senate proposed last week by Lincoln would limit trading by commercial banks by barring dealers in swaps from taking advantage of emergency liquidity functions and the Federal Deposit Insurance Corp.'s insurance and guarantee functions, as well as the Fed's discount window.
"Lincoln's bill has made the situation much more contentious than it already was," McPartland said in a telephone interview.