Racing $25 Million Ferrari Across France Is Luxury Escape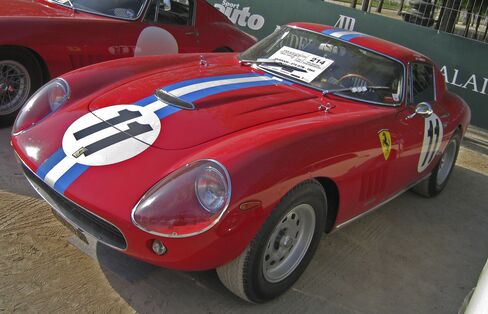 Ladies and gentlemen, open your checkbooks and forget about the Icelandic ash crisis that has put the brakes on the global economy.
"This art is powerful, loud, brutal and leaves you smelling like gasoline," Ferrari appraiser Marcel Massini shouts through cupped hands as more than $600 million worth of vintage race cars collectively rev their engines in a dusty garden alongside the Louvre in Paris. "You can invest in a Picasso, but what fun is that?"
Certainly not as amusing as the annual five-day Optic 2000 Tour de France d'Automobile, the world's oldest sports-car rally that on April 19 attracted 230 cars and 460 prosperous "pilotes" and "co-pilotes" for the 1,240 mile (2,000 kilometer) cocktail run from Paris to the Mediterranean coastal town of Beaulieu-sur-Mer.
As for the rules of the road, "we organize everything we can to let you enjoy your time, sadly the thing we cannot do for you is to book private tables at dinnertime," Optic coordinators warn drivers in the race instruction book.
"This is a fraternity of like-minded gentlemen, all interesting and delightful with the common trait of steering with their accelerators in life and not looking in their rear-view mirrors," says Steven Read, the 62-year-old founder of Read Investments in Berkeley, California. "It's a sport for art collectors who want to play with their art."
Riding Shotgun
Read's V-12 antique is a 1965 Ferrari 275 GTB/C Series with a street value of $3.3 million and a top speed of 180 mph, about 78 mph quicker than the world's fastest stock lawn mower, according to the British Lawn Mower Racing Association. Co- pilot Tim Robertson, president of the media investment company Bay Shore Enterprises LLC in Virginia Beach, Virginia, and the former chief executive officer of the Family Channel Inc. cable-television network, says his primary role riding shotgun is to make dinner reservations.
"I'm the concierge," says Robertson, 55, who has driven the Ferrari Challenge Series and raced his Porsche GT3-R at the Daytona 2000. "I've little experience in this sort of competition. My one expectation is that I won't wreck my friend's car. These are the cars we lusted after as teenagers."
The Optic rule book offers another warning: "Motor racing is politically incorrect in France. Respect for the French Driving Code is a must on the open road."
Speed Limits
Although race marshals penalize drivers for exceeding the speed limit, Massini says the regulation poses a singular challenge for the 55 vintage Ferraris seeking honors in their class. "These cars weren't made with good brakes," the 52-year-old Ferrari historian says. "They were made to go extremely fast on empty public roads in an age that didn't have speed limits."
For willing novitiates like Robertson, the most costly fear is smashing into Lord Irvine Laidlaw of Rothiemay's 1962 Ferrari GTO while going full-tilt boogie against the $25 million car at any of the five race tracks they must tackle along the route.
"The GTO is really worth $5 million," Massini says amid laughter. "The other $20 million is the price of joining the GTO club; it's like the initiation fee at an exclusive golf club. Ferrari only built 36 GTOs."
"If you have to worry about it, you can't come," Read says of the rally that charges an $8,000 entry fee and costs drivers some $50,000 more to prepare and ship their cars.
Read reckons it's worth every cent and is a bargain at 9 miles per gallon.
'Mating Song'
"The sound of a Ferrari engine is the Italian mating song," he says.
Indeed, Read says the attraction of artworks that travel at speeds approaching 200 mph can be attributed to once high- testosterone teenagers who grew up, made money and remain unwilling to renounce the entirety of their youth.
"Thirty-minute sprint races and the 24 Hours of Le Mans are great for anyone under 35 years old," Read says. "But the horsepower and value of those cars is often a co-variant to the mental maturity of the drivers."
And it's an imprudent investment strategy for the future.
"Modern Ferraris depreciate in value," says Read, who specializes in collecting Ferraris built between 1962 and 1964. "Ferraris of the 1960s are international commodities. At any time, there are a minimum four people in the world willing to write a check for one."
Cobra Rumble
Yet Massini fears the joy of antique grease and octane vapor will be lost on the iPad generation. "The Optic won't be around in 100 years and these cars will be in the Louvre because modern race cars are all computerized," Massini rues. He points to a blue 1970 Shelby AC Cobra rumbling nearby. "There's no software you can plug into that V-8 engine."
Read says the 1980s sounded the death knell of the sports car as an investment vehicle. "Ferrari, Porsche, you name the maker and all their cars became too reliant on computers and electronics," he says before embarking on his seventh Optic. "You can't mix the texture with technology, you can't will these cars to the finish. You have to feel them. It's a valuable lesson in subordination."
He doubts if individuals with the money in 50 years time will have the ability to maintain a 21st-century racer with a Le Mans pedigree. "I don't know how a citizen could handle it," Read says. "The modern Ferrari requires a bank of computers and a high-tech team of software engineers."
Wrench in hand, Sally Mason of Goodwood, England, is now more concerned about reaching the finish of her 17th Optic today. "This is the real thing, baby, no computers," says Mason, stroking the eggshell-blue pinstripe on the hood of her red $7 million V-12 1972 Ferrari Competition Daytona. "You can have my husband, Dudley, but you can't have my car."