Orszag Weighing Obama's Appeal to Stay On as Budget Director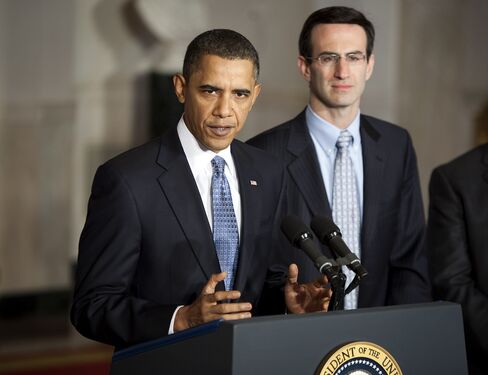 White House Budget Director Peter Orszag was poised to become the first member of Barack Obama's Cabinet to leave, as early as this summer. Then came an appeal from the president insisting that he reconsider.
Orszag will make his decision soon, according to a person familiar with the matter, Bloomberg Businessweek will report in its April 26 issue. The 41-year-old budget director had been signaling to White House officials that he didn't plan to remain for the next budget cycle, the person said.
While it is common for budget directors to begin to exit after about 18 months, Orszag's departure would come just as Obama has begun to focus on deficit reduction.
A former director of the Congressional Budget Office, Orszag has worked to advance two of Obama's top legislative priorities: the $862 billion stimulus measure passed last February and the $940 billion health-care overhaul. As director of the Office of Management and Budget, he has prepared both of Obama's spending blueprints, projecting a deficit of $1.6 trillion this year.
When colleagues and individuals outside the administration ask how long he'll stay, Orszag responds that previous OMB directors' tenures have typically been about a year and a half.
"The job is very interesting because it touches all aspects of the government, but it can also be grueling," said Franklin Raines, who was President Bill Clinton's OMB director for 20 months and later served as Fannie Mae's CEO. "The OMB director often stands in opposition to White House staff, Cabinet members, and senior members of Congress on a wide variety of issues. It can be draining to be the voice of responsibility all the time."
Obama Adamant
Still, Obama was adamant that Orszag stay, the person said. Orszag associates, who only a few weeks ago thought his leaving this year was a certainty, now say they wouldn't be surprised if he stays for another year.
The post requires Senate confirmation. If Orszag were to leave this summer it would allow time to seat a successor by early September, when preparations usually begin for the next budget.
"Ideally, you have your budget director in place no later than Aug. 1," said Keith Hennessey, who headed former President George W. Bush's National Economic Council. "The question is, how long is it going to take to get your nominee confirmed?"
Leading Contenders
Among the leading contenders to succeed Orszag are Robert Greenstein, executive director of the Center on Budget and Policy Priorities; Robert Reischauer, president of the Urban Institute and a former CBO director; and Gene Sperling, a Treasury Department adviser who's also under consideration for the vacant OMB deputy job, an administration official said, speaking on condition of anonymity. All three have advocated for fiscal restraint.
An Orszag exit soon would follow recent tradition, with three of Clinton's four OMB directors leaving within that period. Former President George W. Bush's first two OMB directors held the post for over two years while his last each left before the 18-month mark.
"OMB always faces the greatest burnout," said Douglas Holtz-Eakin, a former CBO director under Bush.
Before it's here, it's on the Bloomberg Terminal.
LEARN MORE