CenturyTel Agrees to Buy Qwest for About $10 Billion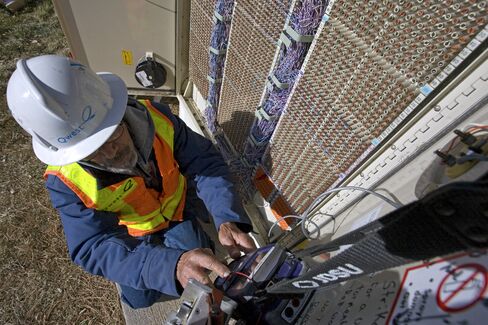 CenturyTel Inc., the Louisiana phone company that's expanding across the U.S., plans to buy Qwest Communications International Inc. for about $10 billion, more than doubling its customers in its largest purchase yet.
The all-stock deal may double CenturyTel's sales to almost $20 billion, the companies said today. The transaction will give Qwest holders about $5.83 a share, based on today's closing prices, 11 percent more than yesterday's Qwest close. CenturyTel also will assume about $11.8 billion in debt.
The purchase allows CenturyTel, which serves customers in less populated areas of the U.S., to move into four new U.S. states and add customers in 10 more. Chief Executive Officer Glen Post is pursuing the acquisition less than a year after completing the $6 billion purchase of Sprint Nextel Corp. spinoff Embarq Corp., which more than tripled CenturyTel's subscriber base.
"This is not going to be without some integration risk," said Chris King, an analyst at Stifel Nicolaus & Co. in Baltimore. "They're still trying to get their arms around Embarq." He advises investors to buy CenturyTel shares and is neutral on Qwest's.
Qwest rose 13 cents to $5.37 at 4:15 p.m. in New York Stock Exchange composite trading. CenturyTel, based in Monroe, Louisiana, dropped $1.19, or 3.3 percent, to $35.01.
Qwest shareholders will get 0.1664 CenturyTel shares for each share of Qwest common stock they own at closing, which probably will occur in the first half of 2011. CenturyTel shareholders will own about 50.5 percent and Qwest investors will own the rest.
'Both Winning'
Investors on both sides are getting a fair deal, said Todd Rethemeier, an analyst at Hudson Square Research in New York.
"My target price on Qwest is $6. That's about as close as I've ever been," said Rethemeier, who advises investors to buy shares of both companies and doesn't own any. "From a shareholder perspective, they're both winning."
The move may give CenturyTel added heft to fight off rivals in a declining industry, as Qwest alone lost about 1 million phone lines last year. Customers have dropped wired connections in favor of mobile phones or digital packages from cable companies, pushing Qwest's sales down for three straight years.
Other carriers also are combining to add scale. Windstream Corp., a home-phone company focused on less-populated regions, agreed to buy Iowa Telecommunications Services Inc. in November and completed the purchase of Lexcom Inc. in December.
Telecom Transactions
The deal is the third-largest this year and ranks ninth among U.S. telecommunications purchases since 2000, according to Bloomberg data. Companies are spending more than $70 billion on telecommunications transactions this year, including debt.
Including debt, the offer values Qwest at 5.11 times its 2009 earnings before interest, taxes, depreciation and amortization. That puts the offer near the median value of nine North American telecommunications deals in the past year, according to Bloomberg data.
Post, 57, bought larger carrier Embarq in July, adding subscribers in states like Nevada and Florida. Sprint, the third-largest U.S. wireless carrier, spun the local-phone company off in 2006 to focus on its mobile-phone operations. The company was independent for only two years before CenturyTel made its offer in October 2008.
Combining with Qwest, led by CEO Ed Mueller, will "provide us greater scale, scope and expertise and will provide significant benefits for shareholders, customers and our communities," said Post, who will be CEO of the new company. The transaction should add to earnings, excluding some costs, immediately after its completion, the companies said.
New Challenges
Qwest will give CenturyTel more exposure to new types of clients, including home-phone customers in urban areas, said Standard & Poor's Todd Rosenbluth. The New York-based equity analyst advises investors to hold on to shares of both companies.
Until its Embarq acquisition, CenturyTel provided phone service mainly in rural areas such as Missouri, Alabama and Arkansas. Embarq brought cities such as Las Vegas and Orlando, Florida, into the fold, and Qwest adds Denver, Seattle and Phoenix to CenturyTel's markets.
Qwest also gets about one-third of its sales from large corporations and government agencies, customers that could switch to larger Verizon Communications Inc. and AT&T Inc.
"They'll be competing with Verizon and AT&T, which have global capabilities," Rosenbluth said. "That's something different than CenturyTel has done local market by local market."
Broadband Offering
Qwest offers voice and Internet services in 14 states, including Arizona, Idaho, Nebraska, Wyoming and Montana. The carrier has focused on building out its high-speed Internet business to compensate for waning demand for land-line connections, with about 3 million high-speed Internet subscribers at the end of last year.
Standard & Poor's debt rating division, with which Rosenbluth isn't affiliated, said in a statement that the combined company would receive a rating of BB+ or BB, which is below investment grade. CenturyTel has a rating of BBB-, one level above junk status, while Qwest has a junk BB rating.
The deal will face scrutiny from the U.S. Justice Department, the Federal Communications Commission and "certain state public service commissions," the companies said. The government probably will approve the transaction within the next year, Jeffrey Silva, a Washington-based analyst with Medley Global Advisors, said in an e-mail.
The new company would be smaller than AT&T and Verizon, and "well-positioned to provide the kind of broadband services that are central to telecom policy goals of the Obama administration, the FCC and Congress," Silva said.
Barclays Capital, Evercore Partners and J.P. Morgan Securities Inc. provided financial advice to CenturyTel, while Lazard, Deutsche Bank, Morgan Stanley and Perella Weinberg Partners advised Qwest.