Research Gap Left Airlines Exposed to Volcano's Blast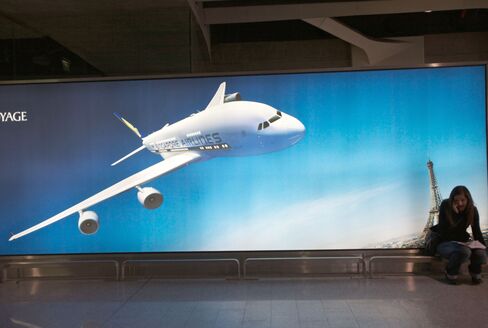 A shutdown of European airspace that cost carriers $1.7 billion following a volcanic eruption in Iceland was exacerbated by a lack of research into the effects of ash on jet engines and over-reliance on computer modeling.
While the blast was unusually disruptive because of a rare mix of ice and molten rock, together with a wind direction that blew dust to Europe, flight bans would have been shorter with a better understanding of engine tolerances and cloud density.
"This has highlighted a black hole in our understanding," said David Macdonald, who manages the private-jet unit of London-charter company Air Partner Plc. "There needs to be some urgent research into what concentration of ash is permissible."
More than 100,000 flights were canceled following the April 14 eruption amid concern that glass-like particles formed when lava was cooled by ice might melt in aircraft engines and clog turbines. European transport ministers took five days to agree that airports could open with the dust still in the air.
Carriers including London-based British Airways Plc said soon after the eruption of Iceland's Eyjafjallajökull volcano that test flights had shown no damage to aircraft or engines.
Governments initially resisted the calls for services to resume, citing advice from the International Civil Aviation Organization to bar planes from flying through any level of volcanic debris. They later ruled that operations were safe except where dust levels were at least 10 times the norm, as assessed by the U.K. Met Office's Volcanic Ash Advisory Centre.
Even then, the final decision was left to national air-traffic-control bodies, keeping airports including London Heathrow, Europe's busiest, closed for an extra day.
'Never an Issue'
"The rule saying you do not fly jets through volcanic ash was put in place years ago and had never really been an issue," Jonathan Nicholson, a spokesman for Britain's Civil Aviation Authority, said in a telephone interview. "ICAO had been looking at trying to implement a more realistic level for some years but there was no pressure to do so as they never had a volcanic ash incident over such a densely populated area."
Compounding the problem was a lack of data on the effects of the type of glassy dust produced by the Icelandic eruption, in which a vent opened under a glacier, causing explosions that blew ash 7 kilometers (4.3 miles) high as fire met ice.
Lufthansa Probe
Test flights performed by British Airways, Air France-KLM Group and others focused on detecting any impact from the ash, rather than analyzing air content, and only after the reopening of airspace was a probe deployed to measure the concentration and distribution of the plume. Results from the 1.6-ton research container -- built by the Max Planck Institute and flown around Europe on a Deutsche Lufthansa AG Airbus SAS A340 jetliner -- may be revealed today, spokesman Peter Schneckenleitner said.
Neither were guidelines from engine manufacturers of immediate use, with analysis of the effects of ash not part of the process for winning safety approval for new powerplants.
"With no engine-certification testing required for volcanic ash, no limits currently exist," said Deborah Case, a spokeswoman for the aviation unit of Fairfield, Connecticut-based General Electric Co., the biggest maker of jet engines.
While United Technologies Corp.'s Pratt & Whitney unit reissued guidelines to airlines following the eruption, the advice concerned steps to be taken on encountering ash rather than on the levels in which an aircraft might safely operate.
"With the amount of research into jet engines, you'd think somebody would have written a doctorate on the impact of ash," Air Partner's Macdonald said. "We need more research because at the moment it seems open to interpretation."
Projected Airflows
Decisions on airspace closures were based largely on projected airflows from Met Office maps as interpreted by Brussels-based Eurocontrol, the body that coordinates flight paths across the region, rather than on actual readings.
"Regulators need to better understand and measure the particle densities at different altitudes," Paul Hayes, director of safety at aviation consultant Ascend, said in an interview. "Just how dense is the ash and does it pose any real threat to the safety of aircraft?"
New rules for operations were eventually decided by national regulators in consultation with manufacturers. GE and other engine makers worked with the CAA to reach agreement on ash-tolerance levels after reviewing data from previous incidents and drawing on experience from areas prone to volcanic activity, such as Alaska, GE's Case said in an interview.
Right Response
Governments acted "extremely correctly" given existing regulations, Helen Kearns, a spokeswoman for the European Commission, said today at a press briefing in Brussels.
"There was a model that was internationally recognized, with international guidelines for the European area," Kearns said. "It was applied absolutely as it should have been by member states, who quite rightly put safety first."
At the time of the eruption, winds over Iceland that normally blow toward northern Scandinavia were directed at Europe's busiest airports in Britain, France, Germany and the Netherlands.
"It's the biggest concentration of the world's busiest airports, and you had a pall of ash right across the region," said Bill McGuire, professor of geophysical hazards at the Aon Benfield UCL Hazard Research Centre in London. "It's far more disruptive than a single volcano erupting in Java, say, even if that might be a much bigger eruption."
New Direction
Winds are still blowing from Iceland today, according to the U.K. Met Office. A southerly airstream will start to move in tomorrow and by the weekend the prevailing wind should direct any ash coming from the volcano away from Britain.
"Nature produced a unique set of circumstances, where a volcano erupting on Iceland combined with a weather pattern that has changed very little for several days," Met Office forecaster Sarah Holland said by telephone.
In the last major Icelandic eruption in 2004 ash was blown over Svalbard, in the Arctic Ocean. That caused disruption to flights in northern Norway, "but they didn't make headline news," Halldor Bjoernsson, a meteorologist at the Icelandic Met Office, said in a phone interview from near Eyjafjallajökull.
About 50 to 70 volcanoes erupt each year, according to the Global Volcanism Program at the Smithsonian Institution in Washington, though most don't disrupt flights because they're in parts of the world where services can be diverted around an ash cloud, according to McGuire at the Hazard Research Centre.
No Fatalities
Between 1953 and 2008 there have 89 incidents involving volcanic ash and some kind of damage to aircraft, ICAO spokesman Denis Chagnon said, with no recorded accidents or fatalities.
The best-known incident was in 1982, when all four engines on a British Airways Boeing Co. 747 stalled when the plane encountered ash spewed from Mount Galunggung in Indonesia. The plane fell for almost four miles before the pilot was able to restart three engines and make an emergency landing in Jakarta.
"Events in the Philippines and Indonesia are big ash-producing eruptions and are tens and hundreds of times bigger than the Iceland episode," McGuire said. "So it's not really the ash that's the issue. It's the fact that it's right in the middle of the busiest air space in the world."
Almost all flights will operate today, minus a small number of cancellations because planes are out of position, according to Eurocontrol. About 5,500 services were canceled yesterday, 20 percent of the total.
Plume Extent
As of 6 a.m., one ash plume stretched from northern Canada across Greenland, Ireland and the U.K. to Norway and a portion of northwestern France, according to the Met Office. Another band was above parts of Sweden, Finland, Russia and Estonia.
Two small patches of sky, off southern Iceland and west of Norway, contain ash concentrations that "exceed acceptable engine-manufacturer tolerance levels," the forecaster said.
Encounters with volcanic debris are ultimately too few and far between to justify the expense of ash-proofing planes, according to UTC's Pratt & Whitney.
"It would be cost prohibitive to develop an engine that would be completely immune to the effects of volcanic ash, and even if you could the entire aircraft would need to be equally immune," Pratt said in a statement. "The best approach to maintain safety through a combination of avoidance and modified operating procedures designed to minimize the impact."