'Dead as Doornail' Gene Therapy Revival Spurs Genzyme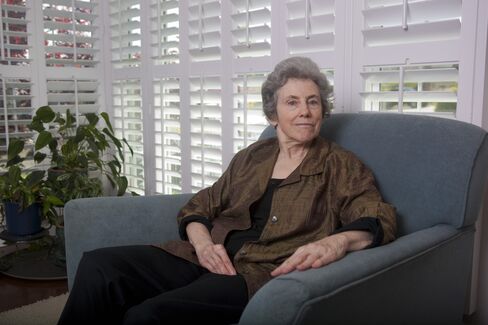 Five years ago, doctors drilled a hole into Jean Erickson's skull, pushed in a needle and injected a cold virus modified to help transport a gene into her brain.
The gene's job was to create a mini-factory within her brain cells to pump out dopamine, a chemical that regulates physical movement. Since then, Erickson has lived more comfortably with Parkinson's disease, a disorder that robs patients of mobility.
"I stopped freezing up," said Erickson, 71, a former pre-school director who lives in Castro Valley, California.
Erickson's treatment was part of a gene therapy experiment funded by Genzyme Corp., one of 354 U.S. studies employing the technique, said the Food and Drug Administration. Eleven years after the death of an 18-year-old boy led to the suspension of some trials and close scrutiny by regulators, Bloomberg Business Week will report in its April 26 issue that gene therapy is experiencing a revival among scientists and drugmakers led by Genzyme and Pfizer Inc. in the U.S. and Novartis AG in Europe.
"Despite earlier negative publicity and disappointment, the reality is that science has forged ahead," said Brian Sorrentino, a researcher at St. Jude Children's Research Hospital in Memphis.
Preliminary successes against brain and eye disorders are helping to spur the renewed interest.
In November, the journal Science reported that brain damage in two 7-year-olds with an inherited condition called adrenoleukodystrophy was halted or reversed in a gene therapy experiment in Paris. Genetix Pharmaceuticals Inc., a closely held Cambridge, Massachusetts-based company, has licensed the treatment and is seeking to market it with backing from Genzyme.
Biotech's Beginnings
The recent advances have led some to compare the state of gene therapy with the early days of biotechnology.
"There were lots of ups and downs, lots of believers and nonbelievers," said Nick Leschly, a partner in Third Rock Ventures, the lead investor last month in a $35 million financing for Genetix. But "look at Roche's Genentech portfolio today: Avastin, Rituxan and Herceptin. Right there, you've got $17 billion in sales. That's the kind of future we see for gene therapy over time."
Corey Haas, a 9-year-old from Hadley, New York, was able to "see stars" in the night sky for the first time after he and 11 others were treated with gene therapy at Children's Hospital of Philadelphia. The result was reported in October 2009 in the journal Lancet.
Bubble Boy
Gene therapy was first used in the early 1990s to treat 19 children with severe combined immunodeficiency disorder, or SCID, the so-called Bubble-Boy disease. In SCID, children's damaged immune systems leave them unable to fight germs, making infections potentially deadly. Researchers modified the children's blood cells to make more of a key enzyme they lacked.
But in an early setback that was a harbinger of others to come, five children developed leukemia from the treatment. An even more devastating failure occurred in 1999 when 18-year-old Jesse Gelsinger died of a massive immune response within hours of being treated for a liver disease at the University of Pennsylvania in Philadelphia. That was followed in 2007 by the death of a woman who received a modified gene in an arthritis trial run by Targeted Genetics Corp. of Seattle.
"Gene therapy was dead as a doornail," said Axel Polack, a general partner in TVM Capital, a venture capital firm based in Munich, in a telephone interview. "No one was investing anymore. People were fed up with big promises and not seeing any results."
New Virus
Since then, the woman's death in the arthritis trial was tied to a fungal disorder and scientists linked Gelsinger's death to the virus used to deliver the gene, a modified adenovirus, or cold germ. A different type, called an adeno-associated virus, or AAV, triggers milder immune responses and is now in use in many trials.
Recently, small successes have breathed life into the field, drawing support from companies led by Genzyme, which has invested "well north" of $200 million over the past 10 years and now has 80 to 90 employees working on the technology, said Sam Wadsworth, a Genzyme group vice president.
Genzyme fell $1.01, or 1.9 percent, to $53.44 at 4 p.m. in Nasdaq Stock Market composite trading. The company gained 4.1 percent in the past 12 months.
In January, Novartis, of Basel, Switzerland, licensed gene treatments for hearing loss and balance disorders from GenVec Inc., a Gaithersburg, Maryland, company with a $90 million market cap, in a deal worth as much as $213 million. A month later, Tacere Therapeutics, a San Jose, California, startup, said New York-based Pfizer would license a hepatitis C treatment in an agreement valued at as much as $145 million.
Operating Instructions
Genes contain instructions for cells to make proteins that carry out chemical reactions in the body, help the immune system fight infections and form the basis of skin, muscle and bone. When a gene is defective and can't make the correct protein, disease can occur. The idea of gene therapy is to treat disease by replacing malfunctioning genes with healthy ones.
In the Philadelphia eye experiment the genes were delivered directly to target cells via a virus injected into patients. In the Paris tests, doctors removed the patients' blood-forming stem cells, inserted gene-bearing viruses into them and reinfused the patients with the modified cells.
U.S. approvals for gene therapy will start coming in about four years and the first one cleared may be for a hereditary eye disease, predicted Philip Reilly, Genetix's chief medical officer.
Right Targets
"Gene therapy has matured," said Ronald Crystal, a researcher at Weill Cornell Medical College in New York who helped pioneer the field two decades ago. 'Now the real challenge is to choose the right targets, which diseases and, from a commercial point of view, which markets make sense."
There are now 189 companies developing gene therapies, an increase from 44 in 1995, according to a report released this month by Jain Pharmabiotech, a Basel, Switzerland-based market research group. A 2009 report, from Global Industry Analysts, based in San Jose, California, predicted gene therapy products would have revenue of $465 million in 2015.
The revival of gene therapy comes at a time when drugmakers led by London-based GlaxoSmithKline Plc, in London, and Pfizer are entering collaborations to develop drugs for rare diseases, historically the turf of mid-size companies like Genzyme and Dublin-based Shire Plc.
Common Neurological Conditions
With trials under way for Parkinson's, Alzheimer's, hearing loss and macular degeneration, gene therapy also has the potential to move from rare genetic diseases to common neurological conditions, said Zack Lynch, executive director of the Neurotechnology Industry Organization, a San Francisco-based trade group. In 2008, the market for drugs to treat Parkinson's disease alone was $3.6 billion, he said.
"It's a massive potential market," Lynch said. Within three years, he predicts, clinical trials will produce strong evidence that gene therapies are effective for conditions of the central nervous system.
Genzyme sponsored the 10-patient Parkinson's disease trial at the University of California, San Francisco, that included Jean Erickson. Like most Parkinson's patients, she takes a drug that contains levadopa, which the brain converts to dopamine. Over time, however, the medication becomes less effective.
The study showed a gene injected into patients' brains reached nerve cells in the region of the brain controlling movement, said Michael Aminoff, the neurologist who led the research.
That's an important finding because inserting genes isn't an exact science, said Krystof Bankiewicz, a University of California, San Francisco, neurology professor.
'Blind Man'
"Every single gene therapy trial that has been done in the brain, it was done by a blind man," he said in an interview at his office in San Francisco. "The neurosurgeon gets the patient on the table, drills a hole and injects and hopes that the drug has been delivered. But he doesn't know that, he can't see it. He might as well close his eyes and inject."
Erickson now spends more time in an "on-state" that lets her move and function as she did before, said Chad Christine, a neurologist who follows Erickson's treatment. "Even after almost five years, we haven't made significant adjustments in her medications," he said. "That's not typical."
Genzyme is preparing to test the therapy, using an AAV virus, in a larger trial that could begin next year, Genzyme's Wadsworth said.
Vision Loss
The company also is starting a study of up to 34 patients with the so-called "wet" form of macular degeneration that causes severe central-vision loss in 1.4 million U.S. residents older than age 40, according to the American Academy of Ophthalmology.
Gene therapy is unlikely to produce revenue for Genzyme, or any company, for several years, said Phil Nadeau, an analyst at Cowen & Co. in New York, in a telephone interview. Because of that, it isn't on the radar of most investors, he said.
"Over the long haul it's very intriguing and holds a lot of promise, particularly for some of the rare disorders," he said. "But there have been a lot of fits and starts and, from a public-market investment standpoint, it's still too early."
Since his September 2008 gene therapy treatment in one eye, Corey Haas says he can ride his bike and recognize color. Now he wants doctors to fix his other eye.
This year, he said, "I'm going into Little League" to play organized baseball.
Before it's here, it's on the Bloomberg Terminal.
LEARN MORE