Weinstein Investor Cuban May Oppose Deal for Miramax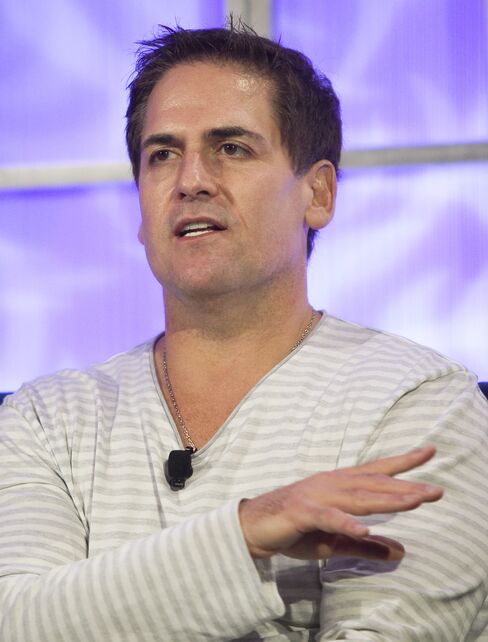 April 21 (Bloomberg) -- Mark Cuban, the billionaire owner of the NBA's Dallas Mavericks, may try to stop Harvey and Bob Weinstein from joining a buyout of Miramax films in a dispute over the performance of the "The Road," a Weinstein movie.
Cuban, 51, is among the individuals and institutions that invested at least $1.2 billion in Weinstein Co. to produce films such as "Nine" and "Inglourious Basterds." They include Goldman Sachs Group Inc., venture capitalist Aviv Nevo and Todd Wagner, a co-founder of Broadcast.com with Cuban.
"I am having some issues with the Weinstein Co. right now," Cuban said in an e-mail, without providing details. "Bob and Harvey have historically worked with our companies to resolve these issues. I'm hoping the same applies here. If not, my position will certainly change."
The Weinsteins are working with Ron Burkle's Yucaipa Cos., which is close to an agreement to purchase Miramax from Walt Disney Co. for $625 million, two people with knowledge of the talks said today. Disney bought Miramax from the Weinsteins in 1993. The brothers, who founded the studio responsible for films such as "Pulp Fiction" and "The English Patient," remained with Miramax until 2005, when they left to form Weinstein Co.
The dispute involves the 2009 release "The Road," according to Dani Weinstein, a company spokeswoman. The film, produced for $25 million, took in $23.9 million in worldwide ticket sales, according to researcher Box Office Mojo.
Box-Office Sales
"We all would have liked for this brilliant film to have done better, but unfortunately we simply didn't get the traction," Weinstein said in an e-mail. "Our board is completely up to speed and supportive with regards to our conversations concerning Miramax."
Cuban, who has other film investments, including a stake in Lions Gate Entertainment Corp., said he wasn't sure if he would support a Miramax deal.
"I haven't made up my mind yet and have my lawyers pulling together all the information," Cuban said. "We have some disputes. So while I'm optimistic we can get them settled, we may have to interject ourselves in the deal legally."
Disney, based in Burbank, California, said in January that it closed Miramax offices, and that it would distribute the six remaining pictures. The Weinsteins named the studio after their parents, Miriam and Max.
Yucaipa Offer
If Los Angeles-based Yucaipa is successful, the Weinstein brothers would manage the studio and its 700-movie library, according to a person with knowledge of the situation.
Weinstein Co.'s board backs the efforts with Burkle on Miramax, Richard Koenigsberg, a company director, said in an e-mailed statement. The disagreement with Cuban is over the number of theaters that showed "The Road," he said.
"We have been diligently working to rectify this situation," Koenigsberg said. "'The Road' is a movie that we are all proud of, and only wish it could have done better at the box office."
Alec Gores and Tom Gores, billionaires who each run Los Angeles-based private equity companies, have raised their bid above the $550 million originally offered, one person has said. They are being advised by their brother Sam Gores, owner of Paradigm Talent Agency in Beverly Hills, California.
Hollywood film producer David Bergstein has also offered about $650 million, according to two people with knowledge of the bid. Bergstein is advising a "well-capitalized offshore entity" on a Miramax bid, his Pangea Media Group said April 8.
Disney, the world's biggest media company, gained 2 cents to $36.56 at 4:01 p.m. in New York Stock Exchange composite trading. The shares have gained 13 percent this year.
Lions Gate, based in Vancouver, rose 7 cents to $6.87.
To contact the reporter on this story: Brett Pulley in New York at bpulley@bloomberg.net
To contact the editor responsible for this story: Anthony Palazzo at apalazzo@bloomberg.net.