Russia to Put $40 Billion in Ukraine as Gas Price Cut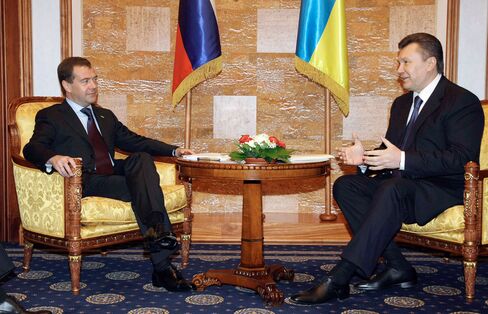 April 21 (Bloomberg) -- Russia will invest $40 billion in Ukraine and cut gas prices in exchange for permission to keep its naval forces in the Black Sea as the two former Soviet republics cement ties.
Russian President Dmitry Medvedev and his Ukrainian counterpart Viktor Yanukovych signed an agreement today in Kharkiv, eastern Ukraine, to cut gas import prices by 30 percent. In return, Ukraine agreed to let Russia extend its Black Sea Fleet lease by 25 years and raised the amount of gas it imports.
"The decision on the gas price that we took today is unprecedented in the history of our relations," Yanukovych said.
Ukraine Prime Minister Mykola Azarov yesterday said the talks had been "extremely difficult" and that Ukraine was relying on Russia's "goodwill" to get lower gas prices needed to reduce the budget deficit. Cheaper gas will allow the Kiev-based government to end subsidies to households and utilities, a condition the International Monetary Fund has said must be fulfilled before it resumes its bailout.
Russia will keep its Black Sea Fleet at the Ukrainian port of Sevastopol until 2042, with a possible five-year extension. The fleet is currently subject to a lease that expires in 2017.
'Security'
"We are considering this issue in the context of establishing European collective security," Yanukovych said.
In exchange for lower prices, Ukraine agreed to increase gas imports to 36.5 billion cubic meters this year, OAO Gazprom Chief Executive Officer Alexei Miller said. The 30 percent price discount mustn't exceed $100 per 1,000 cubic meters, he said. Ukraine will receive 30 billion cubic meters of the fuel at the discounted price this year and 40 billion cubic meters next year, Gazprom said in an e-mailed statement today.
Ukraine has agreed with the IMF to end its $16.4 billion program, of which $10.6 billion has been paid out. Instead, a new loan worth as much as $12 billion running over 2 1/2 years has been agreed, Iryna Rudko, a spokeswoman for Deputy Premier Serhiy Tigipko, said yesterday.
Russia doubled the price it charges for 1,000 cubic meters of natural gas to $360 in the first quarter of 2009 from a year earlier. The price fell to $305 in the first quarter of this year. The 2010 budget, which has yet to be approved, assumes a gas price of $334, Tigipko said on April 15.
Ukraine's economy contracted 15.1 percent last year, the deepest decline since 1994, as the financial crisis cut demand for its exports, weakened the currency and dried up investments.
Since then, a return of demand from western Europe has buoyed exports and industry and helped spur growth. Economic output expanded an annual 5 percent in the first quarter and 6.8 percent in March from a year earlier, Tigipko said today.
To contact the reporter on this story: Kateryna Choursina in Moscow at kchoursina@bloomberg.net
To contact the editor responsible for this story: Tasneem Brogger at tbrogger@bloomberg.net