Treasury May Sell Record Amount of Notes, Primary Dealers Say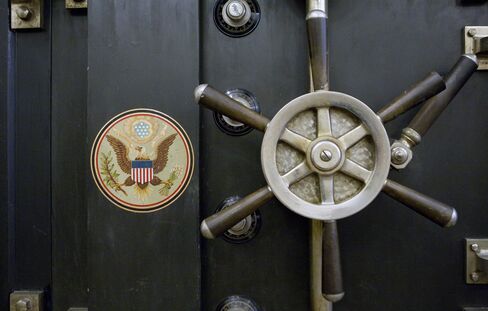 The U.S. Treasury may sell an unprecedented $128 billion in notes next week as expectations increase that the amount of securities auctioned by the government is peaking with the economy strengthening.
The U.S. will sell $44 billion in two-year notes, $42 billion in five-year securities, $32 billion in debt maturing in seven years and $10 billion in five-year Treasury Inflation Protected Securities, according to the average estimate of nine primary dealers in a Bloomberg News survey. The $118 billion in nominal debt matches a record. The U.S. will announce the amounts tomorrow for the auctions conducted over four days beginning April 26.
Matthew Rutherford, the Treasury's deputy assistant secretary for federal finance, said in February that the auctions have been expanded enough to fund the budget deficit and that any changes would depend on tax receipts and how fast the economy recovers. Dealers estimated in an earlier survey that the Treasury will sell a record $2.4 trillion in debt in 2010, compared with $2.11 trillion in notes and bonds last year.
"With the economy doing better, receipts are better and there's not as much pressure on Treasury for cash needs," said Brian Edmonds, head of interest rates at Cantor Fitzgerald LP in New York, one of 18 primary dealers that are required to bid at Treasury auctions. "At some point, we'll see modest reductions. We expect things will improve and we may see reductions in twos, fives and sevens by year-end. It won't happen until August at the earliest."
'Mildly Positive'
The record for securities sold in a week is $126 billion in notes and bonds when the U.S. auctioned $8 billion in 30-year TIPS, $44 billion in 2-year debt, $42 billion in 5-year notes and $32 billion in 7-year securities during the week of Feb. 22.
"Large cuts in Treasury issuance lie ahead and we expect the first announcements this quarter," William O'Donnell, U.S. government bond strategist at primary dealer Royal Bank of Scotland Group Plc in Stamford, Connecticut, wrote in a note to clients yesterday. "We expect Treasury to cut coupon supply in the same way that they added it as the crisis developed: somewhat evenly across the curve. This should be mildly positive for bond prices."
President Barack Obama has boosted marketable U.S. debt to a record $7.76 trillion, Treasury figures show. The Federal Reserve and U.S. agencies have lent, spent or guaranteed about $8.2 trillion to lift the economy from the worst slump since the Great Depression, according to data compiled by Bloomberg.