Rival Thai Protesters Scuffle as Red Shirts Brace for Crackdown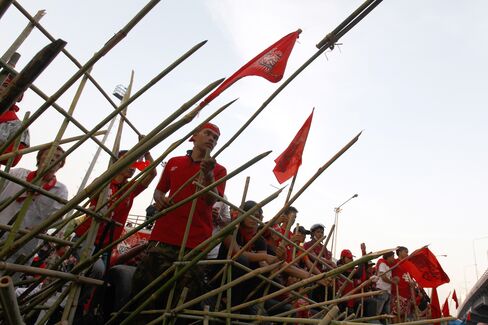 Rival Thai groups scuffled in Bangkok as tensions rise in the city after troops were deployed to try and contain protesters seeking fresh elections.
Supporters of Prime Minister Abhisit Vejjajiva clashed briefly with anti-government demonstrators in the early hours of this morning, with both sides hurling bottles and small metal objects. In the country's northeast, Abhisit's opponents detained 230 soldiers after stopping a train last night, the Nation reported, citing an unidentified protest leader.
Rally organizes in Bangkok say they are willing to resume talks with the government provided troops vacate areas surrounding their base. Signs that crowds were dwindling after a canceled march on April 20 helped stocks surge the most in 15 months. A failed attempt to disperse the group on April 10 left 25 people dead.
"First take away the gun and then we can talk," Weng Tojirakarn, a protest leader who participated in televised negotiations with the prime minister last month, said in an interview yesterday. The government must also lift a state of emergency for talks to take place and the group plans to submit a letter to United Nations Secretary-General Ban Ki-moon requesting a peacekeeping force to protect them, he said.
Abhisit said yesterday the protesters are armed with "war weapons," a charge organizers deny. The prime minister has blamed "terrorists" within the rallies for violence and said the movement wants to "change the country's political system."
Such allegations suggesting that demonstrators are disloyal to King Bhumibol Adulyadej are being used as a justification to break up the protest, another leader, Jaran Ditapichai, said April 20.
'Civil War'
Abhisit backers involved in this morning's clash accused the anti-government movement of seeking to topple the monarchy more explicitly.
"Those protesters don't want democracy, they are only trying to destroy our king," said Suwit Aroonwejkul, 43, who said he was injured from an electric shock during the scuffle. "We can't compromise on this. It may be a civil war."
There were about 7,000 people at the protest site yesterday, according to the army. Rally organizers, who have constructed walls at entry points to the main site using bamboo sticks, put the number at 100,000.
Abhisit has rejected demands from the mostly lower-class protesters to call an immediate election and pledged to enforce the law. Demonstrators who largely support fugitive ex-leader Thaksin Shinawatra have defied emergency rule since April 7 and ignored previous government warnings to avoid certain areas. The benchmark SET index fell 1 percent yesterday and the baht was little changed.
Soldiers have been stationed along the city's Silom Road adjacent to the protest center since April 19, where they have blocked off sidewalks with razor wire. Across the street, protesters erected a barricade of bamboo sticks and rubber tires, one of six that block off entry points about a kilometer from the main stage.