Russia Returning to Eurobonds Means Rally for Gazprom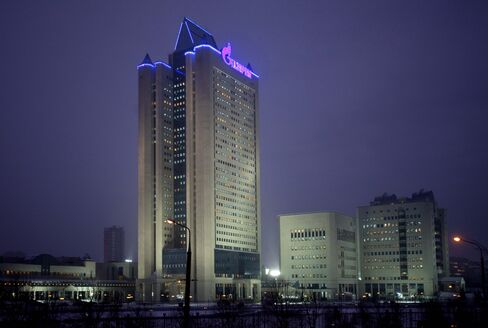 April 21 (Bloomberg) -- Russia's first international bond sale since defaulting in 1998 is driving borrowing costs to record lows for companies from OAO Gazprom to VTB Group, the nation's second-biggest bank.
The government plans to sell bonds due in 2015 at about 125 basis points, or 1.25 percentage point, more than similar-maturity U.S. Treasuries and 2020 notes at a premium of about 135 basis points tomorrow, according to two people with knowledge of the deal. Gazprom, the state-run gas company, may wind up with yields of about 5.4 percent on its debt due 2018, compared with a rate that has been no lower than 5.8 percent.
Government officials, who complete meetings with investors in New York today, will raise at least $4 billion, according to a banker with knowledge of the transaction. The deal may total $7 billion, three people familiar with the offering said. The world's ninth-biggest economy is recovering from its worst recession since the Soviet Union collapsed in 1991 as oil rallies, cutting yields on foreign-currency bonds to 4.9 percent from 11 percent 18 months ago.
The government "has spent the last decade rebuilding its creditworthiness," Liam Halligan, chief economist at Prosperity Capital Management, which has about $4.2 billion under management, said in an interview in Geneva. Money managers are "under-invested compared with its importance to the global economy" and the bond sale may "lead to the beginning of a reappraisal across a whole variety of Russian asset classes," he said.
'Value-Compelling'
Russia's 11 percent notes due 2018 rallied 3.81 cents on the dollar this year to 143.50 cents as of yesterday, according to prices compiled by Bloomberg. They climbed to 143.56 cents as of 11:12 a.m. in London today.
The 5.7 percent return for all government bonds this year couldn't keep pace with the 9.1 percent gain in foreign-currency company notes, according to JPMorgan Chase & Co. indexes.
Union Investment, Aviva Investors and Argo Capital Management say corporate bonds will outperform as the new securities make it cheaper to refinance the $74 billion of international debt the central bank says is due this year.
The sale will lower borrowing costs for Gazprom, VTB and OAO Russian Railways by 30 to 40 basis points, according to Renaissance Capital, the investment bank half-owned by billionaire Mikhail Prokhorov.
"Russian quasi-sovereign bonds are some of the most value-compelling in emerging markets," said Sergey Dergachev, a Frankfurt-based money manager at Union Investment, which oversees about $220 billion worldwide. "Names like VTB, Gazprom or Russian Railways are better plays compared to the sovereign."
New York
Russian officials including Deputy Finance Minister Dmitry Pankin met with investors in the U.S., Europe and Asia the past week as the government seeks to borrow as much as $17.8 billion this year to plug its budget deficit. The meetings end about two weeks after U.S. President Barack Obama and Russia's Dmitry Medvedev signed a nuclear arms treaty that both men said marks a new era of cooperation.
The yield on Russia's 20-year dollar bonds sold in July 1998 climbed as high as 80 percent in October that year following the government's default on $40 billion of domestic bonds. A decade of economic growth averaging 7 percent a year sent it to as low as 5.22 percent in February 2008, just as mounting U.S. bank losses sparked the biggest global financial crisis since the 1930s.
'More Clarity'
Russian corporate debt was yielding 20 percent as recently as 18 months ago, based on New York-based JPMorgan's CEMBI Diversified Index. Now, with oil, Russia's biggest export, up 82 percent in the past 12 months to $84.01 a barrel, the World Bank estimates economic growth will accelerate to 5.5 percent this year. Russian corporate debt fell to a record-low 5.7 percent last week.
Russian companies may boost debt sales after the government's deal, said David Bessey, who helps manage more than $10 billion of emerging-market debt at Prudential Financial in Newark, New Jersey.
"The new bond will add more clarity and make the liquidity in the corporate market pick up," said Bessey. "There is a fair amount of demand."
Company bonds are less attractive than sovereign debt after this year's rally reduced yields, according to Standish Mellon Asset Management's Alexander Kozhemiakin. The gap between yields on JPMorgan's indexes of Russian corporate and government debt has narrowed to 83 basis points from the average of 142 basis points since 2002, Bloomberg data show.
Gazprom
"I would actually sound a more cautionary note" on companies without state ownership, said Kozhemiakin, who oversees more than $4 billion in emerging markets for Standish Mellon in Boston.
Analysts predict profits for companies in the Micex Index will soar 97 percent from 2009 levels through 2011 as oil climbs, based on 260 projections compiled by Bloomberg.
"Russian corporates are likely to outperform" as profits climb, said Ian McCall, who helps oversee about $500 million of emerging-market debt as a director at Argo Capital in London.
Gazprom debt yields more than Petroleo Brasileiro SA, Brazil's state-controlled oil company, even though the Moscow-based company's BBB credit rating from Standard & Poor's is higher than the BBB- rating of Petrobras. Gazprom's dollar bonds due 2019 yield 6.1 percent, compared with 5.4 percent on Rio de Janeiro-based Petrobras's bonds due 2020, Bloomberg data show.
Relative Value
The average yield on Brazilian corporate bonds is 22 basis points higher than the government's debt, or about 25 percent of the average gap in Russia, JPMorgan indexes show. Russia's rating of BBB from S&P is above Brazil's at BBB-.
Bonds of Russian Railways, the Moscow-based state-owned railroad monopoly, have rallied since their sale last month, cutting the yield on the notes by about 60 basis points to 5.14 percent on April 20. The 6.465 percent five-year notes of Moscow-based VTB yielded 5.62 percent yesterday, about 85 basis points less than when they were sold Feb. 25, Bloomberg data show.
"Sovereign issuance will create a liquid and transparent benchmark" for Russian companies that will "translate into tighter credit spreads of VTB debt," Herbert Moos, deputy chairman of VTB in Moscow, said in an e-mailed response to questions.
"International investors are still waking up to the idea that" Russian corporate bond yields are attractive, said Jeremy Brewin, the London-based head of emerging-market debt at Aviva Investors, which oversees about $362 billion worldwide. Yields "can tighten more over the Russian sovereign curve," he said.
To contact the reporters on this story: Denis Maternovsky in Moscow at dmaternovsky@bloomberg.net; Michael Patterson in London at mpatterson10@bloomberg.net.
To contact the editor responsible for this story: Gavin Serkin at gserkin@bloomberg.net.