Lockheed Net Beats Estimate, Aided by Share Buybacks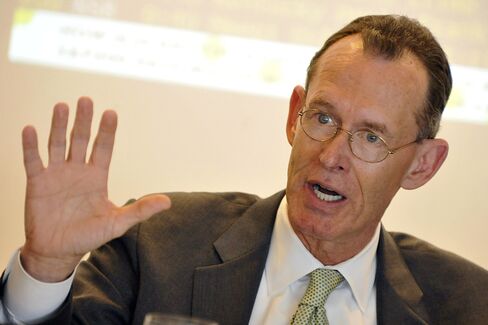 Lockheed Martin Corp., the world's largest defense company, posted first-quarter profit that exceeded analysts' estimates as the company increased share repurchases.
Net income fell 18 percent to $547 million, or $1.45 a share, from $666 million, or $1.68, a year earlier, the Bethesda, Maryland-based company said today in a statement. The results topped the $1.33 average estimate of 16 analysts in a Bloomberg survey.
"It's a solid quarter," Chief Financial Officer Bruce Tanner said in a telephone interview. The company's cash from operations of $1.6 billion is the highest in any quarter, he said. Lockheed will use the cash to continue buying back shares and pay into its pension fund, he said.
Chief Executive Officer Robert Stevens is working to improve performance after projecting the U.S. defense budget in the next few years may increase no more than the rate of inflation. Sales rose in two of the company's four business units and were little changed in the others. Profit declined at all except space systems.
Lockheed rose $1.28, or 1.5 percent, to $86.25 at 4:15 p.m. in New York Stock Exchange composite trading. The shares have gained 14 percent this year.
Share Repurchases
Lockheed beat analysts' estimates because of non-operating items such as share repurchases, Robert Spingarn, an analyst at Credit Suisse Group AG in New York, said today in a note to clients. He rates the shares "neutral."
Lockheed said it had 368.5 million shares outstanding at the end of the quarter compared with 386.2 million in the same period last year.
The company trimmed its 2010 forecast because of higher costs from a change in health-care laws. Full-year profit may be $7 to $7.20 a share, a reduction of 15 cents at both ends, Lockheed said. The average estimate of analysts in a Bloomberg survey had been for full-year profit of $7.22 a share.
Companywide, revenue gained about 2.6 percent to $10.6 billion, led by higher sales of fighter jets, transport aircraft and work on non-military computer systems services, Lockheed said.
Earnings in the quarter were lowered by a one-time charge of $96 million, or 25 cents a share, after a tax benefit was voided in the U.S. health-care overhaul, the company said.
Analysts had decreased their forecasts by an average 27 cents in the past four weeks.
Results 'Mixed'
"We view the results as mixed, with sales in line, but operating earnings missing our expectations by about $20 million," Joel Levington, who tracks Lockheed for Brookfield Investment Management Inc. in New York, said in an e-mail. "That said, we believe that the company is well positioned within the context of its credit ratings" and the results won't affect its ratings, he said.
The aeronautics segment posted $324 million in profit, an 8.7 percent drop, after lower sales of F-22 fighter jets, which the Pentagon has terminated. That offset improved performance on F-35 production contracts, Lockheed said.
The company is working to rein in costs on the F-35 Joint Strike Fighter after delays and testing in the weapons program, the Pentagon's largest, prompted Defense Secretary Robert Gates to delay planned purchases through 2015. Sales in the unit climbed 5.5 percent to $2.9 billion.
F-35 Fees
Lockheed may recover all of the $614 million in fees that the Pentagon has withheld because of the delays, Tanner said. "It's totally up to our performance on how much of that is recoverable," he said.
Details of the F-35 restructuring and recoverable fees will be completed in the next month, Tanner said.
Lockheed also is negotiating with the Pentagon on the production of the next lot of 43 F-35 aircraft, Tanner said. The price it's offering on the planes is "significantly lower" than $155 million per copy that the Pentagon's independent cost agency is estimating, Tanner said.
If Lockheed is able to keep its per-plane price low, it may win more orders under the Pentagon's budget plan, CEO Stevens said on a conference call today with analysts and investors.
Earnings at Information Systems & Global Services fell 3.7 percent in the quarter, to $233 million, because of lower work volume on combat systems, Lockheed said.
Profit in space systems climbed less than 1 percent, partly because of better earnings in the United Launch Alliance joint venture with Boeing Co. and improved performance on defensive missile programs, Lockheed said. The venture supplies rockets to launch the Pentagon's military satellites into space.
Before it's here, it's on the Bloomberg Terminal.
LEARN MORE