Kim Cattrall Twice, Diana's Palace, Scott-Heron: London Weekend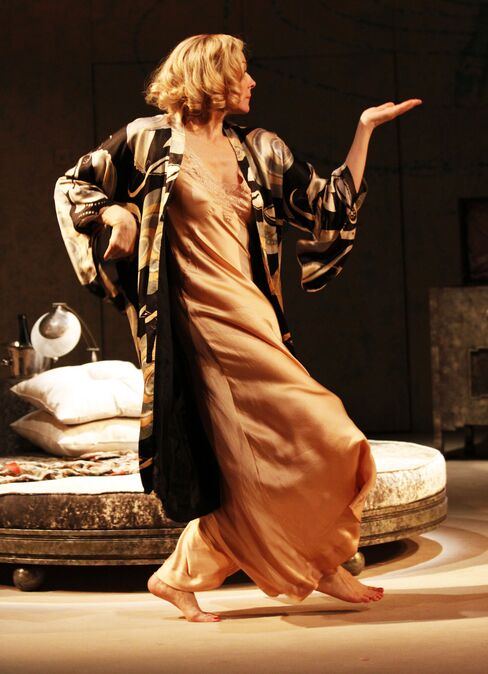 Get a close-up of Samantha from "Sex in the City." Kim Cattrall plays a capricious 1930s divorcee in Noel Coward's "Private Lives." Honeymooning in the south of France with husband No. 2, she unexpectedly runs into husband No. 1, who's also on a honeymoon -- and staying in the next room.
"Private Lives" at the Vaudeville Theatre, 404 Strand, WC24 0NH. Information: http://www.vaudeville-theatre.co.uk
And don't miss her in Roman Polanski's caustic "The Ghost," playing the mistress of a Blair-like former U.K. prime minister accused of war crimes.
For dinner, there's Christopher's in nearby Covent Garden with its speedy theater menu starting at 15.75 pounds ($24.26) for two courses including rib-eye steak and spinach salad. 18 Wellington Street, WC2E 7DD. Information: +44-20-7240-4222.
Saturday
While Princess Diana's Kensington Palace undergoes a 12-million-pound ($18.4 million) refurbishment, a bunch of fashion designers have decorated the old homestead's state rooms with temporary displays of gowns, hats, and shining mirrors.
Hanging in the King's Grand Staircase is Vivienne Westwood's "dress for a rebellious princess" -- inspired by Princess Charlotte who was just into her twenties when she died.
Information: http://www.hrp.org.uk/kensingtonpalace or call +44-(0)20-3166-6000 from abroad, 0844-482-7777 from within the U.K.
Saturday Night
Gil Scott-Heron is in town with his first studio album in 13 years after a jail term and too much drugs: "I'm New Here," which has much of the bite of "The Revolution Will Not Be Televised."
At the Royal Festival Hall. Information: http://gilscottheron.net/live or http://www.southbankcentre.co.uk/venues/royal-festival-hall
Sunday
Swing by the Barbican on Sunday and view the quirky chairs, couches and shelves by Ron Arad whose stainless-steel "D-Sofa" fetched a record $409,000 at auction in 2007.
Israeli-born designer made his first piece of furniture from a Rover car seat. Look out for the Bookworm, a snake-like wall-mounted bookshelf with built-in bookends, and the Tom Vac chair, now widely copied in China.
"Ron Arad: Restless" is at the Barbican Centre, Silk Street, London EC2Y 8DS through May 16. Information: +44-20-7638-4141 or http://www.barbican.org.uk or http://www.ronarad.com.
(Farah Nayeri writes for Bloomberg News. The opinions expressed are her own.)
Before it's here, it's on the Bloomberg Terminal.
LEARN MORE