Israel Billionaire Tshuva Strikes Gas, Fueling Energy Expansion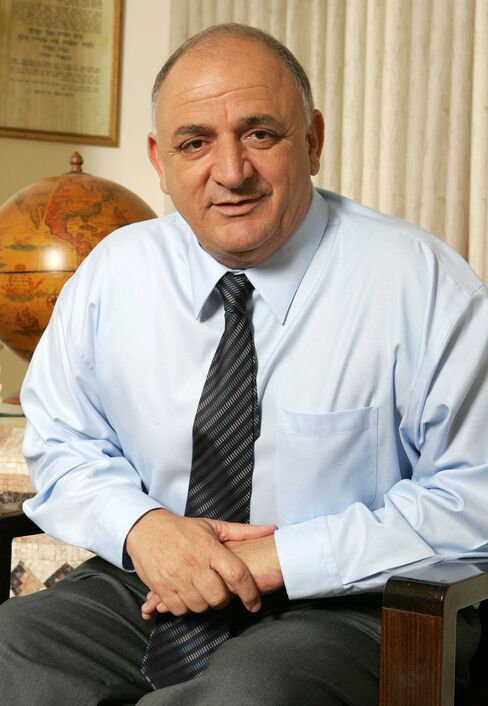 Isaac Tshuva uses sugar packets on a table in the lounge of his Leonardo City Tower Hotel in Tel Aviv to mark the spots of three natural-gas fields off Israel that he said will fuel global growth of his energy business.
The Israeli billionaire, owner of New York's Plaza Hotel, said his Delek Group Ltd. and partners including Houston-based Noble Energy Inc. are now homing in on more deposits after last year announcing a record find in waters off Haifa, Bloomberg Businessweek reports in its April 26 edition.
"The amounts we've found are going to provide much of Israel's energy needs for the next two decades," said Tshuva, 61, who grew up in a one-bedroom apartment in Netanya with 10 family members after immigrating from Libya in 1948.
Tshuva is expanding his business and this year offered to buy BP Plc's gasoline stations in France, adding to outlets in the U.S., Israel and Europe. The discovery has also helped as he tries to keep alive a $5 billion project to put a Plaza Hotel on the Las Vegas strip, which stalled as the U.S. real estate market slumped in the recession.
The find was "game-changing," said Arie Tal, chief strategist at Alumot-Sprint Investment House Ltd., which holds Delek shares among about 1.5 billion shekels ($382 million) of assets. "It transformed Delek, a company that was possibly facing a tough time refinancing its debt, to a company that now holds an asset that will generate billions of dollars."
Tamar Gas
Delek-controlled companies and partners led by Noble Energy in January 2009 announced a find at the Tamar prospect that may hold 7.7 trillion cubic feet of gas (218 billion cubic meters), according to a survey by Netherland, Sewell & Associates Inc. That's more than twice the annual output of Norway, the world's second-largest gas exporter. The partners have secured about $11 billion in domestic gas commitments and expect output by 2012.
The Levant Basin, where Tamar is located and which stretches the length of Israel and Lebanon, may hold 227 trillion cubic feet of gas, the U.S. Geological Survey said in a report released April 8, its first review of the region.
"The natural-gas find is very significant for the Israeli economy," said Amit Mor, head of investor and consultant Eco Energy Ltd. "At least half of electric generation will be supplied from natural gas in the coming years."
Expansion Abroad
It may also drive Delek's push abroad. The company expects to complete a purchase of 416 filling stations from BP in France soon, adding to its 1,600 service stations in eight U.S. states under such brands as Mapco and Texaco-branded stations in Belgium, the Netherlands and Luxembourg.
Asaf Bartfeld, Delek's 58-year-old chief executive officer, said in an interview that it's the right time to expand its gasoline stations because companies are selling at lower prices.
Delek posted a profit of 864 million shekels last year, after a loss of 1.8 billion in 2008. Earnings at its fuel operations in Israel, Europe and the U.S. rose, its insurance business returned to profit and it booked capital gains.
While his energy business weathered the slump, Tshuva last year spun off Delek Real Estate Ltd. after it lost 1.6 billion shekels in 2008 in part after adding debt to purchase RoadChef Motorways Holdings Ltd., one of the U.K.'s largest operators of roadside service stations. Delek's shares fell 86 percent in 2008 and its bonds plunged to about half their par value.
"The man has good intuitions," said Ronen Elgali, head of research at Sphera Fund, a Tel Aviv-based hedge fund with $360 million. "He's had some poor real estate investments but has excelled in other areas. You can't win them all."
Gas-Price Decline
Gas markets are also vulnerable after prices sank because of rising supplies. The International Energy Agency has forecast an "acute glut" over the next five years. U.S. gas prices have dropped 28 percent this year after record output of 26.3 trillion cubic feet in 2009. Prices also fell in 2009 and 2008.
The father of five, whose friends include President Shimon Peres, came to Israel after the nation's independence in 1948 and started working in construction and agriculture at the age of 12. After three years in the army, he began as a contractor for the Defense Ministry and helped erect the Bar Lev Line fortification along the Suez canal after Israel captured the Sinai Peninsula from Egypt in the 1967 war.
He began to amass wealth as a developer of low-income neighborhoods across Israel, benefiting from a construction boom in the 1970s. In 1998, he joined the country's business elite after wresting control of Delek from the Recanati family's IDB Holding Corp. He was an outsider in Israel's business community because of his origins and lack of higher education.
Delek Acquisition
"That was a big jump for him as the company at the time belonged to Israel's giants," said Moshe Tery, former chairman of the Israel Securities Authority, who helped manage Tshuva's investments before the Delek purchase. "Of course, eyebrows were raised due to his unusual background."
A spokesman for the Recanati family, who asked not to be identified, declined to comment.
Tshuva, whom employees describe as a devout believer in the Jewish faith, was 463rd on Forbes's annual list of billionaires published last month with a fortune of $2.1 billion.
In 2000, he sent Miki Naftali, who had helped develop residential projects and a hotel in the southern town of Eilat, to New York to head El-Ad Group Ltd., the privately held real estate company named after his only son. El-Ad developed more than a dozen high-end residential ventures in New York over the next five years. In 2004, Naftali, spurred on by Tshuva, made a losing bid on the former Mayflower Hotel on Central Park West.
'Pimping the Plaza'
"I was very disappointed," Naftali, El-Ad's CEO, said in an interview. "We were very keen at the time to find a development opportunity overlooking Central Park."
The idea to buy the Plaza came as he walked by the hotel after losing out on the Mayflower. A meeting was arranged with Singapore's Kwek Leng Beng, whose Millennium & Copthorne Hotels Plc owned half. In what was to be a 30-minute meeting in Singapore, Naftali said Tshuva instructed him by telephone to keep the price down but to not let the "deal fall through."
El-Ad bought the hotel for $675 million and spent $450 million on renovations and to convert much of it into apartments, a project led by Tshuva's daughter Gal Nauer. The New York Post tabloid accused El-Ad of "pimping out the Plaza" and "selling the soul of the institution."
El-Ad, which runs the hotel business and retail area, sold 181 residential units for about $1.4 billion, Naftali said.
Vegas Trouble
Companies controlled by Tshuva and Israeli tycoon Nochi Danker then paid $1.25 billion for the Frontier Hotel in Las Vegas, which they razed to make way for a Plaza development. The plan was put on hold in 2008 as the financial crisis deepened. The partners wrote down the property by $250 million in the fourth quarter, valuing it at $1 billion to $1.1 billion.
While El-Ad was bogged down in Las Vegas, Delek's shares rose more than six-fold since the gas find, giving it a value of about 9.5 billion shekels. Tshuva owns about 64 percent of Delek, according to stock exchange data.
Delek controls about 31 percent of Tamar through Delek Drilling LP and Avner Oil & Gas Ltd. Noble has 36 percent and Isramco Negev 2 Ltd. 29 percent.
Noble and Delek are waiting for seismic survey results in the surrounding area, which may hold reserves larger than Tamar, said Yaron Zer, an analyst at Clal Finance Brokerage Ltd.
Delek companies are part-owners of 26 licenses and leases off Israel amid a push to increase gas use in the country, which gets more than half its energy from oil and coal, according to the Finance Ministry.
Dead Sea Revival
"A new find would have to be as large as Tamar to be commercially viable as Israel is going to be oversupplied," said Israel Brokerage & Investments Ltd. analyst Guil Bashan.
In a conference room next to Tshuva's office, Delek's Bartfeld laughed about how employees celebrated with champagne in plastic cups after striking gas, in line with Tshuva's frugal image. He drives to work in a beat-up Cadillac and said he doesn't wear a watch so as not to forget when his parents couldn't afford one for his Bar Mitzvah.
His plans aren't so unassuming. Tshuva wants to help develop the "Valley of Peace," a 170-kilometer (106-mile) canal from the Red Sea to the Dead Sea to keep the depleted salt lake from drying up. The project may help improve the economy on both sides of the Israel-Jordanian border, Tshuva said.
"I have many dreams and plans," he said. "Regretfully, even 100 years will not suffice in order to properly realize even a 10th of them."
Before it's here, it's on the Bloomberg Terminal.
LEARN MORE